The Tories were never the party of Brexit
Petty party divisions have put the democratic will in peril.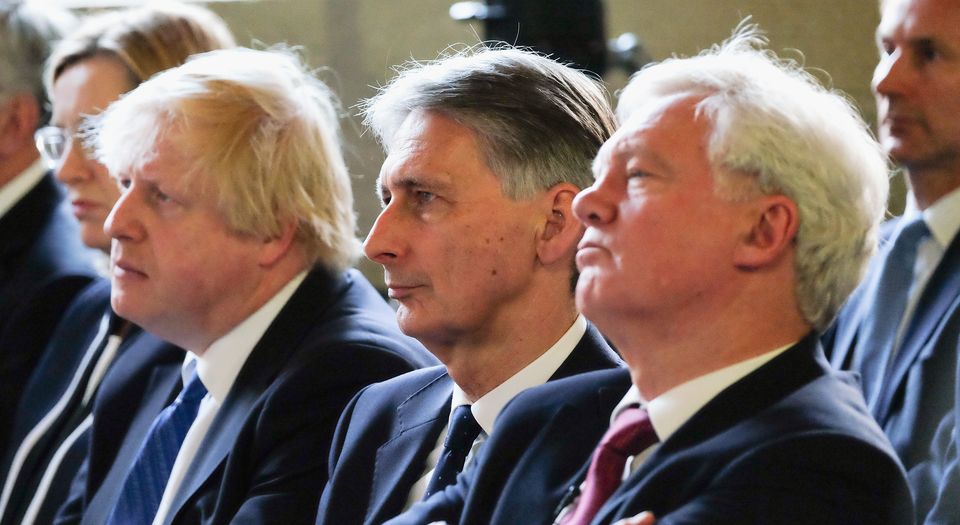 If you need any more proof that the Tories aren't the party of Brexit, that the old party of the establishment is fundamentally ill-equipped to see through the most radical vote for generations, then this weekend's revelations about cabinet infighting should have put you straight. A series of remarkable leaks, to the Sun and The Sunday Times, revealed a government lacking not just authority, but basic discipline and shared mission.
The cabinet's Remainer-in-chief, chancellor Philip Hammond, was the target of much of it. On Saturday, James Forsyth revealed in the Sun that cabinet sources had told him Hammond had said trains were now so easy to drive that even women could manage it. The next day, The Sunday Times's Tim Shipman revealed that Hammond then added that public-sector workers were 'overpaid', leading to accusations that the chancellor was out of touch.
In a remarkable turn on The Andrew Marr Show, Hammond categorically denied the first accusation, dodged the second, and then alleged the leaks were emanating from aggy Tory Eurosceptics, unhappy with his softer, pro-business approach to Brexit. 'If you want my opinion, some of the noise is generated by people who are not happy with [my] agenda', he said. This was incredible – the second-most powerful politician in the country was reprimanding colleagues live on-air.
And the leaks have kept on dripping. Today the Telegraph splashes on cabinet claims that Hammond is trying to 'frustrate' Brexit, and that the notoriously condescending chancellor was treating his Eurosceptic colleagues like 'pirates who have taken him prisoner'. Meanwhile, column inches have been taken up by proxy leadership battles between Brexit secretary David Davis and foreign secretary Boris Johnson, who apparently traded insults and threatened to kick each other 'in the bollocks' at the Spectator's summer party.
This humiliating/hilarious failure in discipline has of course been chalked up to the weakness of the Tories post-election. PM May is incapable of keeping her top team in-line and disagreements over Brexit, public-sector pay and the suitability of women to drive trains are just proxies for the opening qualifiers of the inevitable leadership beauty contest to come. But these problems run much deeper. The Tory Party is bitterly divided on Brexit, and always has been. The unity they showed in the past 12 months, committing themselves to carrying out the people's will, was always paper thin.
And this isn't just about scurrilous Remainers, either. The bollocks-bruising broadsides between Leavers Boris and Davis show that old rivalries and egos are as much in play here as a clean divide on Brexit. There's even talk that if Brexit secretary Davis were to step in to oust May, he would do so with the support of Brexitphobe Hammond, all in order to isolate Boris, who is now even more unpopular among Tory ranks following some top-class gaffes: he said last week that Eurocrats seeking to inflate the divorce bill could 'go whistle'.
In the midst of all this is May, the Remainer PM who last year reassured many Leavers by constantly paying lip service to the people's will and calling a snap election on the grounds of seeing off the MPs and Lords plotting to frustrate it. Now all she's concerned with is eking out her time in No10 so as to keep the party in power. Meanwhile, her front bench fight like rats in a sack, chasing their own petty vendettas and reheating their ambitions for the top job, as the Brexit vote lies in peril.
But Labour is in no place to smirk. Yesterday shadow chancellor John McDonnell said it was time for May to stand down and let Labour form a government. His claim that the answer to the current gridlock is a minority administration with 56 fewer seats is made all the more risible by the fact that Labour is as divided on Brexit as the Tories, if not more so. Leader Jeremy Corbyn has already had to sack two shadow cabinet minister for defying the whip and backing Chuka Umunna's Single Market amendment to the Queen's Speech.
If anything, the split in Labour is more profound, the problem it poses more existential. Not only is the parliamentary party full of spurned Remainers who hate Brexit almost as much as they hate life-long Leaver Corbyn for his half-hearted Remain campaigning — there is stark division at the grassroots, too. Labour is trying to keep happy working-class Leavers in its old heartlands and the middle-class Remainers it has picked up in urban centres. Hence the party's position on the Single Market and the Customs Union changes by the hour.
All of this puts the Brexit vote – and, by connection, democracy – at threat. In the chaos and confusion, those intent on frustrating the biggest democratic mandate in our history have been reasserting themselves. Former Labour leader Tony Blair said at the weekend that there's a chance now that Brexit won't happen, and that as economic uncertainty ensues public opinion will move, allowing Remainer politicians the room to hold a second referendum or keep Britain in the EU by way of a vote in parliament.
This is a crock, of course. Poll after poll has shown that Leavers haven't changed their minds, and most Remainers, good democrats that they are, insist that the people's will be implemented. According to YouGov, these two groups taken together account for 68 per cent of the electorate. (If the uniformly hated Blair carries on with his interventions, we've got every chance of hitting 100.) But we should remember that the public is not who Blair and Co are talking to.
The Brexit vote revealed a chasm between the political class and the public. While the majority of voters backed Brexit, the vast majority of MPs across all parties backed Remain. There isn't a majority for much in the House of Commons these days, but a vote on backdoor Remain, an endless transitional period or a second ref – following a period of drawn-out uncertainty in which MPs felt emboldened to 'do the right thing' and Brexit voters became demoralised – could well sail through.
This how fragile Brexit is. And it's a fragility that is perpetuated by the very people who claim to represent us.
Tom Slater is deputy editor at spiked. Follow him on Twitter: @Tom_Slater_
To enquire about republishing spiked's content, a right to reply or to request a correction, please contact the managing editor, Viv Regan.