Don Jr: more idiot than mastermind
No, Trump Jr's Russian meeting is not proof of a conspiracy.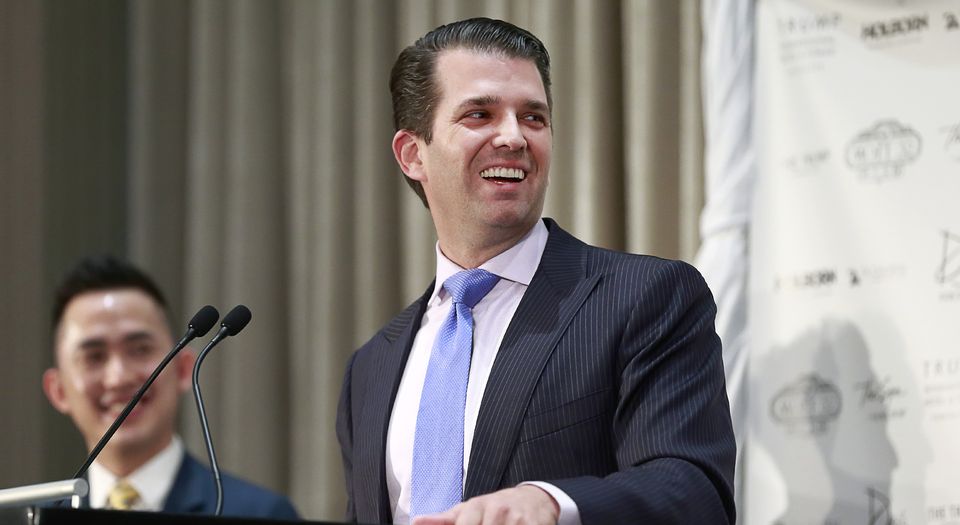 Ever since Donald Trump entered the White House, his critics have pushed Russia, Russia, Russia all the time. They claim Trump is an illegitimate president, because the Russians supposedly 'hacked the election' in favour of him over Hillary Clinton. They would like to see Trump removed from office, and have Trump Tower searched for evidence of the Trump campaign team's 'collusion' with the Kremlin. Yet no hard evidence has emerged – just innuendo and speculation, typically from anonymous sources, later shown to be no big deal.
That's why this week's news that Donald Trump Jr met with a Russian lawyer in June 2016 set off a frenzy. Here, finally, seemed to be the evidence of collusion that opponents hoped to find – top campaign officials (Trump Jr was joined by Trump's son-in-law Jared Kushner and then aide Paul Manafort) meeting in Trump Tower with lawyer Natalia Veselnitskaya, and the whole thing then spelt out in emails released by Donald Jr after the New York Times threatened to publish them.
In those emails, Rob Goldstone, the publicist who set up the meeting, promised that Veselnitskaya would provide information to 'incriminate Hillary and her dealing with Russia and would be very useful to your father'. This information, Goldstone wrote, 'is part of Russia and its government support for Mr Trump'. At the prospect of receiving dirt on Hillary from a Russian source, Donald Jr's response was 'I love it'.
But are Trump Jr's emails the smoking gun that will finally nail the Trumpists' conspiracy with the Russians, and bring down the president? No.
This was more a global farce than a global election-rigging. Goldstone is the publicist for a Z-list Russian singer, Emin Agalarov. The supposed pretext for the meeting was that Agalarov's father, a Russian oligarch, suggested Trump Jr meet with 'the Crown prosecutor of Russia' – a non-existent position. When 'Crown prosecutor' Veselnitskaya turned up at the meeting, she had no information on Hillary, and only wanted to talk about the Magnitsky Act, the US law against human-rights abuse. The meeting was over in 20 minutes. That Trump Jr would take a meeting with such nobodies tells us much about him, and nothing about the KGB. It is hard to avoid reaching the same conclusion as the New York Post did: 'Donald Trump Jr is an idiot.'
Trump's opponents concluded that a crime was committed. A number of Democrats, like once vice-president hopeful Tim Kaine, shouted 'Treason!', but this was quickly dismissed. Others suggested that federal election laws were violated. But, as legal experts weighed in, it became clear that the meeting was very unlikely to constitute criminal behaviour. Instead, this episode looks likely to become more evidence of Trump Derangement Syndrome. The pattern is clear: critics leap on what they think is a 'Gotcha!' moment, but after a few days, things calm down. The main result is public cynicism (especially among Trump voters) about investigations into ties with Russia, and some sympathy for Trump.
But does that mean all is well with Team Trump, and that Donald Jr's emails are a big 'nothingburger' (to use that annoying American phrase), as Trump's steadfast defenders say? No. The problem is that Democrats and other critics overreach: they are insisting that the campaign committed a crime, and when the facts fall short of law-breaking, the Trumpists appear vindicated.
There is much that is suspect with the Trump administration, but it should be seen as a political, rather than a criminal, problem. Start with the lack of credibility and trustworthiness: we know that Donald Sr has a problem with facts, and now we know Donald Jr shares that family trait. The meeting with the Russian lawyer may be risible, but it also revealed Trump Jr to be a serial liar: he first claimed that he never met with the Russians; then he said the meeting was about adoption; but when further details emerged, he reluctantly admitted it was about opposition research but had nothing to do with the Russian government; but then the emails showed that the publicist had set up the meeting on the basis that it was part of the Russian government's efforts to help Trump.
Trump Jr's embarrassing string of admissions further undermines any credibility the Trump administration claims to have. The problem for Trump's opponents, however, is that lying to the New York Times is not a crime.
Foreign governments should not intervene in other countries' elections, as that undermines the local people's capacity for self-determination. Unfortunately, this ideal hasn't been realised in practice – and that includes America's own long history of interference around the world. It also follows that electoral campaigns shouldn't welcome interference from outsiders, as it appears Trump Jr did. Clearly, it was wrong (if not illegal) for Trump to take that meeting, and the fact that the Russian lawyer came empty-handed doesn't excuse him. At the same time, we should recognise that such interactions are not unprecedented: consider the 1996 case of Charlie Trie and China's alleged donations to Bill Clinton's campaign, or, more recently, the Ukraine government's assistance to Hillary Clinton.
In pushing the supposed connections of Trump with Russia, Democrats and the media are leaning on the hope that residual Cold War distrust of the evil Ruskies will make others become as outraged as they are. Clearly, ties with other countries (like Ukraine) are viewed as less problematic. The problem for them, however, is that many Americans have moved on from the Cold War, and the anti-Putin message just does not resonate.
Is it possible that more will be discovered, something more incriminating, between the Trump campaign and the Russian government? Of course. Given all of their falsehoods, it would not be all that surprising if more emerged. But the wise course would be to wait and see what comes of the special investigation led by Robert Mueller, and not jump to conclusions.
At the same time, we have to remind ourselves that there is still no evidence to support the Trump critics' hyperventilations. The news of Donald Jr's emails does not lead to the conclusion that Trump's election is illegitimate, which is what Trump's opponents allege. The only 'hacking of the election' we know of was the release of Democratic National Committee emails, which had zero impact on the election result. Nor is there any evidence of Trump himself committing a crime or unethical act that would rise to impeachment. His critics are still overreaching, and still avoiding political arguments. And that's why they are still losing.
To enquire about republishing spiked's content, a right to reply or to request a correction, please contact the managing editor, Viv Regan.