The Trumpcare fail shows Trump isn't evil – just useless
Both Trump and 'the Resistance' stand exposed by this debacle.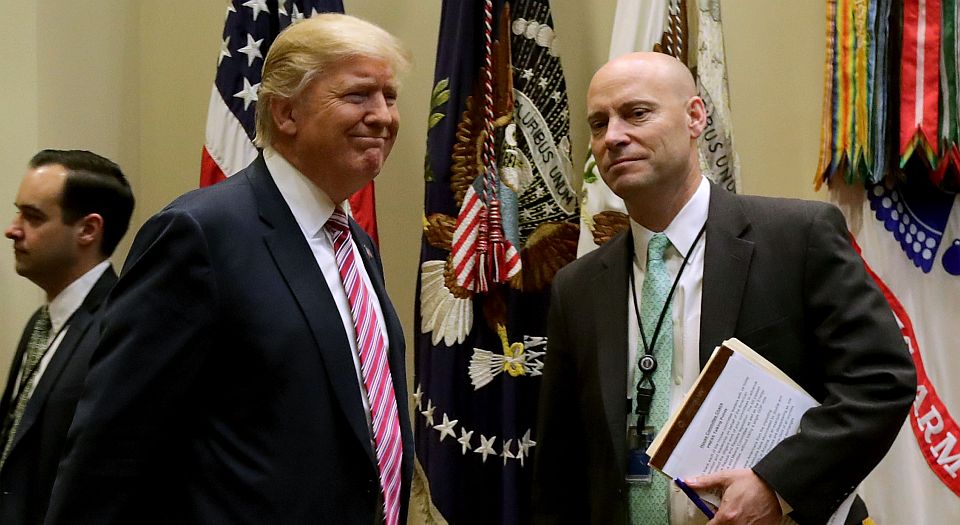 For seven years, Republicans in opposition vowed to overturn the Affordable Care Act, otherwise known as Obamacare. On the campaign stump, Donald Trump repeatedly promised to repeal and replace Obamacare 'immediately', starting on 'Day One'. 'It's going to be so easy', he liked to say.
True to his promise, Trump did make healthcare his first major legislative initiative of his presidency. And with Republican majorities in both houses of congress, and a Republican in the White House, passage of a healthcare bill looked 'easy'. But, as we now know, Trump flopped spectacularly. Last Friday, Republican leaders in the House of Representatives failed to secure enough of their own members to support the Trump-backed bill, and thus were forced to withdraw it from consideration. With that, Trump and the Republicans suffered an embarrassing self-defeat, leaving them looking like a gang that couldn't organise a piss-up in a brewery.
'Trumpcare' deserved to fail, as it would have provided inferior care. The bill would have reduced coverage (increasing the number of uninsured by 24million over a decade), increased premiums, removed requirements to cover certain benefits like emergency services and maternity care, and handed a tax cut to millionaires. No wonder only 17 per cent of Americans supported it.
The bill exposed Trump's populist rhetoric on the campaign trail to be empty promises. Healthcare is a major concern for working people – it is literally a life-or-death issue. A study published last week highlighted how death rates among white people without college degrees have risen since 1999. While various factors have contributed to this disturbing trend, the last thing people need right now is greater healthcare insecurity. And indeed, the hardest hit under the Republican proposal would have been older, poorer people: according to the Congressional Budget Office, premiums for 64-year-olds making $26,500 would have increased sevenfold by 2026. In other words, the constituency that put Trump over the top in the election would have been the worst affected.
This debacle casts everyone on the Republican side in a bad light. Trump was revealed (once again) to be ignorant of policy details. 'Nobody knew healthcare could be so complicated', he said – apparently, The Donald was the last to be told. The self-proclaimed 'closer' of deals, who wrote the book on deal-making (The Art of the Deal), could not find agreement among his own party members. And he gave up after 17 days of trying – a fraction of the time usually spent on major legislation (Obama and the Democrats took 187 days to introduce Obamacare).
Likewise, Republicans in congress are left in a mess. They had seven years to come up with an alternative, and found themselves trying to rush through a dog's breakfast of a bill that managed to alienate nearly every stakeholder. The failure of the healthcare bill rightly calls into question whether they will be able to accomplish very much, even with a majority in both houses.
In Washington, anything that damages Trump and the Republicans rebounds to the benefit of the Democrats. And so, by standing firm against Trumpcare, the Democrats have won a victory. But the outcome is not as favourable to the Democrats as it might appear, especially if we consider the world outside of DC.
For a start, Trump's incompetent handling of the healthcare bill has also made his shrillest critics look silly. After 'the Resistance' warned us for months that Trump is the second coming of Hitler, after opponents urged people to buy copies of Nineteen Eighty-Four as a guide to the Trump era, it turns out that Trump is much more an easily bored amateur than an evil master-planner. His healthcare fiasco comes after other early missteps, like his administration's inability to implement a temporary restriction on immigration from certain countries. The problem with Trump is more chaos from weakness than world domination from a position of strength.
More to the point, while the Democrats are high-fiving one another in the Capitol after seeing Trumpcare fail, ordinary Americans are not cheering, as they are still stuck with an inadequate healthcare system. Obamacare is not 'going to explode', as Trump warns, nor does it look likely that the private exchanges (markets) will enter a 'death spiral', as Republicans fear. But there are serious problems with US healthcare that Obamacare has not addressed in a satisfactory way.
While it's good news that the number of Americans with insurance has increased since Obamacare was introduced in 2010, many – about 28.5million, or 10.5 per cent of the non-elderly population – still remain uninsured. Premiums remain high relative to income for many. The existing government programmes are wanting: Medicaid (for the poor) and Medicare (for those aged 65 and over) offer inferior benefits. Obamacare took a highly bureaucratic and hard-to-navigate system and made it even more so.
In the run-up to November's election, Hillary Clinton and the Democrats didn't really come to terms with how inadequate healthcare is for many. Clinton did acknowledge that Obamacare needed reform, but it came across as a recommendation for tinkering, not significant overhaul. This reinforced her image as the candidate of the status quo.
Now, after loudly defending Obamacare from Trump and the Republicans these past two months, the risk to the Democrats is that their reputation as agents of the status quo has been reinforced. Democrats may not fully 'own' Obamacare, as Trump now says, but they will remain strongly linked to its fortunes. They find themselves in a similar position to where Republicans were before: in opposition, benefiting somewhat from the administration's troubles, but without offering an alternative and therefore unable to consolidate support.
In our post-election analysis, we wrote: 'Trump doesn't deserve the support of all the working people who have voted for him – he's playing them.' His populism was a con, we argued. Now his healthcare proposal has demonstrated, early into his term in office, how anti-populist he really is. He's acting against the interests of ordinary people.
We also noted during the election that much of Trump's appeal was due to the fact that many people had lost faith in the capacity of the political establishment, across both parties, to address their concerns. In that regard, nothing we've seen in response to the latest healthcare debate is likely to restore confidence. Most people want to get on with life, and not have to spend time thinking or worrying about healthcare. Yet, in the US, it is a source of insecurity for many. As long as the political class is indifferent to these concerns, as long as it continues to hatch complex, technocratic schemes that don't provide decent healthcare, it will fail to connect with or win the support of great numbers of Americans.
Sean Collins is a writer based in New York. Visit his blog, The American Situation.
To enquire about republishing spiked's content, a right to reply or to request a correction, please contact the managing editor, Viv Regan.