Let's refuse to play the terrorists' game
Islamists feed off our fear. Let's starve them.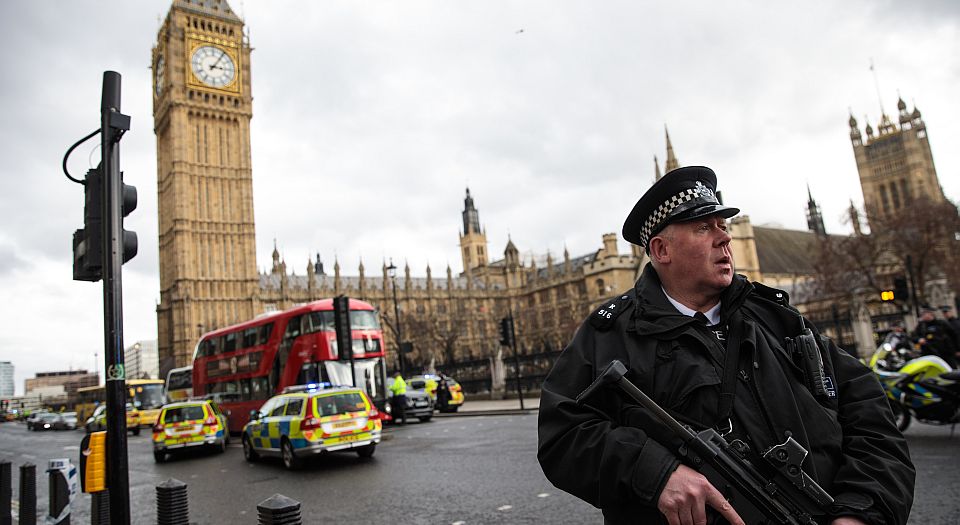 The cowardly car-and-knife attack in Westminster yesterday is a reminder of the great pain individual terrorists can inflict. A teacher killed, a policeman stabbed to death, French students badly injured. One man with nasty ideas and crude weapons can do terrible things.
But this pointless, vile assault should also remind us of one of the prime responsibilities of us citizens at times like this: to ensure that terrorism has no impact beyond its murderous one. To do everything within our power to make sure that while this bloody, scrappy act may have succeeded in impacting awfully on scores of individuals, it will have no impact on our values, our political life, our daily lives, or our sense of security.
That's the power of the citizen in relation to terrorism: to deny it the baleful effect on society that it so desires; to stymie its shockwaves; to refuse to give it the response of fear that it craves, and needs.
Many are describing yesterday's assault as an 'attack on democracy', a shot against our values of 'democracy, freedom, human rights and the rule of law', as Theresa May put it. But no individual, no matter how well armed — and this man wasn't well-armed — can overthrow democracy or freedom. Those long-fought-for values are too robust, too steeped in the aspirations of past generations and current generations, to be done in by a warped man with a weaponised vehicle, a knife, and a perverse belief in a reward of 72 virgins for killing non-believers.
No, in order to impact on democracy and freedom, this individual needs the help of us, of society itself. He needs us to respond to his act in such a way that we would amplify its horror beyond the killing of individuals and into the realm of changing society itself. This is the perverse thing about terrorism: it is dependent for its power on mainstream thinking, particularly the culture of fear. It is an extreme act, yes, but one which seeks to connect with and exploit conventional political ideas, especially the 21st-century tendency to overreact to terror and institute new laws, clampdowns and dread in response to it.
The impact of terrorism is determined far more by society's response to it than by the behaviour of the gunman or knifeman himself. And sadly, many are already responding to the Westminster attack in such a way that they flatter the terrorist's destructive pretensions and expand his menace beyond Westminster Bridge and the entrance to parliament and into society at large.
So some on the right are talking it up as an act of war, the latest blow by an Islamist army slowly, stealthily conquering Europe. Here, the depraved actions of what seems to have been an individual working alone are elevated to the level of an invasion, a military incursion that ought to put the entire nation on heightened, panicked alert. Some on the so-called liberal-left, meanwhile, are fretting about a potential Islamophobic backlash, as they always do post-terror: their minds go straight to 'What will ignorant white people do now?' This flatters the terrorist's view of himself as a victim, hated and demonised by the 'Islamophobic' Western society he has the misfortune to live in.
Where the right plays into the tragic Islamist's conceit that he's a warrior against the mighty West, too many on the left buy into his cloying sense of grievance, his twisted conviction that Western society hates his kind. Both sides play precisely the role allotted to them by the terrorist, either by exaggerating his militaristic menace or accepting the politics of victimhood that often lies behind lone-wolf outrages. They follow the terrorist's script.
What we can see emerging in response to the Westminster attack is two versions of the politics of fear: the first saying that Islamists pose a war-like threat to our nation, the second suggesting our nation has become so hostile to certain communities that we risk nurturing more such violence. Both tell us to be fearful. Both invite potentially authoritarian responses, whether by intensifying the security state to guard us against these 'warriors' or expanding the policing of hatred and 'Islamophobia' to prevent the much-feared backlash and make Muslims happier. Both do the thing we should never do in response to terror: call for drastic changes to public life and public attitudes.
They complete the act of terror. They dutifully do what the terrorist longs to do but is incapable of doing by himself: sow fear and confusion into the social fabric. This is always the worst response. Our response to yesterday's assault should be to visit Westminster, hope parliament hastily gets back to normal politics, and demand more freedom and openness, not less. Because the more we refuse to play the terrorist's game, the less impact their terrorism will have, and the more likely it is that such behaviour will become pointless and obscure, and hopefully rare. This is the power of the citizen in a time of terror attacks. It might not feel like it, but we have power over the terrorists.
Brendan O'Neill is editor of spiked.
Picture by: Getty
To enquire about republishing spiked's content, a right to reply or to request a correction, please contact the managing editor, Viv Regan.