Trump vs the queen? No contest
Better an elected president than an unelected monarch.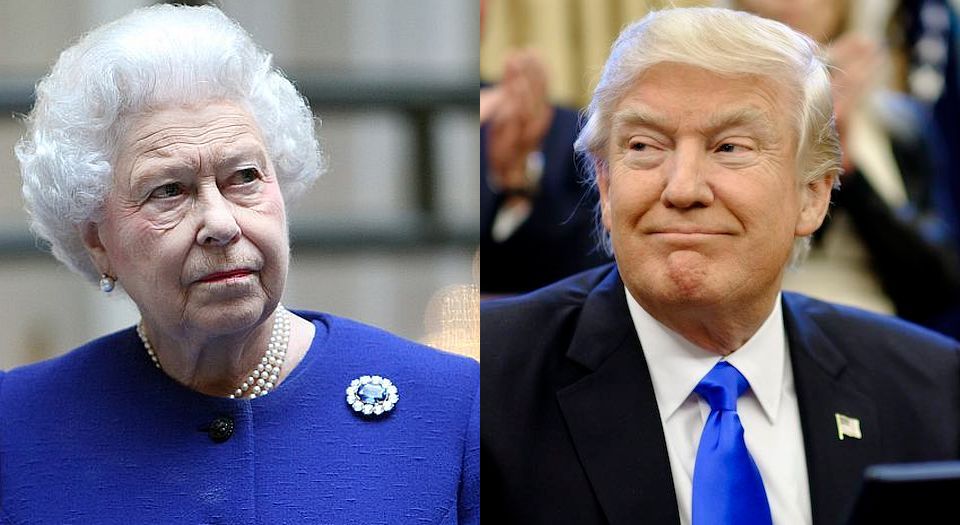 'Prevent Donald Trump', reads the petition text, 'from making a state visit to the United Kingdom. Donald Trump should be allowed to enter the UK in his capacity as head of the US government, but he should not be invited to make an official state visit because it would cause embarrassment to Her Majesty the Queen.'
Nearly 1.5million people (at the time of writing) have put their names to this: a call to halt Trump's state visit to the UK, with all the cod-pieced pageantry, inedible banquets and crazy golfing that entails, on the grounds that it would 'embarrass' the queen. Really? Trump embarrass dear old Lizzie? This, remember, is a woman who spends most of her time wearing a crown in public; a woman whose husband, Prince Philip, holds views even Trump would consider a little un-PC; a woman whose issue includes Prince Charles, an argument for republicanism made flesh. And we're led to believe she'd be embarrassed by having to host the Trumps?
It can't even be claimed that that the petition's tongue is a little in its cheek. '[Trump's] misogyny and vulgarity disqualifies him from being received by the queen', its architects have said. That's right, they really are that pompous.
What's really embarrassing is not the idea of the queen having to share her gin with The Donald – that's a sitcom. No, what's really embarrassing is the sight of hundreds of thousands of right-thinking sorts lining up behind an unelected monarch against a democratically elected president. The talk of Trump's 'vulgarity' is not an additional extra here. It touches on the core of anti-Trump sentiment in the UK – a sense that he, and those who voted for him, are too common, their views too rude, their rise too far above their station. So Outraged of the United Kingdom, his cap doffed to a hangover from England's failed revolution, dutifully appeals to the idea of monarchy and all that it represents – decorum, order, status quo – in an attempt to pull rank, to show a democratically elected leader of another nation that he must change his ways.
It doesn't matter that millions of Americans voted for him knowing full well what his policies were. For UK anti-Trumpers, the US president's democratic mandate, his political legitimacy, is of no import. Because what matters to them above all else is their own sense of moral and social superiority, and their sense of the moral superiority of the British state. He is not good enough for them. Trump is therefore being treated like some lower-class oik, someone British nobs won't be seen dead with, unless he dresses properly, works on his political etiquette, and defers to his political betters. Until then, they don't want him to be associated with the UK. They don't want to be seen with him. And they certainly don't want him prancing round Balmoral in his golf pants.
Of course, the prompt for this widespread call for the UK government's invitation to Trump to be withdrawn has been his callous and cack-handed travel ban. It's a move that should be criticised, and a move that many Americans have attacked. But the anti-democratic impulse informing and shaping the UK reaction is palpable. That's why it has taken the form that it has – as a demand that Trump be refused entry into respectable, elite circles unless he backs down, changes, becomes less, well, like Donald Trump – which, after all, is what nearly 65million Americans voted for.
You can hear this snootiness in Lib Dem leader Tim Farron's concern that Trump could be given a 'royal audience in the United Kingdom' while he is still acting like he is. And it's there again in London mayor Sadiq Khan's call for the UK to 'now rescind the offer of a full state visit for President Trump… I don't believe the people of London will support rolling out the red carpet until this happens.' Red carpets? Royal audiences? This isn't diplomacy – it's the political equivalent of telling someone 'you're not on the guest list', that 'you're not the right sort'; that 'you lack class'. This is anti-democratic sentiment in the form of unabashed snobbery.
Trump's views may be objectionable, his politics principle-lite and his leadership unserious. But, unlike the queen, whom too many Brits have turned into all that is great and good, he has at least gained people's consent for his rule. Better an elected leader than an unelected one. That so many in the UK, in an attempt to show how much they really don't like Trump, are happy to bow and scrape before a monarch – now that really is embarrassing.
Tim Black is a spiked columnist.
Picture by: Getty
To enquire about republishing spiked's content, a right to reply or to request a correction, please contact the managing editor, Viv Regan.