Two cheers for Theresa May
The fury over her speech is really a fury with democracy.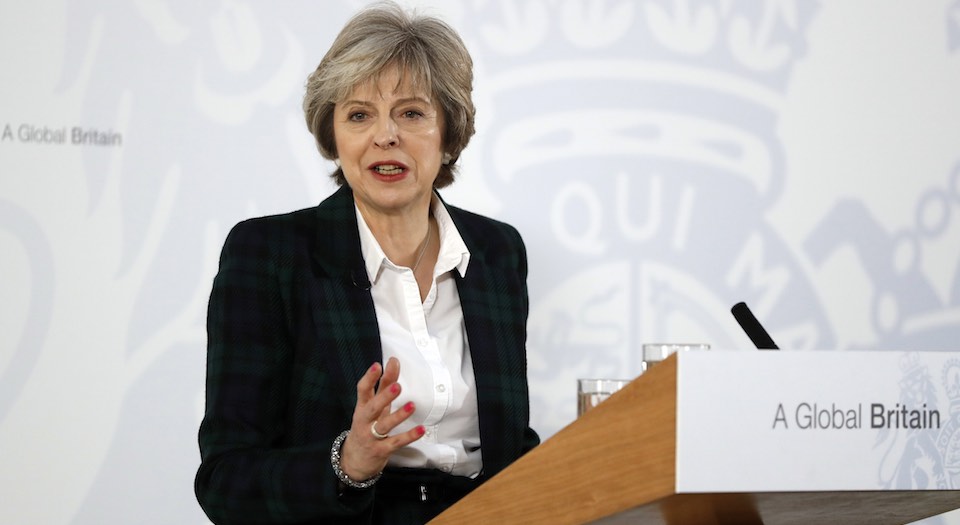 It is testament to the low esteem in which democracy is held these days that so many observers are aghast at Theresa May's speech in which she merely promised to do what the British demos said should be done. Seven months ago, following months of deep discussion — in pubs, at work, on buses — 17.4million Brits voted to leave the EU. The largest democratic mandate in British history. Yet today, after May simply echoed this great democratic cry and confirmed Britain will leave the EU — with no 'holding on to bits' of membership — the commentariat and political class have flipped. They really thought they could stop it. They thought they could override our wishes. They're openly expressing alarm that a PM is respecting the public will. Their contempt for democracy is explicit now; it comes naturally; it flows out.
May's speech is the best thing she has done, which is admittedly not a high bar. This is a PM who personifies technocracy, who continually sold herself as the ideal person to replace Cameron when he resigned following the Brexit revolt by saying she always focuses on 'getting the job done', as if she were going for a job as HR manager rather than steerer of the nation. If May has any ideological spark, she keeps it well hidden. Yet today she delivered a speech which unquestionably moves in the right direction, and which even contained one or two flashes of brilliance, or at least un-May-like inspiration.
It was decisive: we're out of all EU institutions and the Single Market; there will be no 'partial membership'. It was confrontational: if the EU pursues a 'punitive' response to Brexit it would bring about 'calamitous self-harm for the countries of Europe' that would 'not be the act of a friend'. A nice, surprisingly un-technocratic warning to those Brussels suits already talking about punishing Brits for our uppity democratic temerity as a means of discouraging other European peoples from similarly dissenting from the oligarchy's outlook. And it contained some good lines on Britain being more global post-Brexit, not hiding away but reaching to the world beyond the EU. Yes.
The thing it got most right is that Britain should trigger Article 50 and then start negotiations. This is how to do it. Too many, including in the Brexit camp, have treated triggering Article 50 as some terrifying, bridge-burning exercise, a point of no return, and have argued that we should delay it until all the finer details of our relations with the EU had been worked out. That would be a colossal folly, signalling indecisiveness; it would send to Brussels the message that we're unsure and scared. It would have emboldened EU bureaucrats in the negotiations, just as it has already emboldened elite cliques in Britain to go to the courts to try to hold up Brexit for as long as possible. It is far better to say, 'We're out. We're gone. Now let's talk.' That May has done this — finally — is good.
Yes, there are downsides in May's approach, not least the very big question of whether this technocrat (and Remainer) can really deliver on the people's revolt against technocracy. And while it's not necessarily a problem that the deal will be put before parliament, this does look like a concession to recent legal cases. These cases, and their wealthy, snooty cheerleaders, argued that going to parliament with the Brexit deal is the right, democratic thing to do, but in truth they have no interest in democracy; they merely hope that MPs, being 80 per cent Remain, being so vastly cut off from the British public and its worldview, will seek to temper the Brexit deal. But if they try to do that, we can deal with it when it happens. Also, let's not kid ourselves that May has suddenly become a firm PM: the firmness she displayed today is merely an enactment, a borrowing, of the firmness already displayed by the demos. The principled, massive demand for Brexit has conveniently lent May an appearance of political strength. It's really our resoluteness, not hers.
Which is what makes the response of the Brexit-fearing chattering class so alarming, if not at all surprising. They're fuming over May's speech. Tim Farron, leader of the Lib Dems, says May's actions will do 'massive damage to the British economy' — again with Project Fear — and says her refusal to hold a second referendum on Brexit is a 'theft of democracy'. This is a man who has devoted himself and his party to thwarting Brexit; if anyone is seeking to steal democracy, it's him. Elsewhere, commentators rage against May's 'epic self-harm' to Britain. 'Enoch Powell from his grave has finally won', says an irate Polly Toynbee. 'UKIP finally wins the day', says one think-tanker. The BBC is in meltdown, its reporters clearly startled that May has… well, has effectively said, 'You know what the British people voted for in June? I think we should do that.'
This is the truth about the fury over May's speech: it presents itself as a critique of a Tory PM for being too hardcore, too Ukippy, but in fact it's another howl of elitist rage against those who demanded in the first place that Britain should sever its ties with the EU — us, voters, the most populous democratic group in British history. The ire with May is really an ire with the demos, and with democracy itself, with the mad, pesky business of asking allegedly ill-informed people to make big decisions. Those saying 'I can't believe May is actually doing this' are really saying 'I can't believe the leader of Britain is acting upon the British public's wishes'. They're stunned, disgusted, that the people's demand to leave the EU might actually be realised, and that their apparently better, more expert view, their minority love of Brussels, is being overridden. They rage at May, but it's the mob they hate.
'The public didn't vote for this', they say, these Mystic Megs, these mind-readers. But the public did vote for this. 'Remain or Leave?', we were asked. 'Leave', we said. We knew very well what that meant. May's speech is but a manifestation, a recognition, of the public's wishes. Quit the Tory-bashing act; if you have a problem with leaving the EU then you have a problem with the people, and with democracy, and with politics itself. Be honest about that. And, to paraphrase May, bear this in mind: if you seek to stymie or weaken democracy, you will bring calamitous self-harm upon yourself.
Brendan O'Neill is editor of spiked.
Picture by: Getty Images.
To enquire about republishing spiked's content, a right to reply or to request a correction, please contact the managing editor, Viv Regan.