Trump: it wasn't Russia wot won it
It's the Democrats who threaten to undermine American democracy.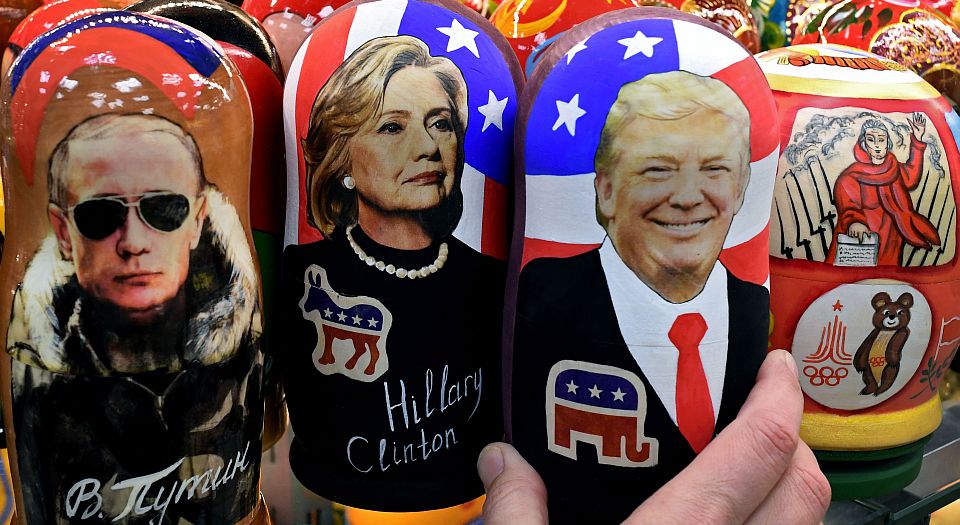 Donald Trump was elected president of the United States. More than a month later, Democrats can't accept that fact. Rather than face the reality that millions of voters rejected Hillary Clinton and the Democratic Party, they have embraced conspiracy theories to try to explain their loss. And in a serious threat to democracy, they are now relying on these half-baked notions to try to overturn the result.
Since the election, Democrats and liberal pundits have blamed Hillary's defeat on a series of nefarious interventions and unjust set-ups: from FBI director James Comey's letter to congress about new evidence regarding Clinton's emails, to an avalanche of 'fake news' duping the voters, to an unfair electoral college and rigged vote counts. (In Wisconsin, a recount paid for by the Green Party's Jill Stein, and backed by Clinton, saw Trump increase his vote tally.) The latest and maddest scheme was sparked by a Washington Post report claiming that the CIA has 'high confidence' that Russia hacked the Democratic Party's emails with the aim of helping Trump to victory.
This story is far from a 'bombshell'. But you'd never know it from the hysterical reaction. First, we don't have the full story, and the Washington Post is basing its report on anonymous 'senior administration officials'. There's no new evidence. It was reported in October that Russia was suspected of hacking the Democratic National Committee's emails. What's supposedly new is the CIA's assessment of Russia's motives, namely that it tried to tip the scales towards Trump. But it has also been reported that America's other intelligence agency, the FBI, rejects this conclusion, and apparently not everyone within the CIA agrees either.
With such partial and inconclusive information, a wise response would be to remain calm and investigate further. But for Democrats and their supporters, it's plenty evidence to shriek that the election was fixed by a foreign power. For New York Times op-ed writer Paul Krugman, the election is 'tainted' and Trump is 'illegitimate'. To other liberal pundits, Comey and Republicans in Congress have committed 'treasonous acts' by allowing Russia to get away with its hacks.
These responses might be laughed off as just the screeches of sore losers, the grown-up versions of the campus crybabies who need counselling and Safe Spaces to cope with Trump's win. But matters have taken a more serious turn. Yesterday, former Clinton campaign chairman John Podesta announced his support for a 'special intelligence briefing' for the electoral college 'electors' before they vote on 19 December. Podesta's and the Democrats' hope is that these 538 electors, after viewing evidence of Russian hacking, will overturn the votes of millions of Americans and install Clinton. If it ever came to pass, such a move would represent a grave threat to democracy.
Let's get some perspective. It would not be a shock if it was eventually proved that Russia was involved in hacking. As it happens, all major countries, including the US, engage in cyber-spying. Furthermore, it is rich for the US to get all self-righteous about interfering in elections, when it has a long history of meddling in the internal affairs, including the elections, of other countries. Moreover, it would also not be a surprise to learn that Vladimir Putin would prefer to have Trump in the White House, especially after Clinton, while secretary of state, called Russia's 2011 elections fraudulent, and Putin accused her State Department of backing protests in Moscow. Clinton's hardline, neo-Cold War stances during the election didn't endear her to Putin either.
But while Russia may be behind the hacks of Democratic Party computers, and may have had a preference for Trump, it is far-fetched to claim that Russia swung the election result. Amid all of the issues raised during the election, the Wikileaks revelations were not a big deal. If anything, they only confirmed suspicions voters already had about Clinton's lack of honesty. Putin didn't force Clinton to use a private email server and take dodgy donations for the Clinton Foundation. He didn't convince her to ignore the working-class voters of the Midwest, to play divisive identity politics, to rely on celebs like Lena Dunham, to flip-flop on issues like the Trans-Pacific Partnership trade deal. He didn't magically turn her from a dynamic, inspiring candidate into the wooden 'unlikeable' we know.
Underneath all of the apologies that Democrats make for Clinton's loss is a deeply patronising outlook: that voters are too dumb to sort through what they hear in the media. In this worldview, a typical voter who read about a Wikileaks revelation, Comey's comments or came across a 'fake news' report must have then automatically voted for Trump. The elites can't imagine that a voter weighed up the arguments, and, recognising the weaknesses of both candidates, decided to go with the anti-establishment one. The condescension embodied in the post-election explosion of excuses – which all, at root, evince a low opinion of the American voter – is in itself a big part of why Trump won.
The rationalisations put forward by Democrats have a single aim: to delegitimise Trump. They know that denying him the White House is a long shot, but at a minimum they want to cast a cloud over the presidency, without having to challenge his policies. This represents a continuation of the approach adopted by Clinton, who sought to depict Trump as abnormal and unfit for the role while avoiding engaging in substantive arguments. This wasn't convincing during the campaign, and it still isn't.
'We now know that the CIA has determined Russia's interference in our elections was for the purpose of electing Donald Trump', wrote Podesta in his statement. 'This should distress every American.' What is truly distressing is the Democrats' attempt to overturn the election result on the hyped-up charges of Russian shenanigans. Liberals like Paul Krugman like to say that Trump violates 'democratic norms'. But there is nothing more anti-democratic than what the Democrats are doing now – denigrating voters' choices and threatening to reverse the outcome of the election. Their deeply held belief that they know what's best means they are willing to ditch democracy to get their way. We can't let them get away with it.
Sean Collins is a writer based in New York. Visit his blog, The American Situation.
Picture by: Getty
To enquire about republishing spiked's content, a right to reply or to request a correction, please contact the managing editor, Viv Regan.