Trump: a threat to democracy, not women
Trump has empowered a fearful, conspiratorial strain in US culture.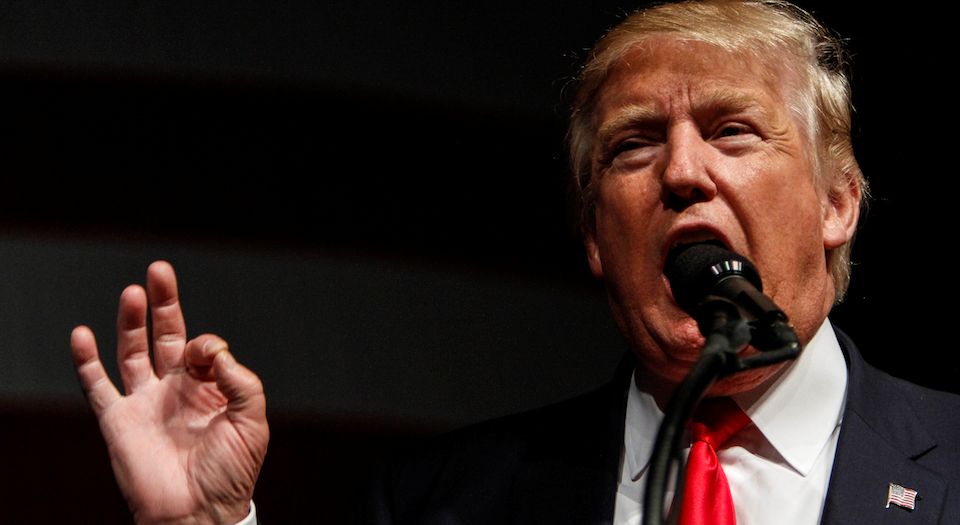 We're now learning how the absurdly grandiose Donald Trump will deal with becoming what he most disdains – a loser. As his chances of winning diminish, he's angrily insisting that he won't lose the election but that nefarious forces may steal it from him. The aspiring strongman is identifying as a victim, on a grand scale – posing as the martyr of a global conspiracy against America.
'There's a whole sinister deal going on', Trump warned apocalyptically in a speech unlike one we have ever heard from a major party presidential nominee. (As the late, great columnist Molly Ivins said of a 1992 convention stem-winder by the far-right Pat Buchanan: 'It probably read better in the original German.') Clinton 'meets in secret with international banks to plot the destruction of US sovereignty in order to enrich these global financial powers, her special-interest friends and her donors', Trump charged. He included the media (source of his celebrity and candidacy) in the Clinton international cabal: the media is her 'most powerful weapon'. These are classic anti-Semitic tropes, common on the alt-right, as the Anti-Defamation League observed: '[C]onspiratorial anti-Semites… believe that there is an elite group of Jews who control the media, the government and banking, and who are trying to destroy white America. They also believe that most of Hillary Clinton's donors are Jewish.'
Donald Trump, whose lifelong devotion to his own interests could not be clearer, claimed to be sacrificing himself on the altar of America. He is the victim of a particularly vicious 'character assassination', he complained. But, he assured his supporters, 'I take all of these slings and arrows gladly for you. I take them for our movement so that we can have our country back… This is a struggle for the survival of our nation.' Trump previously offered himself as America's saviour. 'I will give you everything', he promised. 'I will give you what you've been looking for for 50 years. I'm the only one.' Now, it seems, he is not just a political martyr: he is America's martyred messiah.
Trump's rise, and what I hope will be his fall, would be fascinating if it weren't so ominous. If or when he loses what he will condemn as a rigged election, he seems unlikely to concede and quite likely to de-legitimise Clinton's presidency, as he de-legimitised President Obama with his birther crusade. He will exploit and intensify the angry grievances of his most impassioned supporters, some of whom are already threatening the media at his events.
Neither Trump nor the viciousness of his campaign will fade away. He has encouraged people at his rallies to assault protesters, promoted anti-Semitic and racist memes, and called for bans on Muslim immigrants and surveillance of mosques (while proclaiming himself a champion of religious liberty). He has lied incessantly, boldly denying indisputable facts. (Clinton lies on occasion, like a normal politician.) He has encouraged poll-watching, warning his supporters, against all evidence, that in 'certain areas' people will try to vote multiple times. He combines manifest ignorance, a fleeting attention span, rage and little apparent self-control with supreme confidence in what he extols as his superior instincts and intelligence. And, perhaps above all, he displays no knowledge of our system of government (I doubt he could pass the citizenship test), no understanding of the constitutional principles he'd vow to defend, and no respect for democratic norms, as evidenced by his threat to jail his political opponent should he ascend to the White House.
Still, despite his obvious unfitness for office – acknowledged by many Republicans, including some who eventually endorsed him – Trump posed a serious challenge to Hillary Clinton until a few weeks ago. What changed? First, he performed petulantly and incoherently during their initial, widely watched 'debate' on 26 September. Then he was heard, on tape, bragging like a drunken frat boy about groping women. Some Republicans who'd endorsed Trump despite his dangerous deficiencies, standing by him throughout stumbles and scandals, disavowed him for disrespecting women (while maintaining their opposition to abortion rights). Democrats gleefully pounced. Women shared stories of assault on social media.
The tape revealed nothing we didn't already know or strongly suspect about Trump: crude, aggressive sexism has always characterised his personal brand. But, while discouraging, it's not surprising that charges of sexual assault may prove the coup de grace for his campaign. Like many women, I've been groped, harassed and punished professionally on account of sex, so I understand the anger evoked by Trump's stated sense of entitlement to manhandle us. Still, if Trump were Trump minus his misogyny and he was running against a smart, substantive serial groper, whose policy predilections I shared, I'd vote for the groper. It's disconcerting to find the drive to defeat 'rape culture' stronger than the concern about the knowledge, competence and autocratic tendencies of a would-be president.
The ironies abound. After being pilloried for his boasts about grabbing women 'by the pussy', Trump sought to use rape-culture activism in his campaign. He appeared before the second presidential debate with a panel of three women allegedly assaulted decades ago by Bill Clinton, and one rape victim whose attacker had been represented by a young Hillary Clinton (after being assigned the case by the court in the mid-1970s). Trump once defended President Clinton from assault charges, assailing his accusers. But that was then. In a typical, expedient reversal, he attacked Clinton as the worst abuser in our political history, while his campaign used the former president as a rape-culture poster-boy and insisted that we believe the women.
Then a different series of women came forward accusing Trump of assault, after he publicly denied ever having done to women what he privately claimed on tape to have done. These women, according to Trump, are not to be believed, in part because some were not sufficiently attractive for him to grope. (This fat, flaccid 70-year-old with the weird comb-over has also derided Hillary's appearance.) Now Trump is widely viewed as a habitual abuser, targeted by the feminist wrath he tried harnessing against the Clintons.
Rape-culture memes are dangerously overwrought. They undermine due process, free speech and perhaps the emotional welfare of young women encouraged to regard every unwelcome advance as potentially traumatic. But, like the prospect of a Clinton presidency, the threats posed by rape-culture activism are normal, familiar and vulnerable to resistance. A Trump presidency would empower a fearful, anti-libertarian, conspiratorial strain that emerges periodically in US culture, but has yet to triumph over it. Trump's apparent disdain for women pales beside his hostility to democracy. Still, he foolishly presented himself as a champion of assault victims, raising the spectre of rape culture. All things considered, we'll have rough justice if he's hoist on its petard.
Wendy Kaminer is a lawyer and writer, and a former national board member of the American Civil Liberties Union. She is the author of several books, including: A Fearful Freedom: Women's Flight from Equality (1990); I'm Dysfunctional, You're Dysfunctional (1992); and Worst Instincts: Cowardice, Conformity and the ACLU (2009).
Picture by: Getty Images.
To enquire about republishing spiked's content, a right to reply or to request a correction, please contact the managing editor, Viv Regan.