Trump and Clinton: how low can they go?
This is the lamest, sleaziest presidential contest in living memory.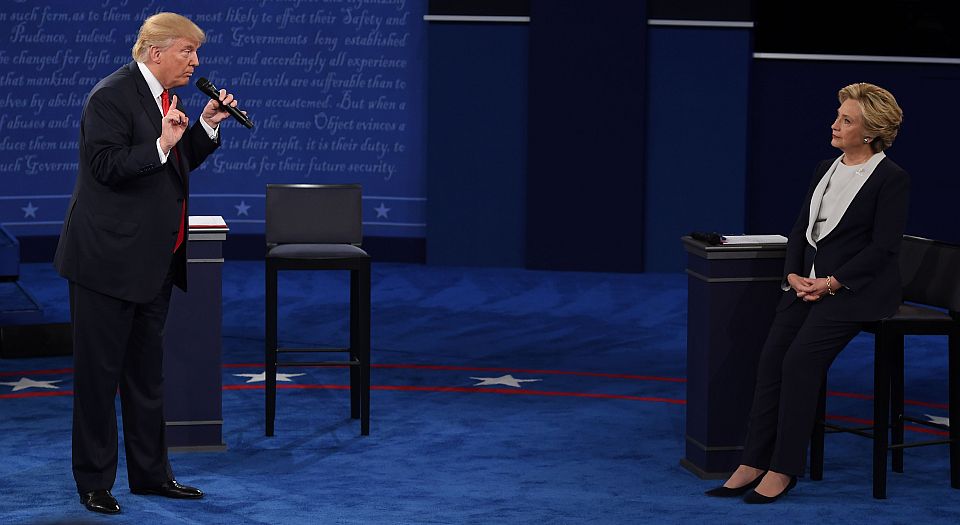 Sunday night's debate between Donald Trump and Hillary Clinton in St Louis was a sordid spectacle. The two candidates spent the night trading accusations and insults over tawdry matters. Before the debate, all the talk was about a 2005 video that recorded Trump making lewd remarks about a woman. Then, at the debate, four women who have accused Bill Clinton of sexual assault, and Hillary of waging a vilification campaign against them, were sitting in the audience, at Trump's invitation. It was like an episode of Jerry Springer – all that was missing were chairs being thrown across the room.
The event was unprecedented for an American presidential campaign, at least in living memory. As the New York Times reported, 'It was a deeply ugly moment in American politics, featuring the sort of personal invective rarely displayed by those who aspire to lead the nation.' After a night like Sunday night, the question of who will win the election becomes almost secondary; the more profound concern is how degraded American politics has become.
This is an election campaign that is nearly devoid of true politics – the vital decisions over the economy, society and world affairs. And the blame for this lies with both Trump and Clinton. Our media pundits single out Trump, for being a tacky businessman who has dumbed down politics, a bouffanted showman who has introduced reality TV into political life. Yes, Trump is as bad as they say. But Clinton also bears responsibility for dragging the debate to the gutter level that we're seeing today.
'When they go low, we go high', said Hillary on Sunday night, quoting Michelle Obama. But she has done nothing of the sort: she goes as low as Trump, if not lower. Clinton has been very clear that her entire campaign strategy is to say that Trump is beyond the pale: not just wrong, but dangerous and unfit for office. And her main argument is that Trump is unfit because he is a sexist slime. She likes to cite Trump's now notorious statements about the actress Rosie O'Donnell and Megyn Kelly of Fox News, to name just two. At the first debate, her main zinger was to raise the case of a former Miss Universe, Alicia Machado, who she said Trump treated badly in 1995. And her campaign jumped on the latest Access Hollywood 'hot mic' revelations with glee.
Trump is a boor, but Clinton's decision to focus on Trump's behaviour and personality has led to the dumbing down of the election campaign. Taking the high road would mean promoting her own positive vision, but she hasn't got one. Even the question of fitness for office could have been posed in more political terms, including his lack of experience and knowledge, but Hillary prefers a lower road.
Boiled down, Hillary's case amounts to: vote for me because Trump said something derogatory to a former Miss Universe in the 1990s. Is that the best she can come up with? Given Hillary's feminism and identity politics, it wouldn't take a clairvoyant to know that she would push the sexism card in this campaign. But few will have predicted it would be played over such trivial matters. Indeed, Sunday night's sorry display – with competing arguments over which 70-year-old sexist male, Trump or Bill Clinton, we should care most about – is the logical dead-end of 'the personal is political' feminism. It drags politics down to the personal level, and in this case there are unattractive personalities all around. Moreover, for Clinton herself, it's a problematic line of attack: she likes to espouse the 'believe all victims' mantra of the new feminists, yet for decades she has smeared her husband's accusers.
'Trump's a sexist pig' is not a guaranteed winning electoral strategy for her, either. Clinton is very lucky in having an opponent in Trump, a man who embodies the new-feminist stereotype that all men are sexist. But by engaging in such a negative and petty campaign, Hillary has continually given left-for-dead Trump new leases on life.
Sunday was a good example of this. Before the debate, Trump's campaign was said to be in crisis over the video. Prominent Republicans were withdrawing their support, and there were rumours that he might even drop out of the race.
But on the night, Trump was able to mumble through an apology about his 'locker-room talk', and then go on the offensive against Clinton. He was effectively saying: look past my indiscretions, because there are more important issues at stake in this election. And without a positive and inspiring vision, Clinton was vulnerable to Trump's attacks. Trump scored points time and again: over Hillary's decision to delete emails, her ties with Wall Street, her 'bad judgement' on Libya and Syria, and on her weak defence of Obamacare (he got her to admit that President Obama's 'signature achievement' needed to be fixed).
Challenged to defend her Wikileaks-revealed comments to Goldman Sachs about having a public and private persona, Clinton tried to claim she was referencing Abraham Lincoln. Trump counterpunched with his best line of the evening: 'She lied, and now she's blaming the lie on the late, great Abraham Lincoln.' In another telling moment, as Clinton argued that she could bring the country together, Trump reminded us that Hillary views a huge swathe of the population as 'deplorable' and 'irredeemable'. Again, a very effective use of turning Clinton's own weakness – her elitism – against her.
In this year's contest of the unlikeables, whoever is in the spotlight is viewed more negatively; on Sunday Trump shone the light on Hillary, and she was exposed as an empty suit. It was a quite amazing turnaround: Clinton was expected to deliver the knockout punch in the debate, but couldn't; Trump won by surviving.
Of course, in going on the attack on Clinton, Trump was trying to deflect attention from his own problems. But it also served another purpose: to gin up his base of working-class support. Accusing Clinton, to her face, of covering up her husband's sexual scandals, and saying he would appoint a special prosecutor to investigate her emails ('you'd be in jail', he predicted) – this was red meat for his devotees. At various times in his campaign, Trump has rejected advice from Republican grandees to tone down his message and seek to broaden his appeal. It's interesting how, when he gets in trouble, like with the latest video, Trump doubles down with appeals to his base. He must recognise how valuable that support is, and it's something other Republicans envy him for (indeed, it's why so many Republicans can't bring themselves to break with Trump – they don't want to cut themselves off from his base).
Trump entered Sunday night's debate a politically wounded candidate, with nothing much to lose. His no-holds-barred approach may have managed to make Hillary look weak, but it didn't do much to advance his own standing. What do we have to look forward to, between now and 8 November? On the basis of recent weeks, just more gotcha videos from Access Hollywood and sleazy revelations. Trump and Clinton are locked in a race to the bottom, a terrible way to choose a president. It's an insult to the intelligence of the American voters and an embarrassment to the world.
To enquire about republishing spiked's content, a right to reply or to request a correction, please contact the managing editor, Viv Regan.