Hillary or Trump? Pick your poison
The debate showed why both candidates are so unpopular.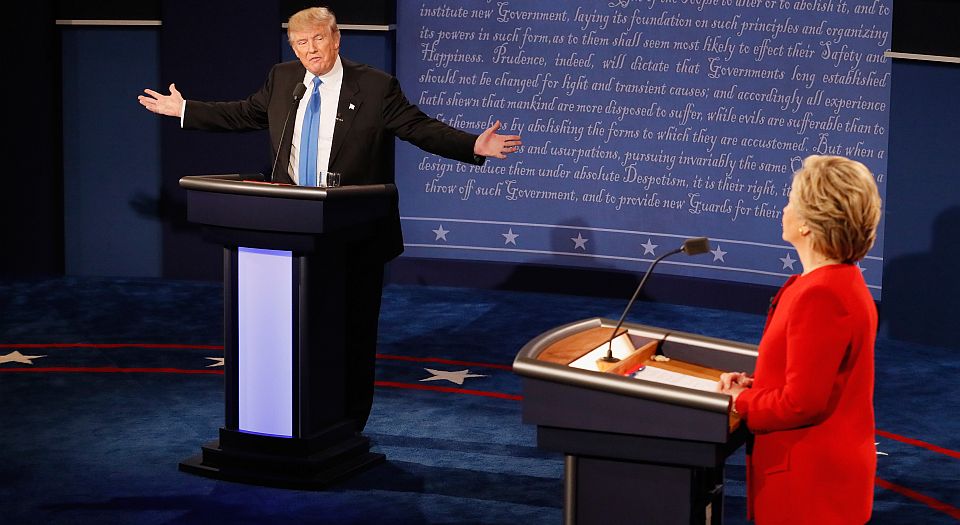 There was a buzz of anticipation leading up to the first head-to-head debate between Hillary Clinton and Donald Trump. Over 100million were expected to watch on television, exceeding even the Super Bowl's viewing audience. In the event, the debate turned out to be like many Super Bowls – a huge letdown, falling far short of the pre-game build-up. It was neither highbrow political discussion nor lowbrow insult-hurling.
By any standard assessment, Clinton won on the debate. She was poised, spoke clearly and confidently, was well-prepared and knew her policy specifics. In a word, she looked presidential. Trump, by contrast, was all over the joint – he was rambling and incoherent. There are many policy arguments to be made against Clinton and the Democrats, but Trump proved once again that he is incapable of making them effectively. Trump may have put a new style of nationalism on the American political agenda, raising issues like trade and immigration, but he is unable to close the deal on any of these topics.
At several points, Clinton was able to put Trump on the defensive. She dangled issues that played to her advantage, and the ill-disciplined Trump went after them, like a cat chasing a toy. Whether defending his unwillingness to release his tax returns or his stiffing of contractors and workers, Trump couldn't help giving long-winded answers, digging a deeper hole. Clinton attacked him over his conspiracy-fuelled 'birther' campaign against President Obama, and Trump had no good response. Despite needling Hillary about her health, and her 'stamina' in recent weeks, Trump was the one who looked 'low-energy' in the debate.
The debate highlighted that ideas do matter. What this election has shown is that, when the discussion focuses on domestic and foreign-policy specifics, Clinton benefits, as Trump is exposed as out of his depth. But when the campaigns move on to the terrain of the Culture War, Trump benefits, as voters see him as a vehicle for a backlash against the establishment. Last night there was a lot of policy and little Culture War, and that played to Clinton's advantage.
Yet, for all of the weaknesses that Trump displayed, you have to say that Clinton didn't deliver a knockout blow. Clinton contends that Trump is uniquely dangerous, beyond the pale and 'unfit' for office. This has set a very low bar for Trump. Just by appearing on the stage with Hillary and surviving, he appears to exceed those low expectations. In other words, Trump didn't necessarily have to 'win' the debate to remain very much in contention.
We also have to keep in mind that this election has been turned into a referendum on the political establishment, something we haven't seen for decades, and that means many of the old rules don't apply. And in that regard, Trump landed some anti-establishment punches last night that will have delighted his supporters. One of his most effective lines was: 'I'd just ask you this. You've been doing this for 30 years. Why are you just thinking about these solutions right now?' Here, Trump tied Hillary to the public's disappointment with the political elite more broadly. He was asking voters to dismiss her: it doesn't matter if she spins together some nice words, he suggested, you know she won't deliver on it, because our political elite never does.
Many Democrats will be pleased with Clinton's performance in the debate. They will have sighed with relief, hoping it will result in a boost for Hillary in the polls, which have narrowed to a virtual tie in recent weeks.
But Democrats have a big problem with confirmation bias – they see what they want to see. They obsess about Trump. They think he is a terrible person and politician, and can't understand why anyone – never mind 40 per cent of the electorate – would support him. They will see last night as an event that exposed Trump as empty: 'Maybe the dumb voters will see through him this time.' But what the Democrats fail to recognise is that support for Trump has very little to do with his own attributes, and is primarily driven by a public rejection of Clinton and the political establishment generally. Sure, Clinton's emails and other personal weaknesses as a candidate come into play, but the bigger issue is the anti-establishment trend. Democrats need to focus less on what makes Trump special, and more on why Clinton is so lacklustre.
In that regard, Hillary continued to play her role as the insider with institutional backing. Take her multiple appeals to the 'fact-checkers' scrutinising Trump's claims. This was not only lazy – as if she can't be bothered to argue with Trump herself – it also indicates that she feels she has an army of establishment supporters in the media, who will be there to back her up. For a Trump supporter, that only confirms their suspicion that the media is pro-Hillary.
Last night also consolidated Hillary's role as defender of the status quo. For all of her well-rehearsed policy points, she presented no big theme that might inspire. She gave no sense that anything would be dramatically different under her leadership to the past eight or more years. There was no indication that her path to the White House would be more than the joyless slog it has been up to now.
So, by the end of the debate, it was pretty clear that Trump will not have moved many people outside of his existing base of support. But, at the same time, few who are disenchanted with the establishment will have been swayed by Hillary's performance.
All in all, I couldn't help thinking that the debate crystallised the reason why these two candidates are so unpopular. I join those who say: in a country of more than 300million, are these two the best we can do?
Sean Collins is a writer based in New York. Visit his blog, The American Situation.
Picture by: Getty
To enquire about republishing spiked's content, a right to reply or to request a correction, please contact the managing editor, Viv Regan.