Remain voters, quit the granny-bashing
All of us, not just the under-25s, must engage in the future of politics.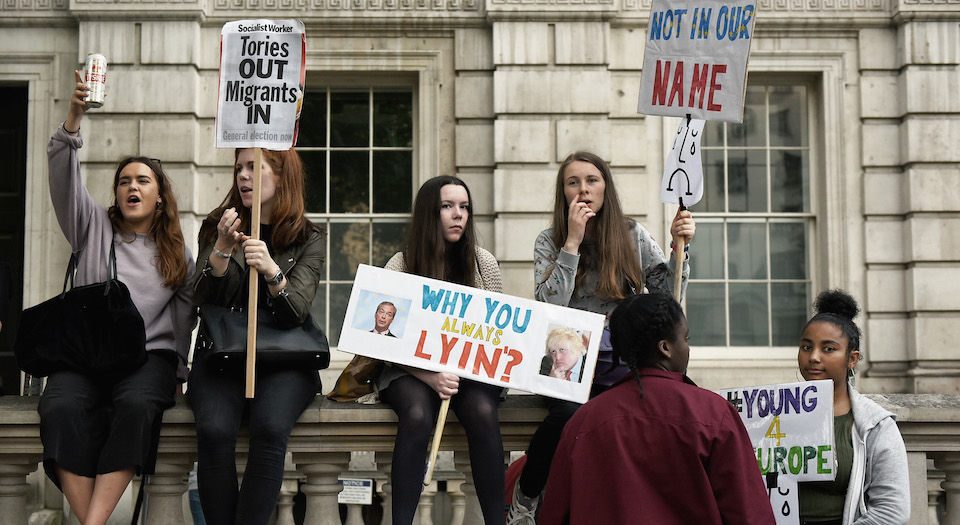 Among the many divisions brought to the surface by the EU referendum, an apparent 'generation war' is raging. A recent poll, which found that most young voters chose to Remain, and most over-45s chose to Leave, has led to an explosion of bitterness from the younger sections of the electorate. Teenagers who are not yet old enough to vote and parents of young children are lamenting a supposedly lost future.
Some of the language used to express this anger – particularly, it should be said, by media commentators on a hyperbole mission – has been breathtakingly nasty. Older (Leave) voters have been cast as backward, nostalgic, racist and incapable of understanding the modern world. A widely reproduced table indicating how many years voters of different age demographics have left to 'live with the decision' of the referendum carries the clear implication that older voters should have less of a say in important matters than the young. 'The wrinkly bastards stitched us young uns up good and proper on Thursday', wrote restaurant critic Giles Coren in The Times. 'We should cut them off. Rewrite the franchise to start at 16 and end at 60 and do this thing all over again.'
The fury and sense of disorientation experienced by some young Remainers is understandable. They have grown up with the particular idea of Europe as institutionalised by the EU and find themselves suddenly forced to imagine something different. What it means to be in Europe, European or British is no longer an assumption: it needs to be thought about, articulated and fought for. This is going to be hard work, on all sides of the debate. And yes, young adults' lives will be shaped by the way in which things evolve over the next few years – just as they will be called upon to shape those events.
What is curious about this idea of a 'wrinkly bastard stitch-up', though, is that it actually represents an enormous trust placed by the older sections of the electorate in their children and grandchildren. Ironically for those emphasising just how few years older people have left to 'live with the decision', it is these supposedly selfish, short-sighted and nostalgic folk who will experience all the political and economic turmoil in the short term, without themselves having a central role to play in shaping what comes next.
Now that we've voted to leave the EU, the younger generations must take the reins and make their own decisions about the kind of Britain, and the kind of Europe, they want to forge. They have not been mandated to restrict immigration, buy British, wear cardigans or do anything specific – they must simply take greater responsibility for decision-making. And this is an opportunity to do something really good.
The referendum debate has captivated many young people, even schoolchildren, in a way that parliamentary elections have systematically failed to do. The importance of political engagement has been demonstrated so much more convincingly than in the tired arguments wheeled out during elections about why young people should stop being apathetic and do their duty by the ballot box. How brilliant would it be if a commitment to making a difference could replace career politicians bickering over the same territory and encourage a proper engagement with the big issues that confront our world and the people in it.
But this will only happen if we move beyond the cynical sulk about the so-called generational stitch-up. Again, it is ironic that those complaining about young people's disempowerment by large numbers of wrinklies are feeding the very detachment that has, for many years, characterised young people's relationship with progressive causes, parliamentary democracy and concerns beyond their everyday lives. The ridiculous notion that people's power to decide important matters should be weighted according to how long they are likely to 'live with the decision' encourages the consumerist, anti-democratic approach that has become such an unappealing feature of our political culture.
The idea that the young should be given more of a say than the old also fundamentally misunderstands the nature, and importance, of the generational transaction. This is a mediation between the past, present and the future, in which the wisdom, experience and mistakes of older generations are taken on board by those who come afterwards, to be learned from, built on, or rejected. Decisions about Europe made 40-odd years ago were informed by a combination of the experience of history and those who had lived through it, concerns about the problems afflicting the 1970s and visions of the future. The decisions that we make today are similarly based on a combination of past experience, present concerns and ideas about where we want to go – as a country and as a continent.
To expect, or allow, young people to make these decisions in isolation from those with experience of the past would be an act of grotesque generational irresponsibility – denying them the ability either to build on the good things of the past, or learn from the mistakes of the past. It also seeks to exacerbate social divisions, pitting children against their parents and grandparents, and scapegoating the older generation, who are merely guilty of having lived for a few decades longer, as the cause of today's problems.
Thus, some angry, young(ish) Remainers have readily adopted a preexisting narrative that blames the postwar Baby Boomer generation for the myriad social and economic problems that Western societies are currently experiencing. Disagreement with the way many of the older generation have voted is brought together with the shrill, one-sided script of Boomer-blaming to articulate a naked contempt for the past and those who lived through it – and still have the audacity to be alive, and engaged, today. Giles Coren sums up this sentiment nicely:
'And don't go telling me that we owe at least a debt of respect to the elderly. Respect for what? Don't confuse the elderly of today with the elderly of the recent past. This lot did not fight a war (not many of them). They didn't free us from the yoke of tyranny. They didn't live in modesty and hardship and hunger so that future generations might thrive. They just enjoyed high employment, good pay, fat benefits, enormous pension privileges, international travel, the birth of pop music and lashings of free sex. We don't owe them a thing.'
'We don't owe them a thing.' This is the kind of self-regarding, insular perspective that commentators want to associate with the Little Englander mentality; the kind of vicious stereotyping that anti-immigrant propaganda engages in. It seeks to mobilise young people not around an inclusive, open vision of Europe, but a petty, self-righteous feeling of personal injustice. The sense of grievance at having lost the vote is seen as more important than the urgency to fight for the Europe that they want to be a part of.
We are better than this. In the uncertainty ahead, it is the responsibility of the older generations – whichever way they voted in the referendum – to encourage young people's engagement with everything that happens next. And it is the responsibility of the young to carry on having the conversation – with each other, their elders, and, above all, with those who have different perspectives and experiences from their own.
Jennie Bristow is senior lecturer in sociology at Canterbury Christ Church University and an associate of the Centre for Parenting Culture Studies. She is author, most recently, of Baby Boomers and Generational Conflict (Buy this book from Amazon(UK).) Her new book, The Sociology of Generations: New Directions and Challenges, will be published by Palgrave Macmillan in June. (Order this book from Amazon(UK).)
Picture by: Getty Images.
To enquire about republishing spiked's content, a right to reply or to request a correction, please contact the managing editor, Viv Regan.