Berned out
Boiled down, Bernie Sanders' message was just too pessimistic.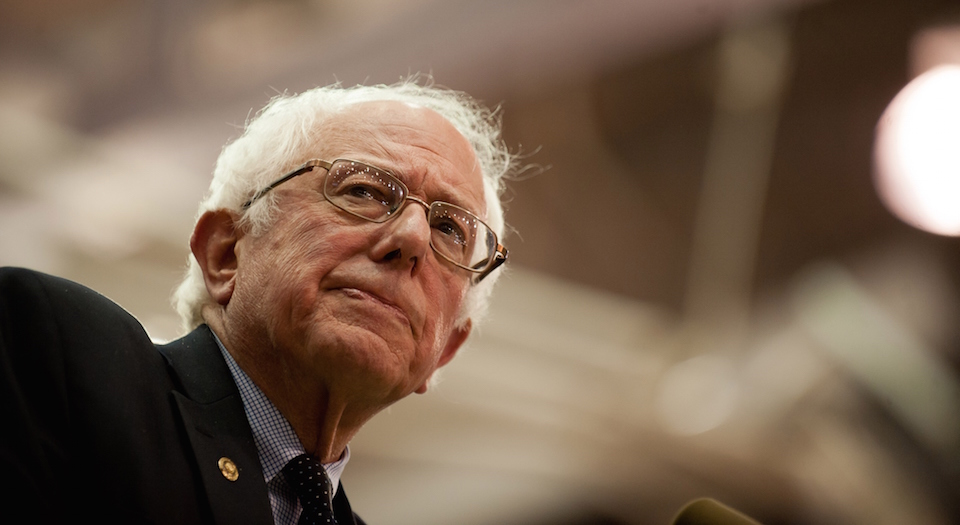 The New York Democratic Party primary was a 'must win' for Bernie Sanders, and he didn't win. In fact, Sanders lost by a big margin to Hillary Clinton: 58 per cent to 42 per cent. After New York, we know he won't be the nominee, barring an unexpected event.
It has been a remarkable run for this unlikely insurgent, a dishevelled 74-year-old who has captured the hearts of many young people. With rallies in the thousands, Sanders has generated far more enthusiasm than Clinton has, and he has sent a chill down the spine of the Democratic establishment, who had hoped Hillary's nomination would be a coronation.
Six months ago, few expected Sanders would go this far. But by his own standards, New York was a terrible result, and revealed some serious limitations to his campaign.
Going into New York, Sanders predicted he would win. He said he had the momentum behind him, having won eight of the prior nine contests. Hillary's prior wins were mainly in the 'Deep South', 'the most conservative part' of the country according to him, and now the race was 'moving up' to the more favourable terrain of the North (many Democrats in the South didn't take kindly to that characterisation).
Sanders had his chance. By the time he began campaigning in New York, he had become a national figure. He had two weeks to make his case in New York — a lifetime in politics. Downstate New York (New York City and its suburbs) is very liberal, so in theory it should have been open to his case. And in the event, the Sanders campaign out-spent Clinton's by two to one ($5.6million to $2.8million).
So, Democrats in New York heard what he had to offer, but weren't buying it. Clinton crushed Sanders in downstate New York, and won urban centres of upstate New York as well. Sanders' ongoing difficulty in gaining the support of black Democrats continued in New York, as only a quarter voted for him.
Sanders' rallies have created a buzz around his campaign – in New York, 27,000 attended his rally in Washington Square – but these events have not generally translated into winning a majority of voters or the working people he claims to be fighting for. White workers tend to vote for Donald Trump, while African-American and Latino workers tend to opt for Hillary. Sanders' support has remained narrowly focused on certain groups. As one disappointed progressive put it: 'Bernie's support comes from educated white males, young white women, Ta-Nehisi Coates, and the Screen Actors Guild. That's not a political revolution, that's the checkout line at Whole Foods.'
The New York spotlight exposed a candidate who wasn't ready for primetime. Sanders badly botched an interview with the editorial board of the New York Daily News. Combating Wall Street is at the top of his list, and yet when asked, he could not explain how he would 'break up the banks', nor did he seem knowledgeable about current industry regulations. Sanders appeared to have lots of rhetoric about the evil banks, but no substance. He even lost Saturday Night Live: the TV comedy show ridiculed him, with the Sanders character (played by Larry David) answering 'yada yada yada' to a question from Julia Louis-Dreyfus about his plans for banks.
Sanders may be an imperfect messenger, but the New York results suggested there are serious problems with his actual message. Sanders' top two issues are Wall Street and campaign finance, both of which, he claims, prove that the game is 'rigged' against working people by 'billionaires and millionaires'. But these are non-issues for the working class, and it's no wonder that they don't resonate with the masses: the idea that big banks and election finances are the main barriers to working-class success today is ridiculous. Both are already highly regulated areas, and regulating them even more, as Sanders would like to do, wouldn't benefit workers (never mind signal a 'political revolution').
It is striking how much of Sanders' message is based on cynicism about the political process. By highlighting Wall Street and campaign finance, Sanders argues that the big problem with American politics is that it is corrupt, and that the main task is to empower the state more to clean it up. Further, these two issues conveniently enable him to attack his opponent in a negative, personal way – as when he slams Clinton for receiving $225,000 per speech for Goldman Sachs. In raising this point over and over, Sanders insinuates that Clinton is a mercenary who takes orders from Wall Street and big donors. But there was a really telling moment in the Sanders-Clinton debate held before the New York primary: when asked, Sanders could not name a specific action Hillary took as a result of her ties with banks. All in all, Sanders' message, with its big dollop of cynicism about a corrupt system, is a downbeat, pessimistic one.
Sanders' repertoire goes beyond talking about banks and campaign finance (there's also free tuition at state colleges, a favourite among his student supporters), but not much more. His limited policy concerns mean that Clinton often has no real opposition in certain areas. A prime example is foreign policy, which Sanders exhibits surprisingly little interest in, given he's running to become commander-in-chief.
And while Sanders is willing to have a go at Clinton over Goldman speeches, he avoids harder arguments. Over time, Democratic Party politics has relied more on appeals on the basis of identity, and in this campaign Clinton has pushed identity in a big way (every speech must name the litany of groups: women, African-Americans and Latinos, the disabled, transgendered, etc.). But Sanders does not challenge Clinton on identity politics, presumably for fear of appearing unsympathetic to these same groups, and that gives her a big advantage. Moreover, Sanders has a pro-gun history (or, you could say, he's less gung-ho about gun control than most Democrats), but when Hillary criticises him on guns, he is defensive and won't robustly defend gun rights.
The fact is that neither Sanders nor Trump is a substantive politician with coherent, compelling messages. Less than a year ago, Sanders was an obscure senator (with not much to show for decades in Congress), while Trump was known as a real-estate mogul and reality TV star, not a politico. The support they have garnered in this election has been mainly driven by a rejection of the dysfunctional and weak American political establishment, rather than the attractiveness of their (pretty thin) programmes.
Sanders' campaign has succeeded in giving Hillary Clinton and the Democratic hierarchy a scare. But his campaign's ultimate failure has revealed the limitations to his narrow economic populism, which, in the end, made Clinton look like a broader thinker in comparison. Give Bernie credit for raising some good questions, but not for providing many persuasive answers.
Sean Collins is a writer based in New York. Visit his blog, The American Situation.
Picture by: Jeff Swensen / Getty Images.
To enquire about republishing spiked's content, a right to reply or to request a correction, please contact the managing editor, Viv Regan.