After Oldham, who speaks for the working class?
Labour may have won a by-election, but it's lost the working class.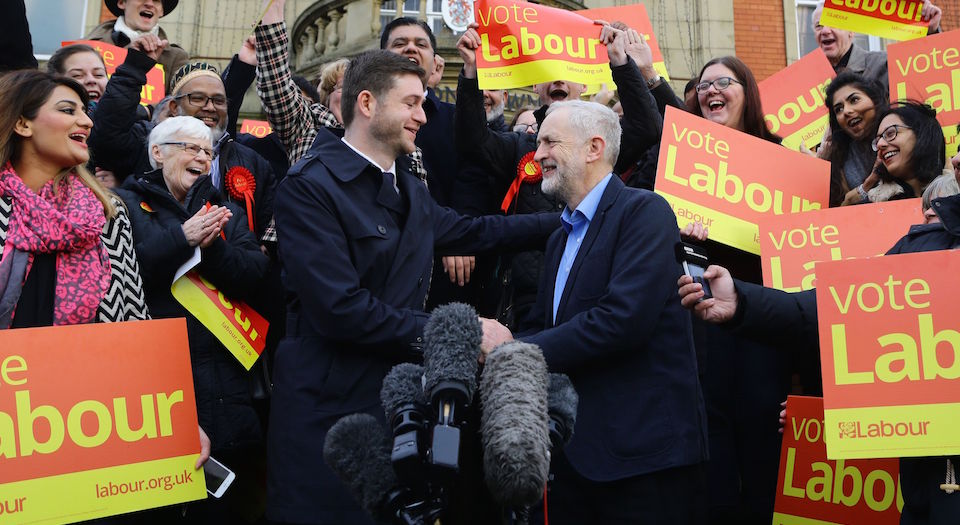 So Labour leader Jeremy Corbyn did it. On the bearded one's watch, the Labour Party actually won an election. The Oldham West and Royton by-election, to be precise. And it did so by securing a convincing 10,835-vote majority from UKIP's John Bickley. It was a smaller margin than the late Michael Meacher won by in May's General Election. But still, he did it. Corbyn, the man many of his own MPs love to hate, and brief, plot and scheme against, has survived 'his first big electoral test', as the media has it.
But for those in the Corbynista camp who believe this heralds a revival of Labour's fortunes, those who think that a victory in a northern working-class area marks a return to the Labour Party of mythical yore, redoubtably proletarian and plain speaking, don't be fooled. Labour's victory was a product, in the main, of ruthless electioneering, and a desperate targeting of Oldham's sizeable South Asian constituency, a solidly Labour-voting bloc. This was why there was a huge postal vote – Labour had virtually corralled voters into the voting booth. So while identity politics was certainly at play in Labour's victory, what was not was some form of working-class politics.
Because, for all the talk of reconnecting with its traditional support base, Labour remains as estranged from largely white, working-class voters as it was under the from-another-planet leadership of Ed 'remember him' Miliband. Reports from the doorstep tell the same story: Corbyn is not the second-coming of Old Labour; he's seen to be as weird and disconnected as his New-ish Labour predecessors. 'The Labour Party I remember was all working-class people', one seventysomething Oldham voter told the Guardian. 'Now you get the feeling they have no idea how working-class people live.' A thirtysomething bricklayer was no more convinced by Corbyn: 'Just sat there in his chair, not looking at the real world.' As election forecaster Ian Warren put it: 'Blue-collar households think [Corbyn's] soft on immigration and welfare and a republican pacifist. Disaffected voters either don't know who he is, in which case he's "just another politician", or hear him speaking about socialism and solidarity and wonder what he's blathering on about.'
This is not Corbyn's fault, of course. It was the same story at the General Election, when, as the Fabian Society report, Never Again, revealed, Labour candidates frequently encountered the most antipathy from working-class voters who did indeed wonder what Labour was 'blathering on about', and why it seemed keener on championing welfare dependency than people who actually work.
In fact, Labour has not been the party of the working class for decades. As Brendan O'Neill has pointed out, 'In 1966, 69 per cent of manual workers gave their X to Labour at election time. This number waned through the 1970s and 1980s until, by 1987, only 45 per cent of manual workers voted Labour. The greatest desertion was among skilled manual workers. Between 1945 and the end of the 1950s, around 60 per cent of these workers supported Labour; by the time of the mid-1980s only 34 per cent did.' But, as O'Neill explained, it is not a case of Labour moving away from its traditional supporter base in the quest for more middle-class voters; rather, the working class has been leaving the Labour Party – leaving, that is, in favour of parties that not only better represented working-class interests, but better represented their aspirations.
This makes sense of New Labour's rise. Tony Blair and Co did not lose the working class; they reformed Labour in the aftermath of the working class's desertion. And, as a result, it became a party that seemed to be at odds with the working class, not just politically, but culturally, too. From Blair's condemnation of Britain's 'broken society' in 1993, when, as shadow home secretary, he turned the murder of toddler Jamie Bulger by two boys into a cheap state-of-the-nation address, to the politics of behaviour of New Labour in office, Labour's antipathy towards the cultural and moral outlook of huge numbers of its traditional supporters has become policy. In government, Labour attacked everything from the food people ate and the volume of booze they drank, to the supposedly racist, backward attitudes white working-class people held. In the shape of Lord Layard's happiness agenda, it even denigrated that symbol of Margaret Thatcher's appeal, material aspiration, in favour of mental wellbeing, and, in doing so, demonised people's desire for a richer, better life for themselves.
But, now, who does speak for the working class? The Conservatives have been doing a decent impression of New Labour, with predictably dispiriting results, and UKIP, which has indeed won many votes from Labour, is still too shrill and one-note. For all that UKIP leader Nigel Farage plays up UKIP's growing working-class support, it seems to be more a means to an election-winning end than anything with real conviction. No political party seems capable of turning the vast swathe of working-class political disillusionment in Britain's midst into a material force. No one is capable, that is, of giving voice to that silent demand for a better life, for a life liberated from patronising politicians, soaked in metropolitan prejudices, that demand for a freer, materially richer life. Corbyn's Labour may have won the Oldham West and Royton by-election, but it's lost those it once claimed to represent.
Tim Black is books and essays editor at spiked.
Picture by: Gareth Fuller / PA Images.
To enquire about republishing spiked's content, a right to reply or to request a correction, please contact the managing editor, Viv Regan.