Hate not hope: on the march against austerity
The End Austerity Now protest was dominated by low aspirations.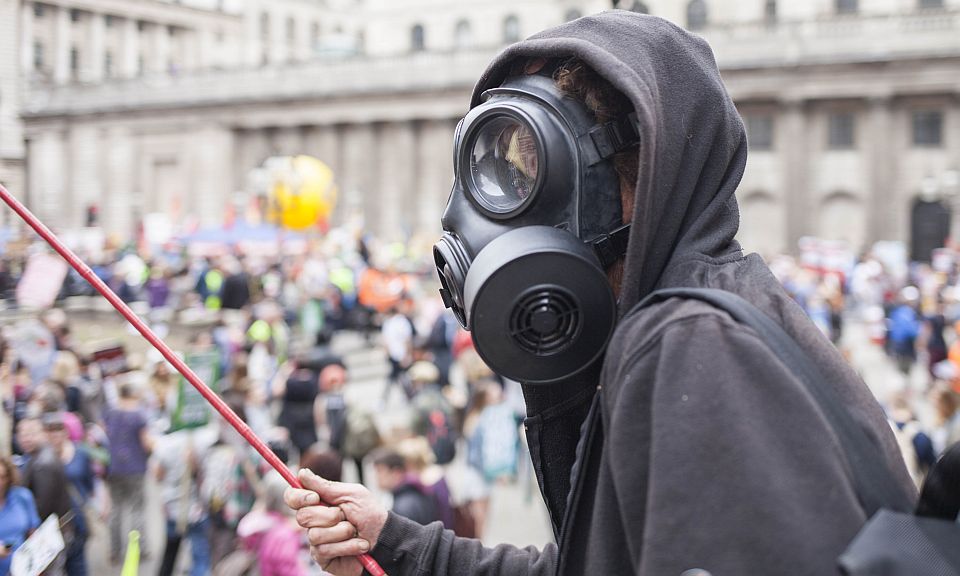 What do bankers, the Tories and Katie Hopkins have in common? They were all objects of hatred at last weekend's End Austerity Now march. In fact, hating bankers, Tories and Hopkins was just about the sole unifying force for the disparate coalition of protesters I encountered in central London.
The ostensible aim of the protest was to call for an equitable and fair society. But scratch the surface and the real common ground between the protesters appeared to be a strain of hatred and negativity. Just about the only optimism on show all day was to be found in the organisers' attendance estimates. They reckoned that a quarter of a million people had joined me at this miserable, overcast affair – which seems highly unlikely.
The march was a dispiriting experience. It was noticeable that London's war memorials had been hidden away – presumably to protect them from potential vandalism. Equally disturbing was the sight of a child, who could have been no older than 10, affirming that he 'hates the Tories'. He received a proud pat on the head from a parent wielding a Class War placard. Metres away, a spike bearing a crude plastic replica of Maggie Thatcher's disembodied head was thrust into the air as a lacklustre rendition of 'They say cut back, we say fight back' began.
The outlook of the demonstration as a whole was crushingly pessimistic. The loose demands of the protesters (redistributed wealth, fairness for all and state provision of more services) highlighted their lack of belief, both in their own ability to improve Britain for the better and in the capabilities of the average citizen. 'We just want the government to know that we're not happy', mumbled a protester holding a 'Defy Tory rule' placard. I asked him what he'd do if he were prime minister, to which he responded with a pledge to end private finance initiatives (PFI). Radical stuff.
As if an end to PFI wasn't enough, some protesters wanted the railways to be returned to public ownership. Others wanted more money for schools and 'our NHS'. And quite a few just wanted an end to zero-hours contracts. The demand that an already bloated state should just spend more showed the protesters' lack of belief in the ability of citizens to innovate and improve society independently.
Meanwhile, the reddest and greenest protesters set the bar excruciatingly low by simply demanding wealth equality. To achieve this sought-after equality of wealth, a society must allow many people to get richer, or force many people to become poorer. Needless to say, the protesters opted for the latter.
Progressive taxation is already a reality, of course. But the protesters were demanding that still more money be taken from the elusive one per cent – despite nearly every London homeowner ranking in the global one per cent themselves – and shared out among everyone else. To demand income equality highlights an ugly strain of lowest-common-denominator economics. In fact, it's no great demand at all. Why not demand more wealth for all, rather than simply demanding equality?
I asked some protesters what was more important – economic growth or wealth equality? No one answered economic growth. One activist told me that he 'didn't care', while others were quick to tell me that economic growth is a myth, that society must be fairer and that there can be no economic growth without first achieving complete equality. When asked if they would be happy with the wealth of the rich expanding, if the wealth of the poor was to rise, too, not one of the protesters agreed. You'd have thought that everyone getting richer would be a good thing, but apparently not.
The protesters seemed merely to want to share the misery around in an equitable way; this is what happens when you adhere to lowest-common-denominator economics. Rather than demanding that the poor get richer, these unambitious protesters sacrificed their Saturday to demand that the rich get poorer.
George Harrison is a student at the London School of Economics and a spiked intern.
Pictures by: Henry Kenyon
To enquire about republishing spiked's content, a right to reply or to request a correction, please contact the managing editor, Viv Regan.