Cameron, Villa and the scourge of soccerism
Why is the PM so keen for us to believe he's a football fan?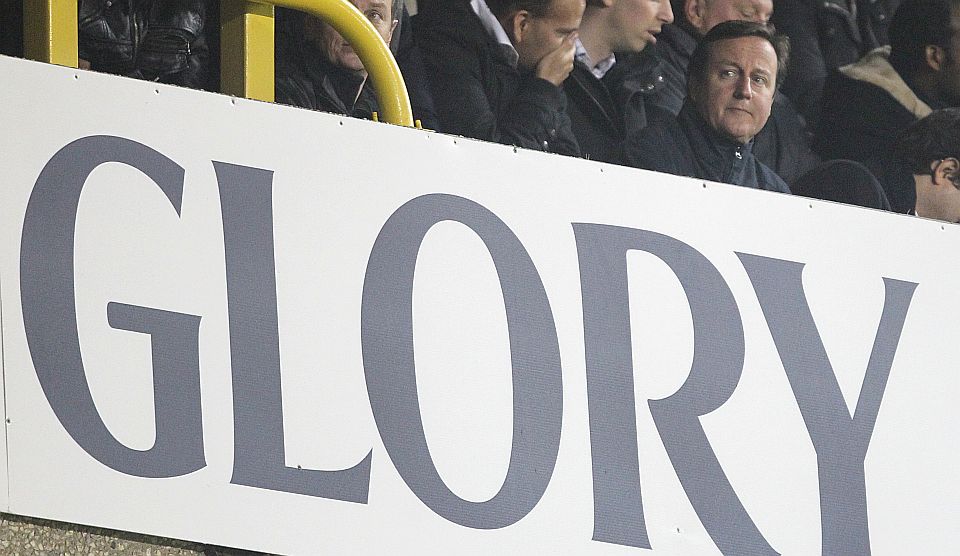 Tory leader and UK prime minister David Cameron scored a spectacular own goal last week when he forgot which football team he supported. The Twitterati were quick to lunge in, two-footed. Of course, D-Cam's squirming embarrassment was funny. West Ham and Aston Villa both play in claret and blue, but forgetting which one was the team he supports was a colossal sporting faux pas. But why is it an election issue? Our Eton-educated prime minister doesn't know about football. So what? It's a sure sign of the hollowing-out of political life that 'terrace cred' can become an election talking point.
Cameron was delivering a speech celebrating Britain as a country 'where multiple identities work'. As he put it, this is a country 'where you can support Man United, the Windies and Team GB all at the same time. Of course, I'd rather you supported West Ham.' Cameron's off-script quip was his undoing. He'd forgotten that he is supposed to be a Villa supporter. He blamed his faux pas on 'brain fade'. 'I'm a Villa fan', he said. 'I must have been overcome by something.'
But the Labour wing of the commentariat was less forgiving. This was a slip of a similar magnitude to Liverpool captain Steven Gerrard's fateful stumble against Chelsea last season. 'Hey David Cameron', tweeted Labour's Ed Balls. 'I'm off to see that football team I support this afternoon. Name escapes me… they play in yellow… Watford?' Former Labour spindoctor Alastair Campbell, writing on his blog, said: 'It is the sheer 24-carat phoniness of Cameron that was exposed yesterday as he muddled his claret and blues. And that phoniness goes to character and it goes to policy and it goes to how he fights a campaign, too.' Campbell couldn't very well pass up the chance to sneer at Cameron's mishap, but it is reminiscent of the charge levelled at Tony Blair – that he had fabricated his memory of watching Jackie Milburn from Newcastle's Gallowgate End. The allegations were unfounded, but mud sticks. Blair, too, was seen as a fake supporter attempting to capitalise on football's popularity.
As many have pointed out, Cameron's gaffe was pure Roger Nouveau, the middle-class fan from the Fast Show. Why is it okay to mock football's recent converts? Football fans, you see, are obsessed with authenticity. We want to be seen as 'real fans', not as glory-hunters. We hate the 'plastics' with their half-and-half scarves. Switching club allegiance is a cardinal sin to prolier-than-thou authenticity-hunters. As for forgetting which team you support – well, that's practically a war crime.
But, while ignorance of the offside rule might be a social calamity in football circles, why should it matter in politics? No football fan I know ever mistook Cameron for a Holte End ultra. Politicians – or their speechwriters – clearly feel some kind of obligation to speak the lingua franca of football. It speaks of the profound estrangement of the political class from any social constituency. While political parties, trade unions and churches have all declined, football has escaped the bonfire of the institutions. In fact, the game has thrived in inverse proportion to the withering away of public life.
Ever since Gazza blubbed at Italia '90, football in Britain has undergone a remarkable renaissance, attracting new supporters from all walks of life. Top-flight football grounds, which were half empty in the mid-1980s, are now packed to the rafters. Little wonder that politicians see football as a vehicle for connecting with the voters. Declaring one's club allegiance is shorthand for 'I'm an ordinary bloke'.
The Villagate episode is not, as Campbell suggests, proof of Cameron's inauthenticity – it's symptomatic of a far deeper political malaise. It reveals the exhaustion of the traditional political programmes of both left and right. Cameron's lack of terrace credibility is capable of becoming an election talking point precisely because of the total absence of any clash of worldviews in the election campaign. Where once policy ideas or economic strategy were debated, there is now an obsession with trust, sleaze and character. Politicians today are obsessed with marketing concepts like 'reach' rather than articulating a vision of a better society. Contrast Cameron and Blair's fake football posturing to Margaret Thatcher's complete lack of interest in football. The Iron Lady did not feel obliged to pretend to like football. She had no interest in wanting to appear 'ordinary'. The Tories were able to appeal to aspirational working-class voters on the strength of their political programme, not through symbolic gestures of ordinary blokishness such as wearing a replica shirt while out jogging, or playing head tennis with Kevin Keegan.
I don't care whether Cameron is a phoney football fan. I do, however, care that ridiculing the prime minister for his lack of football cred is what passes for political debate these days. It concerns me that politicians are preoccupied with appearing 'ordinary' and 'authentic'. It concerns me that we're talking about Cameron's knowledge of football and not his strategy for economic growth. The Villagate affair is symptomatic of the decay of political life. And that, rather than Cameron's knowledge of football, is a tragedy for all of us.
Duleep Allirajah is spiked's sports columnist. Follow him on Twitter: @DuleepOffside
To enquire about republishing spiked's content, a right to reply or to request a correction, please contact the managing editor, Viv Regan.