The sex trade: let men have their say!
Feminists are not the best people to ask about curbing prostitution and porn.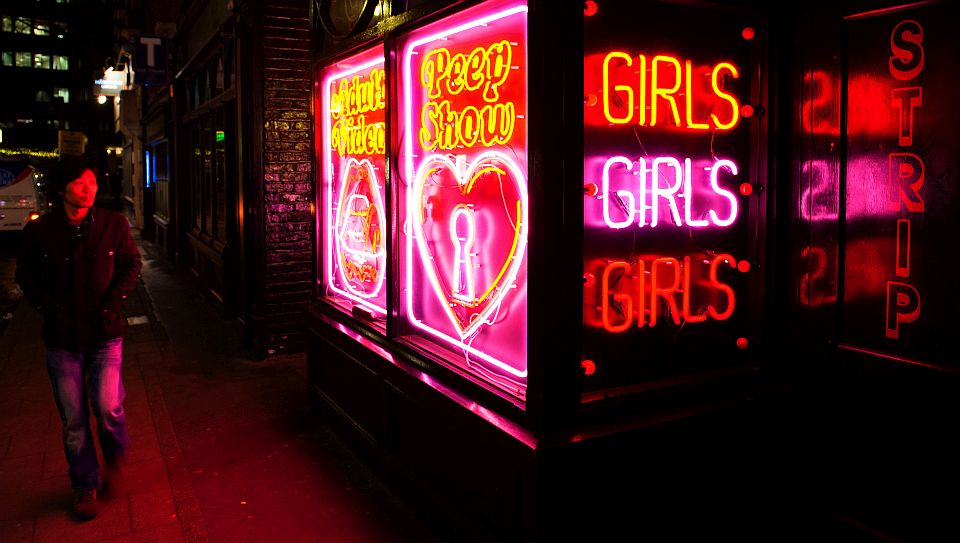 The sex trade is under attack like never before. Good thing, too, you might say. From 1 June it will be a criminal offence to purchase sex in Northern Ireland. And the next Westminster parliament will be under intense pressure to consider passing the same law. This crackdown is being led by feminist campaigners in league with bishops, nuns and other 'progressive' types who are determined to purge society of prostitution once and for all. Anxious sex workers are already protesting against this assault on their livelihood. But there's another group of specialists out there who are extremely well-informed about the sex trade and who are never consulted about it by anyone.
Men.
We created this industry. We consume it. We pay for it. And if we were asked for an opinion, we would politely suggest that these reforms are flawed, illiberal and doomed to fail. It's time men had their say.
What strikes men about feminism's approach to the sex trade is that it relies on a simplistic dichotomy: victims/abusers. Female victims, that is, and male abusers. And that's it.
Victims abound, naturally enough. The sex trade is like gambling, drug dealing, stunt driving, rock music. It's risky and lucrative and exciting. It'll eat you alive if you're not careful. But the crash-and-burn cases don't represent the entire industry. Smart, ambitious women have always made the sex trade work for them. Think of the seasoned porn star who uses her experience to become a millionaire producer of erotic movies. Or the shrewd hooker who never meets a punter in an unguarded location and works for years in a risk-free environment. Or the stripper who makes cash from the safety of her bedroom with just a webcam and a banana.
Next there are the men, or 'abusers', as we're categorised. Feminists like to promote the 'predator myth', or 'conversion narrative', which argues that porn and prostitution fuel sexual violence and encourage men to attack women. However, the most basic statistic overturns this theory. How many men use porn? All men. How many men assault women? Few men.
What about convicted rapists? If you ask male sex-criminals if they've ever used porn you'll get the answer, 'Yes'. And, hey presto, you've proved that sexual violence is caused by porn. But if you ask them if they've ever worn flip-flops you'll get the same answer, 'Yes'. Now you've proved that sexual violence is caused by porn. And by flip-flops.
Equally questionable is the theory that most porn involves violent imagery. I've never seen a single erotic scenario featuring coerced or battered women. And, trust me, I've investigated this area very thoroughly over many years. Recently I did some additional research by Googling 'porn' and 'violent porn'. The former delivered 20 times as many links as the latter. That suggests that one man in 20 seeks violent porn online. Still, that's an alarmingly high proportion. Or at least it would be if the internet were a reliable index of human behaviour. Next I Googled 'how to be a shoplifter' and 'how to be a genius'. The latter yielded 114 times as many links as the former. This suggests that there are 114 geniuses for every shoplifter. But are there?
And porn predates the internet. When I was a kid it consisted of 'girlie magazines' that lived on the top shelf. If these publications were all about brutalising women, you'd expect their titles to hint at their hate-crammed content. Razzle, Fiesta, Mayfair, Penthouse, Playboy. These are cheesy, faux-sophisticated names that carry no suggestion of sexual barbarism. Why? Because the magazines were devoid of such material. Only a tiny minority of sad weird men find violence a turn-on.
Yet the idea that porn converts men into rapists is extraordinarily durable. And as a man, I wonder what signal this sends to the individual porn star or lap dancer. The message seems to be this: 'Your performance is incubating an epidemic of sexual violence. The way you parade your flesh in front of men increases the likelihood that women will be raped. Including yourself.' In other words, 'Dressed like that you're asking for it'. Quite a familiar line. But not often heard from women's rights campaigners.
Men aren't remotely surprised that feminists make these errors about the sex trade. For a start, feminists have little or no frontline experience. There aren't many professors of gender identity working the midnight shift at Spearmint Rhino. The demand is there but they aren't. They're in their studies having another wonky theory about porn. And because most feminists are heterosexual, they don't find porn arousing. So they miss its central purpose. As a stimulus. That's all it is. An accompaniment to a moment's pleasure.
They see the imagery and they find it deeply alarming. A naked unprotected woman. That spells humiliation. It spells surrender. Men see something different. They see nature. They see the physical world revealed in its highest condition of beauty, richness, mystery and wonder. In a picture.
And it's just a picture. Which leads to a passing enjoyment. It's not a manifesto. It doesn't alter a man's morality or recruit him as a sex fiend. It doesn't urge him to steal what's in the picture any more than a picture of a helicopter urges him to steal a helicopter.
And let's consider how the ban on paying for sex will play out in real life. Once the punter is an outlaw, the prostitute's workplace becomes a crime scene. The man is a sex offender. The woman is a witness. And she can put him behind bars if she gives the cash – which is the only evidence – to the police rather than keeping it for herself. I foresee problems getting these cases to court. I also foresee a plague of brutality as male punters choose to wallop the prostitute and leg it rather than pay up and risk jail.
But the law's supporters have a secret weapon in their knapsack: people trafficking. The reform, they say, is part of the war against slavery. This is a classic case of the 'kidnapped bunny' argument. To force through a bad law you seize on a convenient rabbit, or some other victim, and declare that its sufferings trump all the traditions and rights of free citizenship.
It's true, of course, that trafficked people work as prostitutes. Trafficked people also pick lettuces, but we don't ban salad. They hoover carpets, but we don't outlaw rugs and vacuum cleaners. They care for children, but should we all sterilise ourselves?
Even men like me, who've never hired a prostitute, are hoping that this punitive and dangerous new law never reaches mainland Britain. But if it does we have a silver lining to look forward to. Banning the exchange of goods, or cash, for sex will immediately spice up our wedding anniversaries.
'Darling, not only is it our first time in a year, but we're breaking the law.'
Lloyd Evans is a writer, performer and the Spectator's theatre reviewer. He is performing his new show A History of Feminism (as told by a sexist pig) at the Blue Man, Queens Rd, Brighton at 12am on the 2, 3, 9 and 10 May. Tickets are free.
To enquire about republishing spiked's content, a right to reply or to request a correction, please contact the managing editor, Viv Regan.