The Western press is now the PR wing of the Islamic State
In poring over its murder-stunt videos, we give IS exactly what it wants.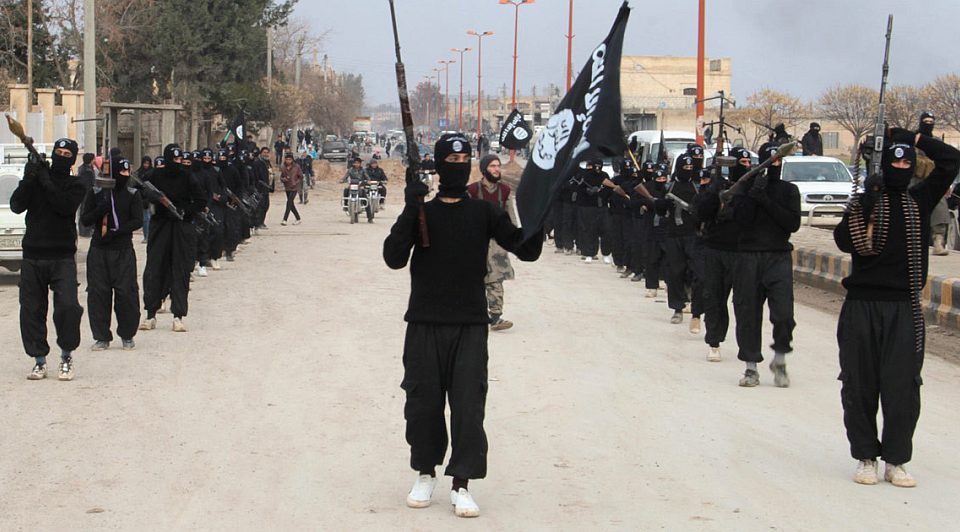 Here's a question for the Western media: if you really think the Islamic State is morally bankrupt, monstrous, one of the worst movements of recent times, then why are you doing its PR work for it? Why are you spreading its propaganda, and by extension its brand, and effectively acting as its unofficial press officer? For make no mistake — when Western media outlets splash the Islamic State's sordid snuff movies across their front pages, complete with tantalising screengrabs of the seconds just before the really bad thing happens, that is what they are doing: conniving, almost, with the terrorists; certainly helping to complete their acts of terrorism through dutifully advertising them to jaw-dropped Western publics. It takes two to tango — it also takes two to terrorise: the terrorist himself and the interpreter of his act, the media, which can spread far and wide the fear that the terrorist longs to strike into our hearts but is incapable of disseminating on his own.
Yesterday, IS released yet another capital-punishment video, its worst yet. No details of its contents are necessary here, not least because you can turn to any newspaper in Britain, and elsewhere, and see on the front pages gruesome, gory info about what IS did, and even photos of the dead man walking. Some papers show the milliseconds before the true horror occurs, and the effect is like a Victorian freakshow: you find yourself wondering what happened next, how bad it was; did he scream, did he writhe? The coverage acts as an invitation to Google, to hunt down the reality horror movie online, where of course it's available. It's a modern version of the old haunting cry of 'Roll up, roll up': 'See what happens to the man in the cage!'
Some media outlets will defend their eye-watering descriptions of what happens in the video, and their use of copious shots from it, as newsworthy and possibly even a blow for press freedom. Now, spiked is as absolutist about free speech as it's possible to get, but I just don't buy this justification. Of course it is in the public interest to tell us that a Jordanian citizen was executed by IS and that Jordan has promised that its retribution will be 'swift' — these are important global matters. But the creative writing-style descriptions of every wound on the prisoner's face? The Wes Craven-style poring-over of the moment the thing happens? The depressing detail about what the man does as he's dying? Is that stuff necessary? It seems to me that the aim of much of the press coverage of IS's warped snuffism is less to inform than to titillate, to provoke, to provide people with outrage porn they can morally get off on. Many newspapers now feel a bit like those cheap Victorian news-sheets that claimed to be raising awareness about the scourge of child prostitution but conveniently came with loads of lurid detail about what was done to such children: now, as then, dubious claims of newsiness act as a cover for the publication of moral pornography.
The worst thing is that this is exactly what IS wants — for its self-consciously pre-modern, super-violent brand to be broadcast as far and as frequently as possible. It especially wants this PR boost now, after the harsh reality of its defeat in Kobane at the hands of the Kurds and its suffocation in Mosul by the various Iraqi and external forces that have reportedly surrounded and isolated that city. A rattled IS wants to remind the West of its menace, and what better way to do that than by videoing something truly shocking, in the knowledge that a Western media hungry for gorno will lap it up. Some have asked why IS makes such abhorrent videos. Partly it's because this group seems to float free of the moral and political universe inhabited by most other political groupings, even violent ones; but it's also because it knows its videos will get a good response, 'hits', be dutifully obsessed over by the Western media. For very little outlay — a couple of cameras, some walk-on jihadists in menacing masks, a few hours in the editing suite — IS knows it can grab the world's attention and hold our minds hostage courtesy of the media's response to its murder-stunts. In this sense, it's possible the Western media provides IS with an incentive to keep executing people on film: maybe it makes these videos because, at some level, some in the West want them.
There's a real danger that today's fearful Western societies amplify acts of terrorism by overreacting to them. We saw this over the past 10 years, when Western politicos and media outlets responded to acts of Islamist terrorism in Western cities by doing the things that the usually small groups of terrorists could never achieve on their own: rewriting laws, limiting liberty, overhauling the justice system, and instituting a culture of fear. The impact of terrorism is very often determined, not by what the isolated, unrepresentative terrorist does, but by how we respond to what he does. The moral resourcefulness, or otherwise, of a target society is ultimately the deciding factor in whether terrorism will just have a temporary bloody impact or a longer-lasting political, legal and moral impact. And too often we have enabled the latter impact to occur. And so it is with the Islamic State today: if Jihadi John and the rest haunt our dreams, it's because of what the media has made them into, because of how our own societies have made monsters of these pathetic killers.
There are two possible consequences of the Western media's lapping-up of IS snuff movies. The first is that they will help IS recruit more nihilistic Westerners. As George Packer of the New Yorker said of last week's execution of the Japanese journalist Kenji Goto, there is 'an undeniable attraction in this horror for a number of young people around… Europe and America, who want to leave behind the comfort and safety of normal life for the exaltation of the caliphate'. It's a sad fact that, for complicated reasons, we live in societies in which fairly significant numbers of young people feel estranged from mainstream politics and morality and drawn towards nihilistic ways of thinking, and these media-spread videos act as an invitation to some of these youngsters to pursue their nihilistic urges with the one global group devoted to such despicable behaviour. The second consequence of the media's publicity for IS horrors is that IS will feel encouraged, incited in fact, to up the ante. Its horrendous new video suggests it is learning the lesson of diminishing returns — that the media had tired somewhat of its beheading videos and so IS needed to do something new and spectacular to get back on the front pages. So it did, and it worked. What will it do next? Who knows. But it will have to be extra atrocious if IS wants the Western media to carry on doing it a favour by making a global spectacle of its squalid murders.
Brendan O'Neill is editor of spiked
To enquire about republishing spiked's content, a right to reply or to request a correction, please contact the managing editor, Viv Regan.