Football fans need free speech, too
Standard Liège fans' 'red or dead' banner sparks a no show from the Je Suis Charlies.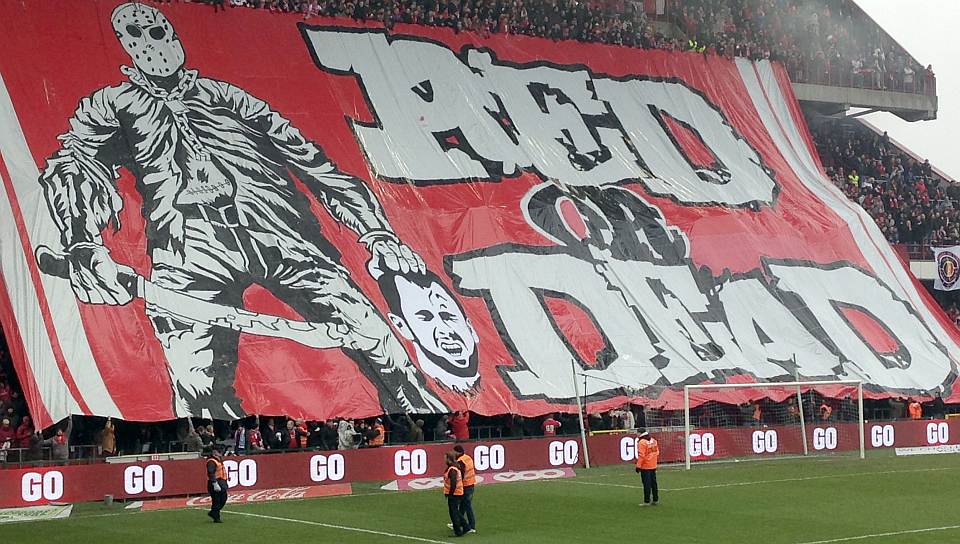 'Red or dead.' These words were displayed, alongside an image of Friday the 13th character Jason Voorhees holding the decapitated head of footballer Steven Defour, on a large banner, or tifo, at a recent Standard Liège home match. This tifo, held aloft by hundreds of Standard fans, caused more hysteria in Belgium than the snowpocalypse did in New York.
Defour had been Standard Liège's captain for five years before leaving for FC Porto in Portugal in 2011. In 2013, he rejoined a Belgian football team, but it wasn't Standard; it was their most bitter rival, Anderlecht. Unsurprisingly, this went down as well with the Liègeois as an appearance from Satan at a christening, hence the tifo. It was saying you're either Liègeois (Standard play in red) or you're dead.
My initial response to the banner was one of pleasant surprise: who knew football fans were this creative? It soon became clear, however, that this was not the right response.
In a show of zeal and unanimity unseen since old-school, medieval witch-hunts, sports journalists, the Twitterati and politicians were tripping over one another in a bidding war of revulsion. (Do I hear repugnance? Can I get abhorrence?)
So horrific did many consider the image that criminal prosecution was considered, with lawyers and moral philosophers urging the authorities on. They claimed the banner amounted to defamation (of whom exactly?), stalking (yes, those tifos can really follow you around) and incitement to violence (since we all aspire to be like Jason?).
Seriously though: weren't we all Charlie a few weeks ago? Weren't we all champions of free speech and cartoonish insults? What on Earth happened?
The legal lynch mob had a twofold answer to this cognitive dissonance. Firstly, the banner entailed a personal attack, something apparently far worse and harmful than the abstract, impersonal cartoons in Charlie Hebdo.
Secondly, the context justified repression. The football stadium was described as a powder keg, since football fans are 'known to engage in violence'. The situation was even likened to JS Mill's famous example of someone declaiming, to a hungry and angry mob amassed outside a corn-dealer's house, that corn-dealers starve and exploit the poor.
In other words: we could all still comfortably be Charlie and get to call for the prosecution of these dangerous hooligans. We could have our cake and eat it.
But this reasoning is spurious. To begin with, Charlie Hebdo continuously targeted individuals as well as godly abstractions. More importantly, it is not at all clear why targeting an individual with radical speech is by definition 'worse' than targeting a group. Indeed, if it concerns a public figure like Defour, legally speaking, the targeting of an individual rather than a group may actually be less problematic.
The contextual argument, in turn, cuts both ways. While we must not dismiss the risk of violence altogether, we should also recognise that a football stadium is a context in which grotesque metaphorical exaggeration and raw hyperbole are the rule rather than the exception. No fan really, literally thinks Steven Defour should be decapitated by a hockey mask-wearing movie psychopath.
Moreover, it ought to be pretty clear by now that drawing Muhammad cartoons in a national publication is arguably more inflammatory than a banner at a football stadium. While we rightly decided that people's responses to Muhammad cartoons cannot be a reason for limiting the freedom of cartoonists, surely similar arguments apply to a banner at a football match.
Could the more significant difference be that it is easier for elites to identify with the juvenile yet intellectualistic Charlies (over and above their religious targets) than with football fans, who are seen as crude, lesser beings? Football fans at their most raucous conjure up the spectre of uncontrollable working-class masses, who – racked with socioeconomic resentment and a lack of self-control – are thought to be liable to erupt into violence at the slightest nudge.
Such stereotyping views are no more of a basis for limiting free speech, however, than radical Muslims' attempts to shut down those they consider offensive.
Granted, a football stadium is not a regular public space. Much like the workplace, different rules may apply to free speech. As such, criminal sanctions aside, some of the planned disciplinary actions do remain a possibility.
However, we would do well to consider that engaging in such actions places us on a slope so slippery we are liable to reach the bottom before realising we were sliding in the first place: there have been (and will be) countless other banners, chants and slogans that are much more offensive, brutal and threatening. Any action now taken, promises to keep authorities occupied with little else than cases like this for years to come.
Strikingly, the fans of Standard's arch enemy, Anderlecht, were the voice of reason. They said they had no qualms about the banner: 'Football is emotion, provocation and rivalry.' Quite right: #JeSuisTifosi.
Jogchum Vrielink is a coordinator at the Centre for Discrimination Law and Diversity Legislation at the University of Leuven.
Picture by: PA images.
To enquire about republishing spiked's content, a right to reply or to request a correction, please contact the managing editor, Viv Regan.