Moral Panic 2.0: the era of progressive censorship
Calls for 'dangerous' art to be banned are now made by liberals.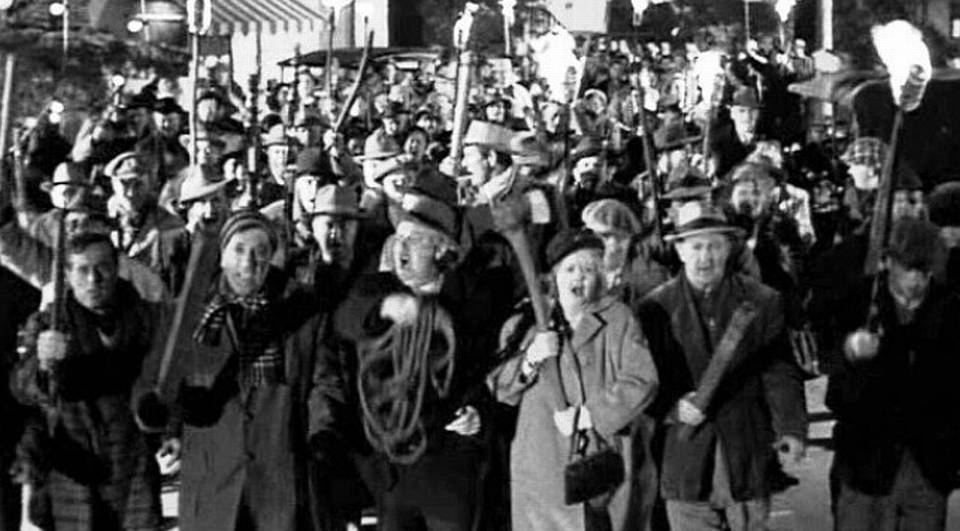 Moral panics used to afflict those of a conservative disposition. They would typically protest displays of modern art, music and literature deemed offensive to religious feelings and traditional moral values. When James Joyce's Ulysses was published in 1922, an article in the Quarterly Review stated: 'From any Christian point of view this book must be proclaimed anathema, simply because it tries to pour ridicule on the most sacred themes and characters in what has been the religion of Europe for nearly two thousand years. And this is the book which ignorant French critics hail as the proof of Ireland's re-entry into European literature!'
But over the past couple of decades, the nature of moral panics has changed. We are now in the era of Moral Panic 2.0. It's no longer concerned social conservatives doing the moral panicking — it's progressive liberals. A prime example of progressive liberal outrage was the anti-racist protest against Exhibit B at the Barbican Centre in London at the end of last year. Moral panic also prompted the authorities in Clacton-on-Sea, Essex, to remove a Banksy mural depicting pigeons waving anti-immigrant placards at a lone swallow. Of course, just as Exhibit B was critical rather than supportive of racism, so the Banksy mural mocked rather than supported anti-immigrant sentiments — not that that stopped the progressive censors.
Unfortunately, outbreaks of Moral Panic 2.0 are not limited to the UK. Last August, Danish performance-art group Global Stories was scheduled to perform Through Different Eyes at the Malmö Festival in Sweden. The central idea of Through Different Eyes is to invite members of the public to change their ethnicity, race or gender using make-up and then to experience the reactions from other people. While the idea behind it was to 'celebrate diversity' and 'combat discrimination', more than 200 Swedes were so offended by the idea that they successfully petitioned the festival to cancel the performance.
The demand from non-state actors to censor offensive art is the tragicomic enactment of a cartoon by Wiley Miller, entitled 'The politically correct school for comprehending the arts'. This fictional school is based on three principles: 'Step one: Misinterpret; step two: Proclaim offence; step three: Get it banned.' This is precisely the logic that has allowed Moral Panic 2.0 to move from activism into the courtroom. In 2012, for example, a Congolese man asked Belgian courts, albeit unsuccessfully, to ban the cartoon book Tintin in the Congo on account of its racist and stereotypical presentation of the black Congolese population.
While this Belgian activist failed to solicit the law to his cause, Swedish anti-racist activists were more successful. In July 2014, Swedish police raided an art gallery, seized several offensive artworks and arrested the artist — notorious provocateur Dan Park — as well as the gallery owner, and charged them with defamation and violating Sweden's hate-speech laws. On 19 August, Park was sentenced to six months in prison, while the gallery owner received a suspended prison sentence. Just for good measure, the court also ordered the offending artworks to be destroyed. The court said that Park 'had an obligation to avoid being gratuitously offensive to others'. Clearly thinking Park's incarceration was insufficiently punitive, on New Year's Day a group of masked men, alleged to be 'anti-fascists', beat him up. The attack on Park shows that, all too often, today's insistence on 'tolerance' is really a rallying cry for intolerance.
Park's artworks could be considered offensive to just about all groups, including Catholics, Roma, Muslims, Jews and blacks. One of his art posters included the words 'Hang on Afrofobians' and a picture of a number of prominent Swedish anti-racist activists with ropes around their necks, as well as a placard with the words 'Gypsy crime is a good thing'. But while each of the posters can be seen as racist, bigoted and offensive, they also function as a sarcastic commentary on current events and a criticism of what Park believes to be the culture of excessive political correctness based on hypocrisy and double standards.
For instance, one of the people depicted with a rope around his neck is a prominent member of the Afro-Swedish National Association (ASNA). ASNA has a long history of progressive censorship. It recently launched an online petition demanding the sacking of the opinion editor of Swedish newspaper Expressen because he published a column arguing that colonialism had positive results; it filed a complaint against the Stockholm Pride Festival for incitement to hatred because a white participant dressed up as a Somali pirate; and it filed a complaint of incitement to hatred against a black Swedish woman touring with a popular stand-up show called A Negro's Swedish Upbringing.
Park insists the actions of groups like ASNA are the real targets of his sarcastic commentary, not minority groups. Yet the Swedish court, and his masked assailants, insisted on ascribing the worst motives to Park, misrepresenting his works, proclaiming offence, and ultimately seeking to ban his art.
By targeting offensive art with criminal sanctions, Moral Panic 2.0 activists have also succeeded in blurring the lines between liberalism and authoritarianism. Liberal democracies have a long tradition of celebrating diversity in art, whereas authoritarian states view non-conformist art as subversive and dangerous. Elvis Presley's music and suggestive dance moves were considered too daring by East Germany's Communist rulers. As an alternative to subversive rock'n'roll, East German bureaucrats created the 'Lipsi', a more orderly and less sexual dance, which was greeted with ridicule and disdain by East Germans craving the real deal available on the other side of the Berlin Wall.
Or take Russian female punk band Pussy Riot: its members were imprisoned after staging a protest against President Vladimir Putin in an Orthodox cathedral. Pussy Riot members were convicted of 'hooliganism' motivated by 'religious hatred'. The Russian Orthodox Church, instrumental in the case against Pussy Riot, found the band's actions offensive and 'blasphemous'. The prosecutor echoed these sentiments by arguing that Pussy Riot had attempted to 'incite religious hatred' against the Church.
An even more worrying example is the ill-fated exhibition Caution, Religion at the Sakharov Museum in Moscow in January 2003. This featured religious symbols and messages turned into Pop Art, including: a Christ figure with a road sign instead of a face; an icon of Christ with openings in the face and hands, so visitors could put themselves in the icon and take photos; and a crucified woman with an icon of the Virgin Mary between her legs. After much publicity and vocal protests, several Russian Orthodox hooligans entered the museum and vandalised the exhibition. The hooligans were initially arrested, but thanks to the intervention of the Orthodox Church and several members of the Duma, they were then let go. After a petition signed by thousands, museum director Youri Samadourov was charged with inciting 'religious hatred'.
Both Pussy Riot and Youri Samadourov quite rightly received support from progressives in the West, who were appalled that an unholy alliance of Russian politicians and reactionary religious groups had been able to censor political speech and artistic expression. But there is no reason to believe that the Russian Orthodox Christians protesting these 'blasphemous' and 'hateful' artists were less offended than the anti-racists who protested Exhibit B, Banksy, Dan Park or Through Different Eyes. This highlights another striking feature of Moral Panic 2.0: selective outrage.
From Mozart to hip hop, from Gauguin to Piss Christ, from Ulysses to Harry Potter, artistic expression has always offended the sensibilities of particular groups. But once particular groups are allowed to dictate the limits of artistic expression, we will soon discover that the list of offendable groups is endless. Accommodating them all will lead to a cultural life about as vibrant as the Lipsi.
Jacob Mchangama is an author and CEO of Copenhagen-based think-tank Justitia and the research initiative Freedom Rights Project, focusing on human rights and the rule of law.
To enquire about republishing spiked's content, a right to reply or to request a correction, please contact the managing editor, Viv Regan.