CLR James on cricket and humanity
Beyond a Boundary is now available on Kindle, and you don't have to be a cricket buff to love it.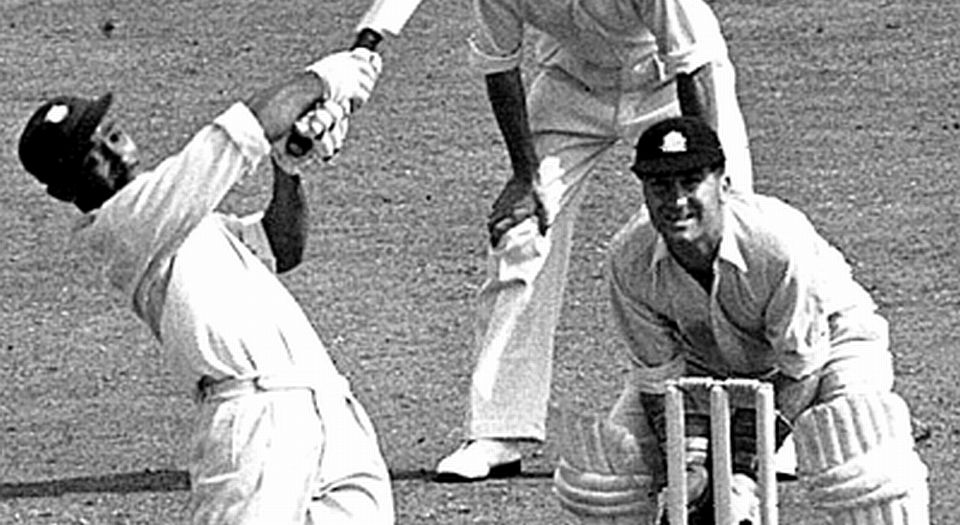 'The book is neither cricket reminiscences nor autobiography. It poses the question, What do they know of cricket who only cricket know?'
Just published for the first time on Kindle, Beyond a Boundary, by the twentieth-century black intellectual and radical CLR James, is a passionate book about cricket. But, as its title and its famous rephrasing of Kipling quoted above, indicates, it goes further than that. It is also James' effort to communicate the spirit, confidence and development of the people of the West Indies as he was writing in the 1950s and early 1960s, and it is arguably the clearest articulation of his approach to Marxism as he had worked it out over the preceding 25 years. In this book, James writes about the significance of popular cultural forms in political change and emphasises individual talent, risk and the idea that 'freedom is creative universality, not utility' over what he saw as the safe, centralised, security-minded developments in the West – the so-called 'Welfare State of Mind'.
James' undisputed classic The Black Jacobins was written in the 1930s, as a kind of blueprint for the struggle for independence. In contrast, Beyond a Boundary was written as the anti-colonial movements James had encouraged and influenced were achieving their aims. By the time of its publication in 1963, James' native land of Trinidad and Tobago had achieved full independence from British rule, and other Caribbean nations were in the process of achieving the same. Through the lens of cricket, James charts the rise of the Caribbean and its peoples, heirs to a golden age that died in Europe in 1914 on the eve of the outbreak of the First World War. Through his description of the great personalities of the cricket field, he explores this sense of adventure, innovation and newfound self-assurance that he saw as characterising and invigorating the whole of Caribbean society.
Whereas, structurally, The Black Jacobins is a linear history (albeit one expertly told) of what happened during the Haitian Revolution, Beyond a Boundary can appear more like a collection of essays touching on memoir, biography, social history and art theory, though built around a common theme. Yet while the subject and style shifts around, Beyond a Boundary is nonetheless a cohesive and unifying work that skilfully synthesises its diverse elements. The evocative opening introduces the reader to the young James – 'the Boy at the Window' – watching local cricket matches overlooking his house in Tunapuna, colonial Trinidad in the early 1900s. Cricket is immediately established as something stitched into the fabric of the world James grew up in, with its assortment of personalities and heroes. Those who would be forgotten were it not for this book are revealed as worthy of remembrance – for example, the unpicked and unfulfilled promise of the dark-skinned wicketkeeper Piggott and local n'er-do-well Matthew Bondman, who 'so crude and vulgar in every respect of his life, with a bat in his hand was all grace and style'.
This is brought full circle by the end of the book, as one of those West Indian local heroes, Frank Worrell, has been made the first black captain of the West Indies (with no little thanks to a public campaign run by CLR James as editor of the Trinidadian state newspaper The Nation) and is celebrated as an international hero by the Melbourne crowds following the 1960/61 West Indies tour of Australia. The West Indies had arrived, as a cricketing team, but more importantly, as a people. In between, the book fuses its disparate styles to describe the specific historical, social and artistic developments in cricket that led to these achievements.
This is not to say that the cricketers James writes about stand for some crude symbol of West Indian freedom. James avoids any automatic readings of society or generalisations. In fact, he very deliberately argues against this, stating that, 'Critics of a sociological turn of mind had proved that we were a nation which naturally produced fast bowlers, when in 1950 Ram and Val, both under 21, produced the greatest slow-bowling sensation since the South African team of 1907. We are moving too fast for any label to stick.'
He is keen to demonstrate each individual's particular brilliance, describing their skill and playing style in thorough detail. First and foremost, James shows they were great batsmen and bowlers with unique talents. So James' friend, Learie Constantine, is described as one of the finest all-round cricketers. Despite being perceived as typifying the carefree West Indian cricketer, he is actually the product of 'tradition and training'. As James writes of him, 'Constantine's leg-glance from outside the off-stump to long-leg was a classical stroke. It was not due to his marvellous West Indian eyes and marvellous West Indian wrists. It was due, if you must have it, to his marvellous West Indian brains.'
In contrast, it was the Jamaican batsman George Headley, 'George the maestro', the pre-eminent player on damp wickets, who had unexplainable natural gifts. For James did not see everyone (or even himself) as being able to rise to the level of skill of the very great players, who to him were 'as strange a human being as a man seven feet tall'.
This question of genius is central to James' line of reasoning. As the scholar Andrew Smith has argued in his indispensable study CLR James and the Study of Culture, 'to describe such figures as "born, not made" is to recover something about their humanness, their uniqueness or specificity, out from under the "made-up-ness" of their racialised identity'. Indeed, it is through these meticulous accounts of individual genius that, counterintuitively, James is in fact putting forward an argument for universality; for it is a genius that, as Smith explains, 'is a figure of human possibility in all of its riot of variety and unpredictability, on which we all have a claim'.
It is this glimpse of human possibility on the cricket pitch – not just to gape in awe, but to see one's fellow humans achieve greatness – that the crowds flocked to see. And in turn the crowds lifted the players to new heights. For without their audience, James knows that the players are nothing. It was the legend WG Grace, that creation of rural 'pre-Victorian England', who the industrial masses went in their thousands to watch play, and it was only then that cricket became embedded in the psyche of the nation. James shows that these popular heroes come to embody the 'passion and the forces' of the masses. Similarly, 'Wilton St Hill and Learie Constantine were more than makers of runs and takers of wickets to the people of Trinidad and Tobago.'
This is why James focuses on popular culture – he is grappling with the question 'what do men live by?', and it is only through the examination of what people do in their lives and how they seek to make meaning for themselves that we can approach an understanding of what is happening and what is possible in a particular place and time. Such an exploration exposes the social reality of people's lives.
Perhaps most famously, in Beyond a Boundary James shows us the hierarchy of local clubs that existed in Trinidad when he was growing up, representing the 'different social strata in the island' – from the ruling whites who played for Queen's Park Club to the club of the black plebeians, Stingo. It was the club of the dark-skinned lower middle classes, Shannon, which James argues had the most potential and produced the best players, such as Constantine and St Hill. And this was not simply chance or a matter of skill, for Shannon played 'as if they represented the great mass of black people in the island', and as such are the 'foundation pillar' of James' book. In fact, when considering which team to join himself, James' own rejection of Shannon for the lighter-skinned middle classes in Maple club is a decision he describes in the book with regret. '[C]utting myself off from the popular side delayed my political development for years', he laments.
In his acceptance (and even celebration) of these clubs divided by colour and status, James is not blindly accepting the colonial racial mindset. He writes unapologetically that it 'was in its time and place a natural response to local social conditions… If I had the power I wouldn't alter one selection, one over of it.' To try to do so would have been to deny the social reality that existed. For it was only through this that the contradictions endemic in colonial society could be laid bare.
In this book, James is writing about the specific historical and social conditions of the West Indies in the early to mid-twentieth century, and about cricket in particular. But the book can be more widely understood as an exploration of the human spirit. Indeed, it has to be admitted that the importance of the game of cricket in the public mindset has declined in recent times, both in the UK and in the Caribbean, but its universal, humanist themes elevate it above mere nostalgic curiosity, as James so brilliantly shows us.
Rob Harris is the project coordinator for the education charity WORLDwrite's new multimedia project, Every Cook Can Govern: Documenting the life, impact and works of CLR James. For further information about the project, email world.write@btconnect.com.
Beyond A Boundary, by CLR James, is published by Yellow Jersey. (Buy this book from Amazon(UK).)
To enquire about republishing spiked's content, a right to reply or to request a correction, please contact the managing editor, Viv Regan.