The bores declaring war on Aussie boozing
A land where men chunder? Not if anti-drink officials have their way.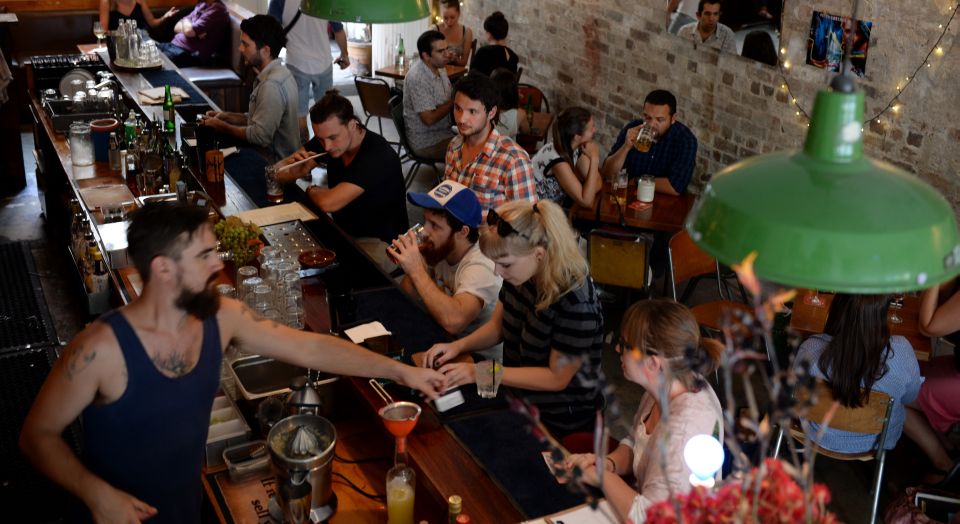 The state government of New South Wales in Australia, a nation that takes pride in its drinking culture, has recently decided to make it so difficult to get a drink anywhere you'd be better off sharing a crème de menthe with your nan than hitting the town this weekend.
In central Sydney, punters are now unable to enter a pub or club after 1:30am and cannot get a drink after 3am. There are a few exceptions, like casinos and hotel bars, the managers of which were last seen in fits of ecstasy with dollar signs rolling in their eyes.
These new kneejerk laws are a perfect example of lawmakers' childish desire to Do Something in response to shocking or widely news-covered events. In this case, it was the tragic death of Daniel Christie in a single-punch attack in the King's Cross district of Sydney on New Year's Eve that encouraged officials to clamp down on boozing. But they clearly haven't thought through whether their new laws will make things better for the public, or worse.
Though the authoritarian reduction in trading hours for pubs and clubs has been the most hotly debated government reaction to Christie's death, to my mind the most worrying changes are the increased mandatory sentences for those found to commit certain crimes while under the influence of alcohol. As Sydney Morning Herald columnist Michael Pascoe put it recently, lying beyond the arbitrary and unfair trading hours legislation 'are some of the most draconian sentencing proposals this side of Russia'.
What these changes represent is the strengthening of sentences beyond what is reasonable for various offences. For example, get caught on the fringe of a scuffle that a police officer calls a drunken 'affray' and you are immediately staring down the barrel of a four-year minimum jail sentence.
Australia's over-policing of alcohol consumption continues further north in Queensland, my home state, where the government will announce its policy surrounding late-trading establishments in the coming months. All signs suggest the authorities up there won't introduce a fun-sponging decrease in trading hours but will increase the policing of drinking spots and the punishment of those found guilty of offences related to late-night scuffles, similar to the NSW sentencing laws.
There is an even more ridiculous debate happening in Queensland around the so-called 'responsible service of alcohol' (RSA). The Queensland Office of Liquor and Gaming Regulation (OLGR) employs 120 'compliance officers', whose job is to conduct mostly covert investigations in pubs and clubs to ensure staff and licensees are adhering to RSA laws and are not serving customers who are too drunk. The thing is, these wannabe James Bonds have managed just two successful prosecutions for non-compliance in three years, after conducting more than 3,100 investigations.
In a recent interview, the Queensland attorney general, Jarrod Bleijie, blamed current legislation for the lack of prosecutions, alongside the fact that it is often difficult to prove that a person ordering a drink at a bar is already drunk. It is impossible not to laugh as Bleijie goes on to blame the lack of successful prosecutions on customers putting on their 'game face' when at the bar to conceal the fact that they are drunk. The menaces.
It seems that for the attorney general – as well as the host of, and callers into, the radio show he spoke on – successful enforcement of alcohol laws is less about protecting people from actual physical danger and more about policing how much people drink.
This is another example of excessive interference into our lives by the state. Yes, police need to be on the street to prevent violent behaviour, but compliance officers channeling their inner 007, and staking out pubs to decide when bar staff are serving alcohol irresponsibly, does not represent a public service – it represents needless state intrusion into our socialising in the name of 'public safety'. How many Queensland citizens are safer for the fact that two liquor licensees have been fined for RSA breaches in three years?
Queensland should at least be commended for resisting the demands to restrict drinking hours. State premier Campbell Newman's reluctance to 'punish the many for the sins of the few' should be applauded. But the effectiveness of any campaign of increased policy is questionable, given that increases in sentencing like those in New South Wales can lead to unfair punishment for minor offences. Possibly the most toxic policy would be to extend the powers and activities of fun-policing compliance officers, who, like so many other public servants, exist only so lawmakers can claim to be taking action, regardless of its effectiveness.
Such wasteful approaches to policy show the rot of governance in Australia, and much of the Western world, where action is labelled a success while any pragmatic recognition of the harms of state intervention is frowned upon. It is only a matter of time before central Sydney's laws are shown to be ineffective, just as any police crackdown will be. Until governments realise their folly, I encourage everyone to drink up and put their 'game face' on.
Charlie Pearson is a graduate of the University of Queensland and is currently interning at spiked.
To enquire about republishing spiked's content, a right to reply or to request a correction, please contact the managing editor, Viv Regan.