There will never be another Bobby Charlton
RIP, England's greatest-ever footballer.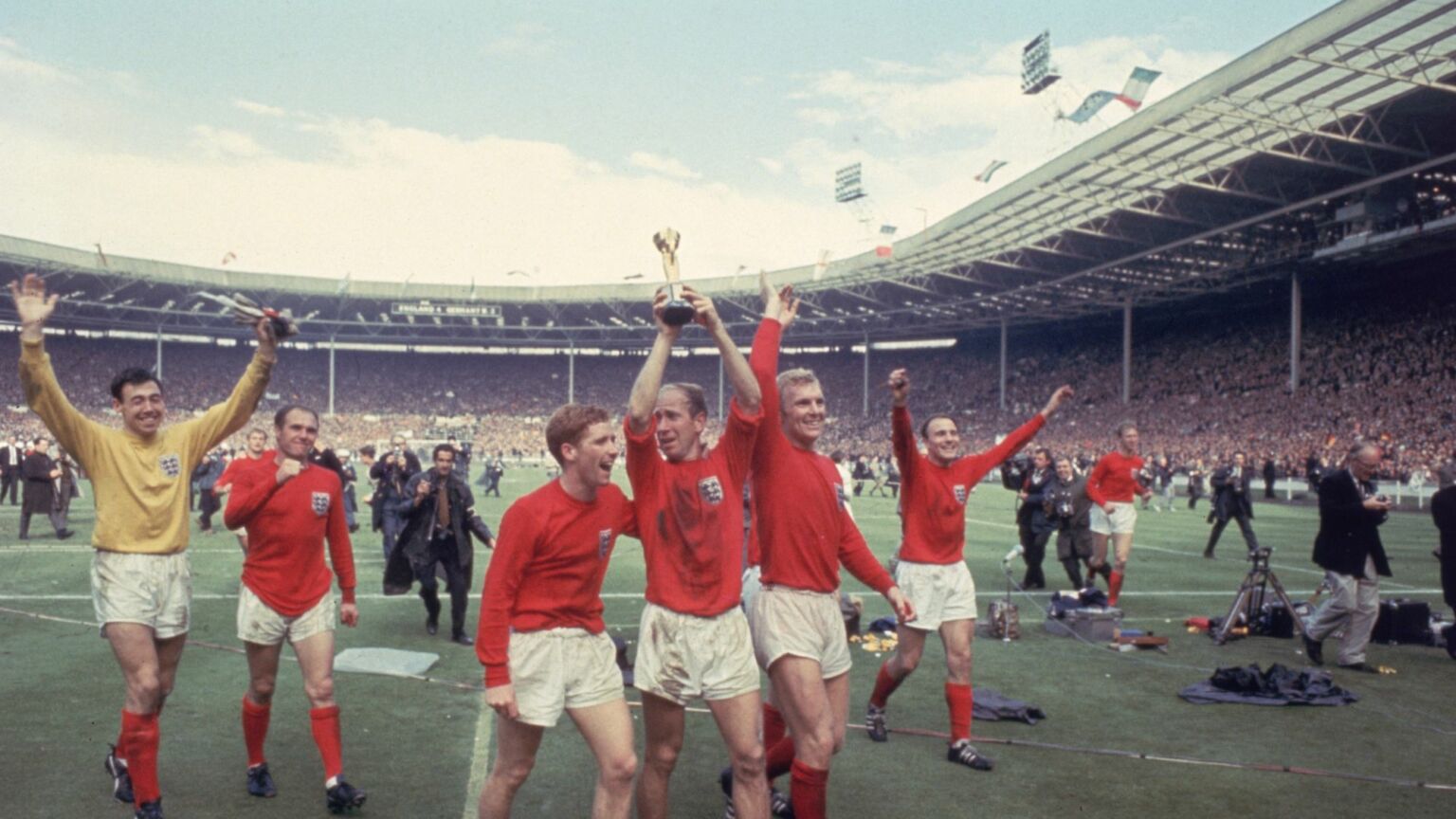 With Bobby Charlton's death aged 86 on Saturday, we have lost an English national hero of a kind that they don't make these days, and a working-class football hero of a sort we will never see again.
Charlton came from the north-east coalmining village of Ashington and fought his way to the very top of Planet Football, winning the World Cup and the Ballon d'Or. He remains unchallenged as England's greatest-ever footballer; a brilliant attacking midfielder who could make a mud-patch pitch look like a snooker table, famed for 30-yard precision strikes that Match of the Day commentators would invariably describe as 'a typical Bobby Charlton goal'.
The 17-year-old Bobby signed as an apprentice for Manchester United in 1954, when professional footballers still travelled to matches by bus or tram alongside the fans, and even top players were not allowed to earn more than £15 a week. (By the time the maximum wage was finally abolished in 1961, under the threat of a players' strike, a first-team player such as Bobby could earn a princely £20 a week.)
The game was about the glory. Only two British footballers have ever won both the World Cup for their country and the European Cup / Champions' League for their club: Bobby and Nobby, Messrs Charlton and Stiles, who together won the World Cup with England in 1966 and the European Cup with Manchester United in 1968. It was when Nobby died last year that Charlton's family announced Bobby too was suffering from dementia.
Charlton of course had to win another struggle before those triumphs: the fight to survive the 1958 Munich Air Disaster. When the plane carrying United home from a European Cup semi-final crashed on a frozen runway, 23 died, including eight of the brilliant young team known as the Busby Babes. Charlton was found some way from the plane, badly hurt and still strapped into his seat. Even while he recovered, Bobby remained uncertain if he could ever play again, haunted by the loss of his teammates – including the young colossus, Duncan Edwards, who Charlton would later call the only player ever to make him feel inferior on a football pitch.
But return to the fray he did, and after a 10-year odyssey alongside manager Matt Busby, another Munich survivor, Charlton's United became the first English team to win the European Cup in 1968. (Celtic were the first British winners, the season before.) Bobby scored twice that night at Wembley, the same stadium where he had played a central role under manager Alf Ramsey in England's sole World Cup triumph in 1966.
Those historic trophies would mark the end of an era for both club and country. United went so far and fast downhill that, a year after Charlton retired in 1973, they were relegated to the Second Division. In the 1970 World Cup in Mexico, champions England – the only team to give Pele's Brazil a game – blew a two-goal lead and lost the quarter final to West Germany in extra time, after Ramsey took off a tiring Charlton to save him for the semi-final. When I went to university in Manchester in 1979 (mainly to watch a woeful United), and became a regular at Old Trafford, the Stretford Enders packed into the old trains from Piccadilly were still singing 'We all agree, Charl-ton's better than Pe-le…'
Charlton's starring role in that golden era meant that there has inevitably been a lot of nostalgia in the obituaries. Many have also been keen to emphasise Bobby's unique qualities as an old-fashioned English gentleman. The diffident and conservative Bobby was certainly a different character from Jack, his abrasive and outspoken elder brother and fellow World Cup winner. (Jack, the far less talented player, would turn into a far more successful manager.) With his 1950s style and famous comb-over hairdo, Bobby was also a different breed from younger United teammates, most obviously George Best, the Belfast genius and 'fifth Beatle' who became the first football superstar of the Swinging Sixties.
It would surely be a mistake, however, to underestimate the toughness and resolution that allowed Bobby to overcome all the barriers placed in his way and reach the pinnacle. He came from the last generation of footballers to be treated as serfs in shorts by the parochial blazers who ran the English game, and survived to be universally venerated across Planet Football; English tourists would often report that the two words of English their foreign holiday hosts knew were 'Bobby' and 'Charlton'.
When he was an ambassador at Italia '90, the World Cup that first changed the British middle classes' view of football and started their colonisation of 'the beautiful game', opera fans here might have been surprised to see their hero, the tenor Luciano Pavarotti, rush to embrace 'the great champion' Bobby Charlton. This weekend, many of them probably raised a glass of red to his memory.
So much about material life and the quality of football is better now than it was in the 'good old days'. But the things our society and culture have lost mean it is hard to think of a national hero, on and particularly off the sports field, who could command the same respect as Charlton today. Sir Geoff Hurst is now the only survivor of the World Cup-winning side.
The one time I met Sir Bobby Charlton, at a lunch before a Premier League match a few years ago, it was heartwarming to see how many fans of all ages strained to catch a glimpse of him outside the entrance to Norwich City's Carrow Road stadium. Inside he was, of course, the perfect guest. They say you should never meet your heroes. But thankfully there are exceptions. RIP.
Mick Hume is a spiked columnist. The concise and abridged edition of his book, Trigger Warning: Is the Fear of Being Offensive Killing Free Speech?, is published by William Collins.
To enquire about republishing spiked's content, a right to reply or to request a correction, please contact the managing editor, Viv Regan.