'Where are you now, Nobby, when we most need you?'
Nobby Stiles remains a five-foot-six giant of footballing memory.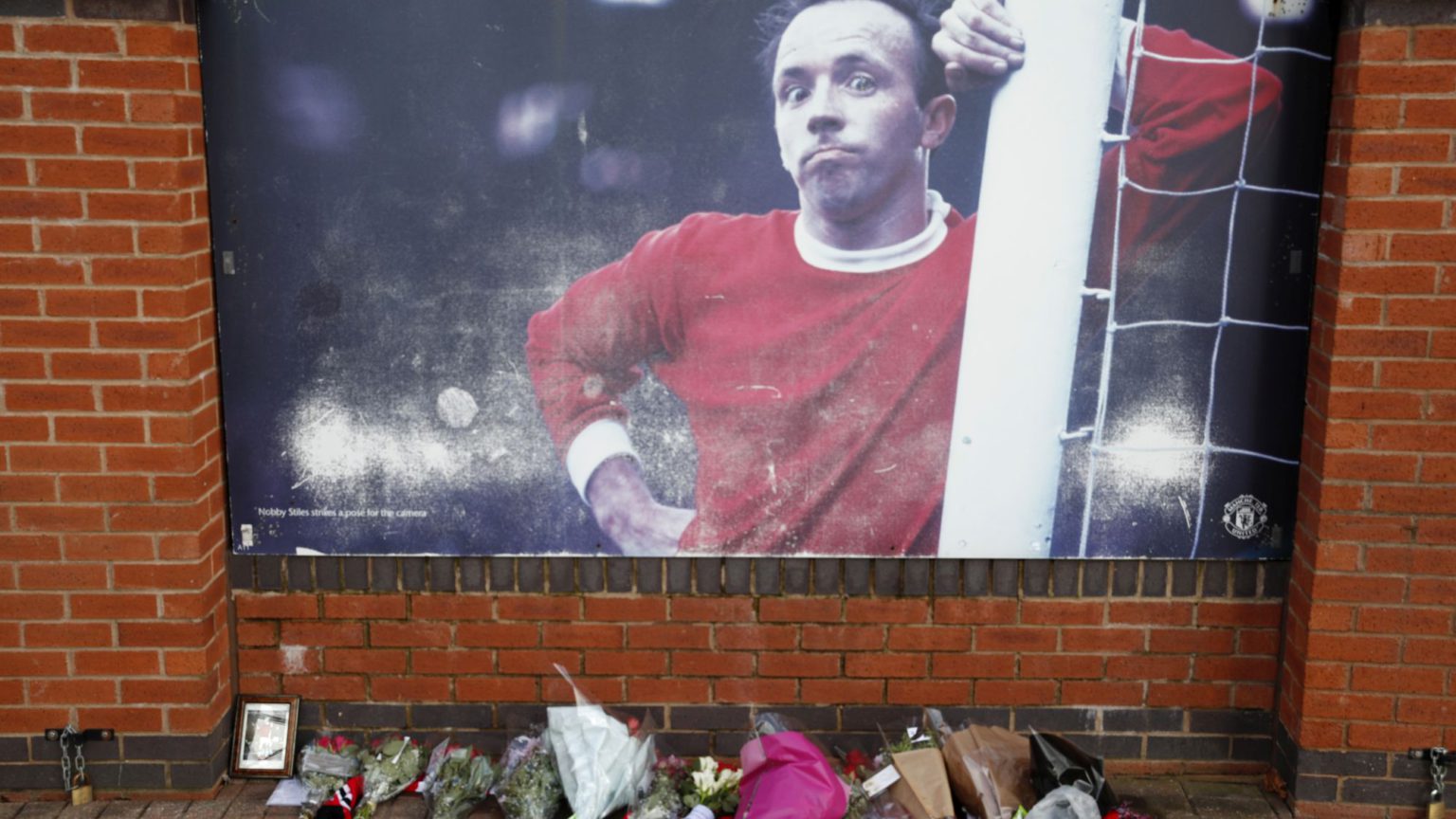 A pub-quiz question for the ages. Name every British footballer who has ever won both the World Cup for his country and the European Cup / Champions' League for his club.
Answer: only two. Bobby and Nobby. Messrs Charlton and Stiles, who both won both titles for England (1966) and Manchester United (1968). Now there is only one, since Stiles died on Friday, aged 78, after a long illness. Charlton's wife Norma announced over the weekend that he too has been diagnosed with dementia, but we will leave the incomparable Bobby's story for another time.
Nobby is the seventh member of England's World Cup winning team to die. When they won it at Wembley in 1966, Planet Football was a different world. That generation of players were still working-class heroes, paid a maximum of £20 a week until they threatened to strike and forced the Football Association to abolish the maximum wage in 1961.
Norbert Peter Patrick Paul Stiles had been born in Manchester during a German air-raid in 1942, and grew up a devout Catholic in a 'pokey house with an outside toilet' in the city's Collyhurst district. At five-foot six and chronically short-sighted, he would be few football agents' idea of a top defensive midfielder these days. But he rejected inducements from other top clubs and signed as a trainee for his beloved Manchester United in 1957, for a weekly wage of £3 and five shillings (25 pence to you). Like many loyal players of his generation, Stiles ended up broke and bitter after his career ended, eventually having to sell his medals (to Manchester United) for £200,000 in 2010.
Even when they won the World Cup, beating West Germany 4-2 after extra time, the FA blazers who ran the game still treated the England heroes as serfs in shorts. The goalkeeper, the late great Gordon Banks, recalled how they were given suits to wear for the final; after England won, they were allowed to keep the jackets. Banks said he never knew what became of the trousers.
An abiding image of the final, shown many times over the weekend, is the gap-toothed Nobby capering joyously around the Wembley pitch afterwards, with the World Cup in one hand and his false front teeth in the other. But Nobby was no clown. He was a hard-tackling organiser, 'the heart and soul of our team', as team-mates have remembered. He was also, like many 'hard men' of that era, a far better footballer than is often credited, his role well-captured in The Times' obituary description of 'a very modern type of player, the anchorman, shielding the back four and breaking up attacks, yet with the skill to carry the ball out and set up his team-mates'.
Stiles became a key member of the England team in that tournament, sent out with simple instructions from manager Alf Ramsey: 'Win the ball and give it to Bobby Charlton.' Ramsey once called Stiles his fourth world-class player, alongside Charlton, Banks and Bobby Moore. After Stiles made a bad late tackle against France, the FA demanded that Ramsey drop Stiles as unfit to wear the England shirt. Ramsey refused and got his way after threatening to resign over the issue. Nobby was to repay Alf's loyalty. In the semi-final against Portugal, Ramsey famously told Stiles to mark the biggest star left in the World Cup: 'Nobby, I want you to take Eusebio out of the game.' 'Do you mean for good, Alf?', asked Stiles. In the event Eusebio survived, but Nobby kept the great man quiet and England won through to the final thanks to two goals from Bobby Charlton.
Back at Wembley two years later, Nobby was at the heart of Matt Busby's team as Manchester United became the first English club to win the European Cup, beating Eusebio's Benfica 4-1 after extra time. (Celtic had become the first British club to win it, the previous season.) Stiles would recall what it meant for his lifelong club to become champions of Europe, 10 years after the Munich air crash that killed 23 people, including eight United players, and injured Busby and Charlton. 'It was not so much a triumph for our football club as the blood of our lives', Stiles wrote. 'We were kids when the Busby Babes were wiped out and we had felt the sorrow on the streets of our city.'
For some of us, football is one area of life where it is surely all right to be nostalgic. Little Nobby Stiles remains a giant in my memory, those Wembley matches in July 1966 and May 1968 two of my most enduring young memories. Football is of course technically brilliant today, but it had lost something of its soul long before the lockdown killed the atmosphere altogether. It is hard to imagine a place in today's glossily sanitised 'soccer' for people's players such as Nobby or his fellow World Cup winner Jack Charlton, Bobby's recently deceased big brother.
Theirs was a time when straight-talking working-class men – and women – could overcome all the obstacles to make their mark and emerge as leaders in different fields. We could do with some more of that spirit today, and not just on the football pitch. Geoff Hurst, England's hat-trick hero in the World Cup final, remembers walking out at Wembley and spotting a banner in the crowd that demanded 'Nobby Stiles for prime minister'.
By coincidence, weeks before his death the 'Lookalike' feature in the satirical magazine Private Eye ran a photo of a boyish Nobby in his prime alongside the idiot Tory health secretary, Matt Hancock. The reader who sent it in suggested that, while the physical likeness was 'uncanny', only one of them would be remembered 'as a world-beater'.
Hearing that Nobby had died on Friday, I recalled an episode of the classic British cop drama, The Sweeney (still showing repeatedly on ITV 4). First broadcast in September 1976, at another time of crisis for both British society and English football, it features Inspector Jack Regan (played by the late John Thaw, another working-class Mancunian legend), looking after Shebbeq, a visiting Turkish policeman.
Shebbeq tells Regan of his admiration for Nobby Stiles of United and England, now retired and already regarded with wistfulness. 'A name to conjure with', says Shebbeq of Stiles: 'A man of determination and guts… If we could but emulate him!' Regan agrees. 'Where are you now, Nobby, when we most need you?' Almost 45 years later, I couldn't put it better.
Mick Hume is a spiked columnist. His book, Trigger Warning: Is the Fear of Being Offensive Killing Free Speech?, is published by Harper Collins. (Order this book from Amazon(USA) and Amazon(UK).)
Picture by: Getty.
To enquire about republishing spiked's content, a right to reply or to request a correction, please contact the managing editor, Viv Regan.