Morocco and the myth of natural disasters
Economic development is what shields us from the ravages of nature.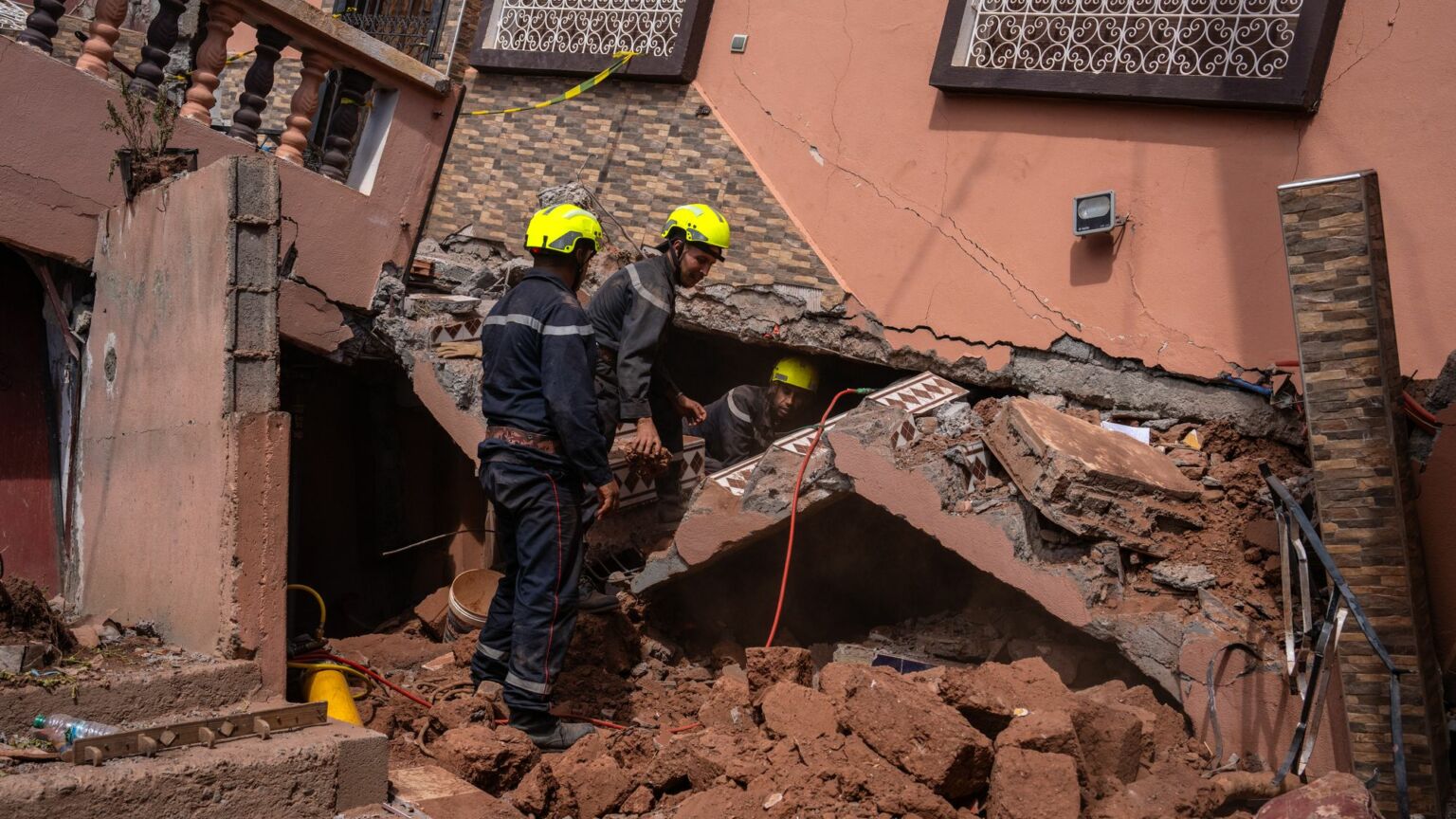 A powerful, 6.8-magnitude earthquake struck south-west Morocco at just past 11pm on Friday. It was the worst possible time. Many people in the affected area would have been indoors, perhaps even asleep, as their homes collapsed in on them. Some were able to get out in time. Many were not.
There is no doubt that it was an especially destructive quake, made worse by it being so shallow, at just 18 kilometres, which intensifies trembling on the surface. Some reckon it could be the most powerful quake to have struck Morocco for 120 years. Yet, as it stands, the full scale of the devastation remains unclear. Many of the areas worst affected in and around the Atlas Mountains are currently unreachable by road. And so the heavy machinery needed to sift through the rubble of remote settlements remains stuck in the lowlands. The death toll currently sits at just over 2,000, but it's expected to rise significantly in the coming days. This is a human tragedy the dimensions of which are only slowly becoming apparent.
Geological processes obviously caused the earthquake itself. After all, Morocco sits close to the tectonic boundary between the African plate to the south and the Eurasian plate to the north. The movement of the African plate northwards, at about 2.5 centimetres a year, puts persistent stress on various regional faults, which is sporadically released in the form of earthquakes. These have frequently come at great human cost. In March 1960, a 5.8-magnitude earthquake killed 12,000 people on Morocco's west coast. And more recently, a 6.5-magnitude earthquake struck in the north in February 2004, leaving 630 people dead.
But as spiked's Fraser Myers reminded us in February, after the catastrophic Turkey-Syria earthquake, there is nothing natural about these disasters. Nothing purely geological. The tens of thousands who died in Turkey and Syria, and the thousands who have now likely died in Morocco, were not killed by the trembling earth. They were crushed by the collapse of poorly built buildings. They were buried alive under cheap clay brick and cinder blocks falling in on them.
That's the tragic truth about the death and destruction we're seeing right now in Morocco. It is not caused by the earthquake itself. It is caused by a lethal lack of development – by the absence of buildings that won't fold in on themselves when the ground shakes, by the absence of an infrastructure resilient enough to withstand seismic activity.
After all, as Bill McGuire, a professor emeritus of geophysical and climate hazards at University College London, puts it, that 6.8-magnitude quake 'need not have been a killer'. In July 2019, Kern County in California experienced a 7.1-magnitude earthquake. It did cause some damage to buildings, and several thousand people lost power to their homes. But aside from a few injuries caused by falling debris, not a single person lost his or her life. As McGuire explains, California can afford to protect itself from quakes. But that's not the case in the underdeveloped parts of the world like Morocco. 'Many buildings are thrown up with little regard to the earthquake threat', writes McGuire, 'and as a consequence collapse even when the level of shaking is quite moderate'.
So what we're seeing in Morocco, as we saw in Turkey and especially Syria earlier this year, is not a natural disaster, but a human disaster. A product, that is, of a chronic lack of material and economic development. That's why, if you look at a list of the most deadly earthquakes of the past quarter of a century, it is dominated by Haiti, Nepal, Kashmir and other hugely underdeveloped or politically unstable parts of the world.
This is hardly news. It's long been clear that the impact of natural hazards declines in relation to a nation's social and industrial development. As Myers notes, 'over the past 100 years, as more of the world has industrialised, natural disasters of every kind have had their impacts blunted'. The stats bear this out. Over 540million people lost their lives due to flooding, earthquakes, hurricanes and so on during the 1920s. In the 2010s, the number of people who died worldwide in so-called natural disasters had plunged to 45million.
That is still a huge number, of course. But it tells us less about the unpredictable forces of nature than it does about the uneven forces of socioeconomic development. It tells us that there are still far too many people in poor or unstable countries left exposed to nature's whims.
Yet, cruelly and callously, Western elites often refuse to see the benefits of industrial and economic development. Quite the opposite. In the shape of the climate-change narrative, our increasingly green elites now actively blame socioeconomic development for increasing the threat posed by nature. They haven't quite found a way to blame earthquakes on the Industrial Revolution yet. But they lay the blame for virtually every other extreme natural event, from flooding to hurricanes, at the door of climate change unleashed by economic development.
Take the flooding in Pakistan last August, which led to over a thousand deaths. It was determinedly blamed on carbon emissions. As UN secretary-general Antonio Guterres put it at the time, 'Let's stop sleepwalking toward the destruction of our planet by climate change'.
This narrative not only lets Pakistan's corrupt, militaristic elite off the hook for failing its people – infrastructure was poor, flood defences were almost non-existent, and emergency services were wanting. It also demonises the very thing that those living in impoverished, underdeveloped nations need most to protect them from nature at its most violent – namely, social, economic and industrial development.
As the unfolding tragedy in Morocco reminds us, blaming nature or the climate for disasters deflects responsibility away from the real source of suffering. Right now, as survivors dig through the rubble with their bare hands, looking for loved ones, Morocco needs urgent practical and economic aid. But beyond that, what it and other relatively poor nations need is development.
Earthquakes may not be preventable. But disasters are.
Tim Black is a spiked columnist.
To enquire about republishing spiked's content, a right to reply or to request a correction, please contact the managing editor, Viv Regan.