The iron fist in the green glove
Net Zero is an authoritarian assault on our liberty and our living standards.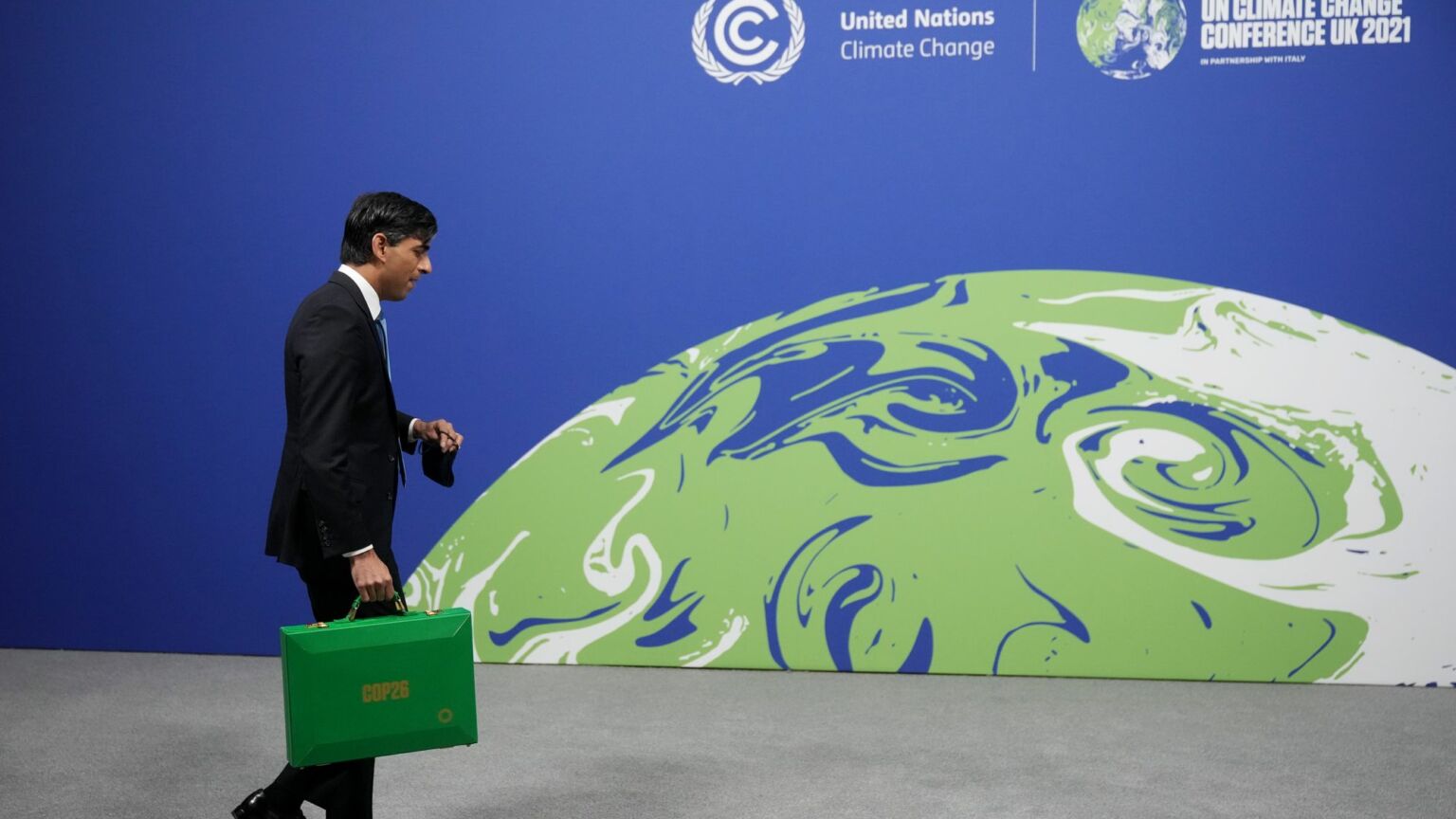 Greens have been dreaming about jailing 'climate criminals' for a very long time. Climate-change deniers in particular will 'one day have to answer for their crimes', said eco-author Mark Lynas a few years back. Well, Gaia's authoritarian army might finally be getting its way. The new Energy Bill currently before the UK House of Commons provides for 'the creation of criminal offences', possibly including jail time, where there is 'non-compliance' with energy-saving regulations. Shorter version: keep the lights on for too long and you could end up in the slammer.
The Telegraph is reporting that property owners who fail to adhere to 'energy-performance regulations' could 'face prison' under the government's crazy plans. There is concern that homeowners, landlords and business bosses could be whacked with fines of up to £15,000 or a year behind bars if they fall foul of regulations on energy consumption. The government says it has no plans to make it a crime to be an eco-unfriendly user of light and heat, but the bill allows for the creation of such crimes. And this has rattled some MPs. They're concerned that ministers would be able to 'create new offences with limited parliamentary scrutiny' thanks to the new bill.
What is the aim of all this tightening of the screws on energy use? Of the possible future criminalisation of us thieves of heat and light? To help Britain reach its Net Zero targets, of course. Like other Western nations, we're committed to achieving Net Zero emissions by 2050. And if that means strongarming the little folk into reducing their energy use, so be it. Let's be clear about what the new bill's provision for the creation of crimes really represents: the state threatening to punish anyone who refuses to convert to the religion of Net Zero and to sacrifice their energy to the jealous god of environmentalism.
We can now see the iron fist in the green glove. There's been a creeping criminalisation of eco-disobedient behaviour for some time now. In the UK, we've had 'rubbish police' looking through people's bags of trash and slapping them with a £100 fine if they are not properly recycling plastic and paper. Under Low Traffic Neighbourhood schemes, officious local councils erect eyesore bollards to stop people from driving on certain roads, and fine them if they fail to comply. In recent years, more than a million such fines have been served on defiers of the LTN regime, raising more than £100million for the Net Zero cultists who rule over us.
Then there's London mayor Sadiq Khan's Ultra Low Emission Zone (ULEZ), now expanded to cover every inch of London. Hundreds of cameras have been installed across the capital, a vast infrastructure of Stasi-like watchmen, to ensure that drivers of 'dirty' vehicles have paid the daily ULEZ toll of £12.50. A fine of £500 awaits any driver of a sinful car who hasn't. To those saying 'Of course the government isn't going to fine people for un-green behaviour!', wake up – officialdom has been doing this for years.
These fines on the eco-wayward are a kind of green penance; economic punishment for one's failure to adhere to the ideology of Net Zero. Things that were once seen as a normal, essential part of everyday life – throwing out the trash, dropping the kids at school – have become punishable activities thanks to Net Zero's redefinition of human activity as 'dirty', polluting, bad. It is entirely logical that other everyday activities – heating your home, say, or keeping the lights on – might also become fineable offences in the future.
Indeed, officials might not be criminalising energy use right now, but they are problematising it. They aren't locking us up for turning on the heat, but they are shaming us. The Climate Change Committee – the official body that monitors government progress on Net Zero – says people should avoid heating their homes in the evenings. You know, when it's cold. Instead, 'pre-heat your homes' in the afternoon, when electricity usage across the country is lower. This is the kind of 'behaviour change' we need if we're going to get to Net Zero, the CCC says, chillingly. Other members of the eco-elite want us to turn off the aircon, too (not that many Brits have it). 'Switch it off', demands a writer for the Guardian. Apparently, it is wrong to use such energy-intensive machinery just so you can be 'more comfortable during our short-lived warm spells'. Honestly, these people have no shame. One minute they say the planet is on fire, the next they say it's just a tad warm, relax. Sweat it out, plebs.
This is life under Net Zero, then. You'll be cold at night, frazzled with heat during the day, all in the sacred name of 'saving energy'. You'll be pressured and fined to drive less and walk more – good luck, disabled people. Food production will be put at risk, too. Witness the crazy clampdowns on 'polluting' farmers everywhere from Ireland to the Netherlands, which is leading to the closure of farms and the possible slaughter of thousands of livestock. Animals sacrificed to appease the weather gods. And progress itself will be stalled. Britain's suicidal pact with Net Zero has led to a situation where every new bit of infrastructure – from roads to coalmines to the proposed second runway at Gatwick – is pored over to see if it complies with the carbon-cutting mania. Nothing may be done that might anger our new god: Net Zero.
Net Zero, at root, is an act of wilful self-impoverishment by a West that has lost faith in modernity. It is the formalisation of our elites' slow but sure turn against the ideals of industry, growth and just comfort. It isn't only luxuries that must be sacrificed at the altar of Net Zero – so must the essentials of life. Food production, freedom of movement, travel, warmth. Even light itself: one city council in the UK has said it will switch off streetlights after midnight as part of its drive to reach 'Net Zero by 2030'.
To enquire about republishing spiked's content, a right to reply or to request a correction, please contact the managing editor, Viv Regan.