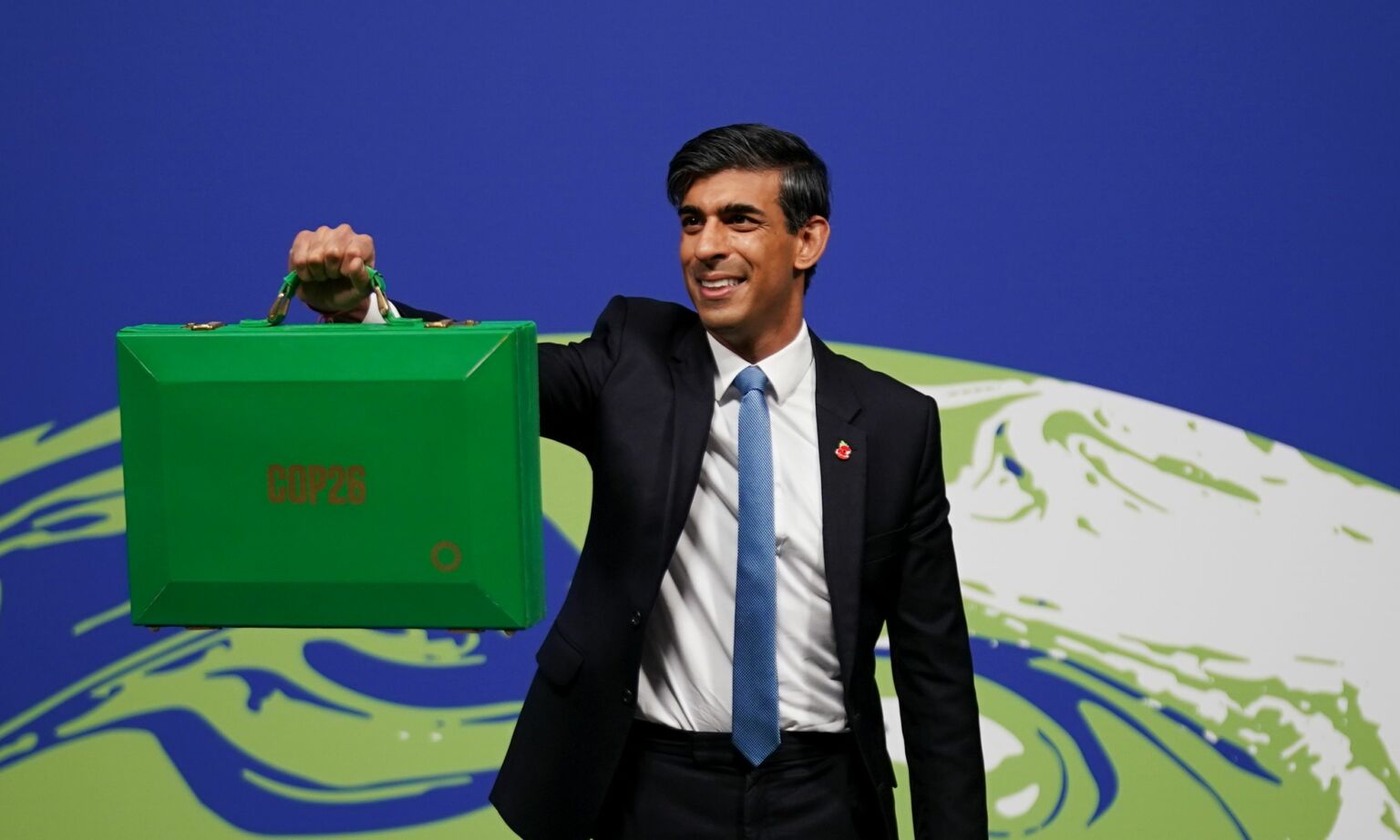 Long-read
Environmentalism: where democracy goes to die
Britons have never been given a proper say over our draconian, punishing climate laws.
'I've knocked on hundreds, literally thousands of doors, and had tens of thousands of conversations with voters… and I just don't have conversations about climate change.'
So said an anonymous MP, despairing at the British public's lack of interest in climate change. He was quoted in a 2018 report by the environmental think-tank, the Green Alliance. The findings were stark. Ten years after the UK had passed the Climate Change Act, which commits the British government to stringent, legally binding decarbonisation targets, there was no sign of any public enthusiasm for climate policy. Politicians across the political spectrum were all in agreement that draconian measures should be taken to mitigate global warming. But they had not brought the electorate along with them. 'For the overwhelming majority of people', the report warned, 'climate change is a non-issue'.
Fast forward five years to today and the public is finally starting to make its voice heard on the climate. Except not in the way our green-leaning establishment had hoped. Rather than clamouring for further climate action, voters are starting to bristle at the burdens of Net Zero.
Last month's by-election in Uxbridge and South Ruislip created a major roadblock for the green agenda. For years, politicians had assumed that the public would passively accept constraints on their living standards, so long as they were packaged in green. But Uxbridge proved otherwise.
Voters in this outer-London constituency were incensed about the upcoming expansion of London mayor Sadiq Khan's Ultra Low Emission Zone – a daily charge on driving older cars and vans. By revolting against the ULEZ, voters deprived Labour, the presumptive next party of government, of what should have been an easily winnable seat.
Suddenly, since the Uxbridge upset, a whole host of green policies, which were once considered untouchable, are coming under scrutiny. The Conservatives' planned ban on sales of petrol and diesel cars, the phasing out of gas boilers, and strict energy-efficiency rules in homes, have all been questioned by government ministers. Prime minister Rishi Sunak now says we need a more 'proportionate and pragmatic approach' to eco-issues. Labour leader Keir Starmer is also apparently starting to have his doubts about the extent of his party's green ambitions.
We shouldn't get ahead of ourselves – no party has yet proposed the abandonment of climate-change targets or anything close. But this is nonetheless a significant moment. For the first time in decades, an actual debate has broken out in mainstream politics about the wisdom of sacrificing living standards in the name of tackling climate change. So much so that even that bastion of establishment thinking, the Financial Times, this week declared 'the beginning of the end of Britain's Net Zero consensus'.
Of course, as that dejected MP in the Green Alliance report makes clear, this 'consensus' on climate policy was only ever shared among the political elites. There is no democratic mandate for the punishing, austere path politicians are taking us down. And there never was.
The history of climate policymaking shows us that this lack of a mandate is a feature, not a bug. The green agenda has always been developed, fine-tuned and implemented over the heads of the voting public. This has happened in two key ways: through the mainstream parties closing ranks and through the outsourcing of policy to technocratic and supranational bodies. This set-up has, until relatively recently, successfully kept a lid on debate and dissent.
Famously, the first world leader to raise the spectre of climate change was Margaret Thatcher, UK prime minister from 1979 to 1990. She set the tone for the narrative that followed.
Thatcher was first made aware of climate change in 1984, just as the Miners' Strike was heating up. Four years later, she was warning scientists gathered at the Royal Society that 'we have unwittingly begun a massive experiment with the system of this planet itself'. She argued for swingeing cuts to carbon emissions in energy production to be made at 'great and necessary expense'. Speaking to the UN in 1990, she warned: 'The danger of global warming is as yet unseen, but real enough for us to make changes and sacrifices.' In the same year, she set up the Hadley Centre for Climate Prediction and Research, which produces the primary datasets for the Intergovernmental Panel on Climate Change (IPCC) to this day.
In all of this, Thatcher helped to establish the idea that climate policymaking is merely a matter of 'following the science'. This places the sacrifices we are called upon to make for the sake of saving the planet beyond political contestation. This served her well in the short term. On the international stage, it allowed her to present the mass closure of Britain's coal mines as a scientific imperative, rather than what it really was – a class war against miners and unions.
As it happens, in her 2003 memoir, Thatcher expressed regret for the 'apocalyptic hyperbole' she had unleashed in her wake. She lamented how the climate-change narrative had ossified into a 'dogma'. But the damage had been done.
After Thatcher left office, the UK and most other major powers signed up to various international climate treaties, most notably the 1992 Rio Declaration and the 1997 Kyoto Protocol, committing them to cut emissions. Meeting these early targets didn't require the UK government to take much specific action. The 'dash for gas', which took off in earnest in the early 1990s, was already reducing CO2 emissions, at no cost to the consumer. More awkwardly, deindustrialisation also lowered the UK's carbon footprint.
Climate change would not become a domestic political issue until the Climate Change Act, which was proposed in the dying days of Tony Blair's New Labour government and passed in 2008 under Gordon Brown. The clamour for a climate bill came not from the public but from green lobby groups, with the help of big business. In May 2005, Friends of the Earth, alongside over 100 other NGOs, gathered to form the Stop Climate Chaos coalition, which sponsored a successful early-day motion in parliament. That same month, 13 of Britain's most powerful companies, including HSBC, Shell and BP, under the auspices of the Prince of Wales Business and Environment programme, wrote an open letter to Tony Blair demanding 'urgent' and 'bold' action to cut carbon emissions. Then environment secretary David Miliband agreed there should be a climate bill and invited Friends of the Earth's Bryony Worthington (now Baroness Worthington) to become its lead author.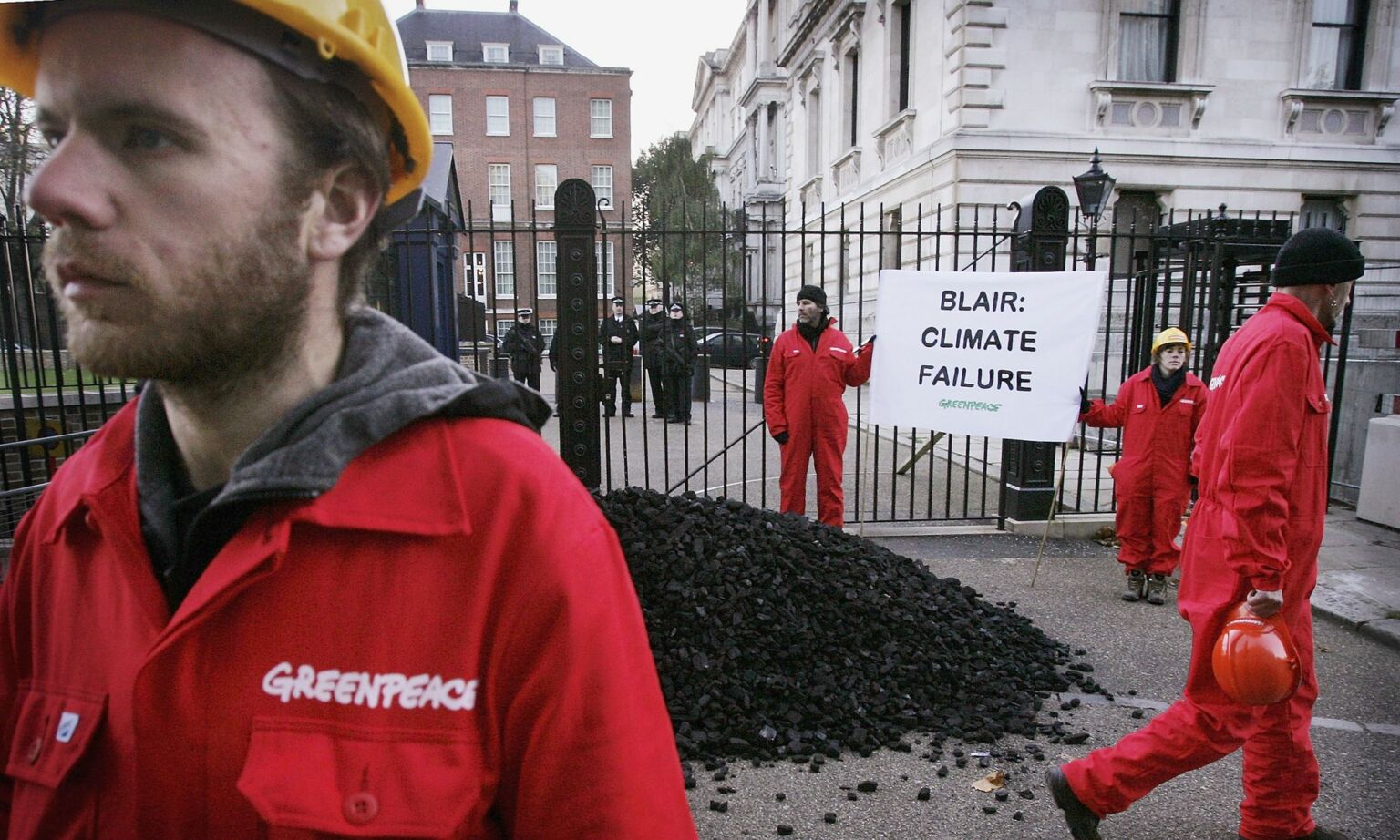 Greenpeace campaigners protest outside the back entrance to the official residence of British prime minister Tony Blair in 2005.
In the run-up to the bill appearing in parliament, debate and dissent were kept to a minimum. What critics there were of the bill said it didn't go far enough. When a draft bill was published in 2007, the opposition Tories complained that Labour's decarbonisation targets were woefully unambitious. The UK should cut carbon emissions by 80 per cent, said then Tory leader David Cameron, not 60 per cent, as Miliband had proposed. The Liberal Democrats tried to outbid both parties, demanding a 'zero carbon' Britain and a ban on nuclear power.
Instead of having a public debate about the trade-offs or costs of the different targets, the government set up an independent panel of experts to make the decision. This represented an extraordinary transfer of power from elected politicians to unelected technocrats. The Committee on Climate Change (now called the Climate Change Committee) was essentially tasked with establishing the framework for the UK's economic and energy policies for the next 42 years. Its advice back then was to cut CO2 emissions by 80 per cent by 2050.
Despite the gravity of the proposed climate law and what it committed the UK to achieving, it faced very little democratic scrutiny or pushback. That decarbonisation at this scale couldn't happen without serious economic harm was obvious to anyone. Much of the technology that would be needed for a pain-free path to decarbonisation didn't exist then, and still doesn't now, some 15 years later. But MPs didn't seem too concerned about all this. Nor did they consider the fact that the UK's response to climate change is materially irrelevant, given that we are responsible for just one per cent of global greenhouse-gas emissions. Instead, they were determined for the UK to 'lead the world' on the climate agenda.
With all three main parties in agreement, just five MPs voted against the bill in its second reading, and only three MPs opposed it in its third reading. It received royal assent in November 2008. And thus the UK's climate 'consensus' was born.
In the years that followed, this phoney consensus only became stronger, and the space for democratic deliberation was tightened further. The next big leap in climate policy came in 2019, at the fag end of Theresa May's Conservative government, with the UK's adoption of a Net Zero by 2050 target. Net Zero means eradicating carbon emissions almost entirely (with some tiny allowances for CO2 to be captured and stored, or absorbed by forests and seas).
The speed with which this idea became policy was head-spinning. The term Net Zero was used for the very first time in October 2018 in an IPCC special report. Within a year, in May 2019, Net Zero had been taken up and recommended by the advisers at the UK's Climate Change Committee. A month later, environment secretary Chris Skidmore put forward a Net Zero amendment to the 2008 Climate Change Act, which consisted of around 20 words. After just 90 minutes of debate in the House of Commons, with only a smattering of MPs in attendance, the amendment was passed without a vote. And just like that, the UK committed itself to Net Zero.
The impact of this decision, taken without any serious democratic deliberation, cannot be understated. Net Zero represents the most significant national undertaking since the Second World War. It demands the complete transformation of the energy system, agriculture, transport, retail, construction, housing and much more. Yet for our political class, it was treated as a fait accompli.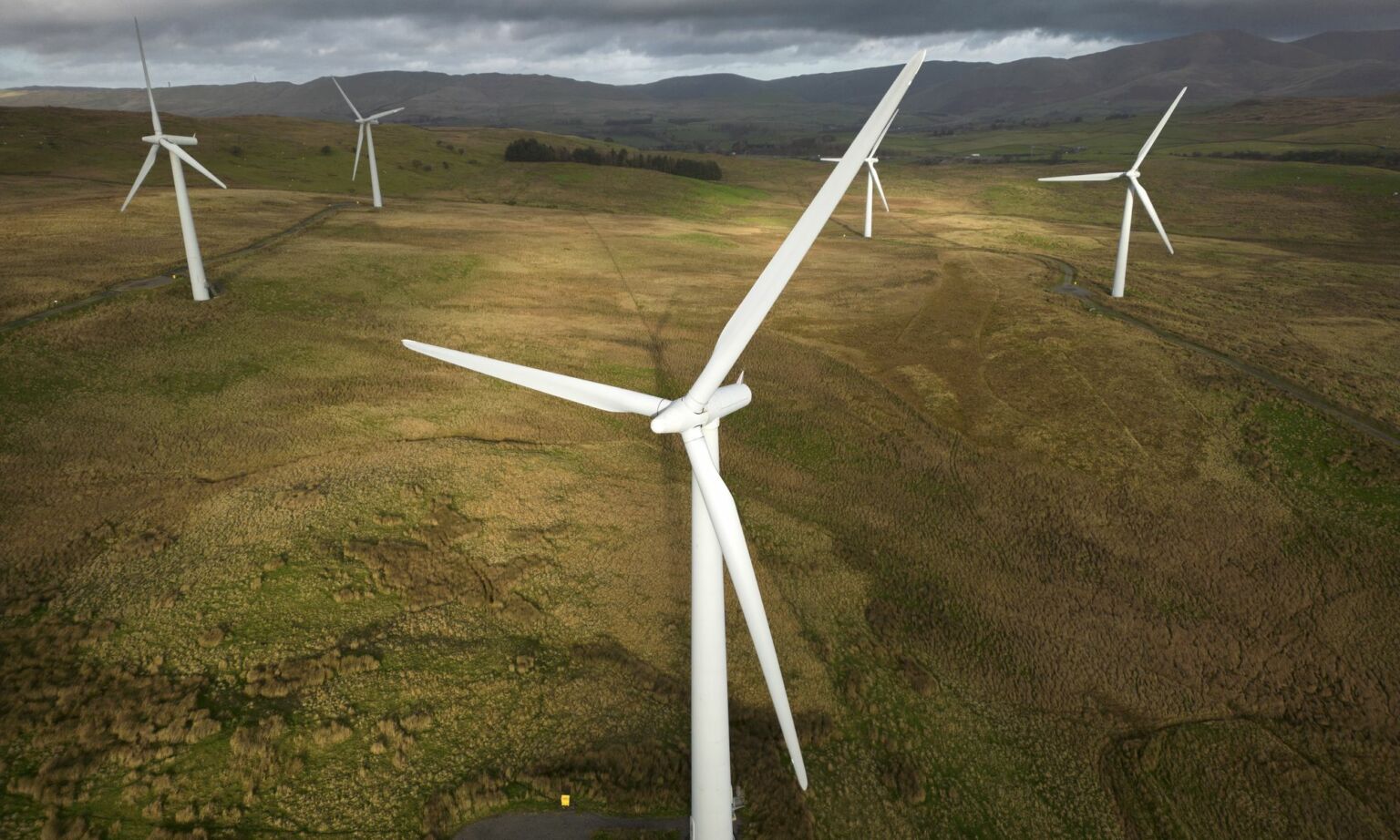 Wind turbines in Lambrigg, England, 2022.
Everyone will be impacted by Net Zero. The zero-carbon technologies that will soon be mandated tend to be far less efficient and reliable than the CO2-emitting technologies they seek to replace. Substituting fossil fuels with intermittent renewables will make energy more expensive and our electricity supply less stable. Our food supplies will become less secure as synthetic fertilisers are phased out. It will soon take a whole day to heat your home when your trusted gas boiler is replaced by an unworkable heat pump. Your home will have to be gutted for new radiators to be installed and for insulation to be fitted. In some cases, this state-mandated retrofit could cost as much as building a new house from scratch.
All of those additional expenses and inconveniences don't even capture half of it. According to the Climate Change Committee, the majority of emissions cuts are not expected to come from technological adaptation, but from changes in individuals' choices and behaviour. These 'choices' include using less electricity, heating our homes sparingly, travelling less and eating less meat. In other words, by reducing our consumption and our quality of life. As a Public Accounts Committee (PAC) report from 2021 makes clear, some 62 per cent of the proposed cuts in carbon emissions depend on us, the public, embracing an ascetic, abstemious lifestyle.
And if you think we'll be left to make these 'choices' willingly, then I have an offshore windfarm to sell you. There will be nudges, taxes, bans and subsidies to try to cajole us into these new behaviours.
So perhaps it's little wonder, then, that politicians have failed to engage, let alone enthuse, the public with their grand ambitions for the climate. It's why we've yet to see a party manifesto or major political speech spelling out in any serious detail the austerity and lifestyle restrictions to come. Because the reality of these policies is people being made poorer and colder.
Instead, politicians try to downplay or obscure the brutality of the climate agenda. Ahead of the COP26 climate conference in Glasgow in 2021, government spokeswoman Allegra Stratton said we could do our bit for the climate simply by not rinsing our dishes before we put them in a dishwasher. Similarly, the only concrete Net Zero measure included in the winning 2019 Conservative manifesto was a '£640million new Nature for Climate fund', which promised to plant more trees. And who could be against more trees?
It's really no wonder that the PAC concluded, in no uncertain terms, that: 'Government has not yet properly engaged with the public on the substantial behaviour changes that achieving Net Zero will require.' Because any attempt to 'engage' us in what Net Zero actually means would invite a furious response.
Greens often claim that the public are actually really in favour of Net Zero – that we just can't wait for our austere, green future. According to Tory peer Zac Goldsmith, the public support for it is actually 'very wide and deep'. But this is another deception. People are in favour of reducing carbon emissions in the abstract. But opinion changes radically as soon as it's made clear that sacrifices will have to be made to get there. A recent YouGov poll found that support for Net Zero falls from a whopping 70 per cent to just a quarter at the mere mention of 'some additional costs for ordinary people' – let alone the huge reductions in living standards that will actually be required. A Portland Communications poll, commissioned just before COP26, found that only seven per cent of people think 'my family and me, and other families like mine' should pay most of the price for tackling climate change.
This is why no one should have been surprised by the revolt against the ULEZ. And it's why we should expect more rebellions to come when green policies begin to bite harder.
No one ever asked us if we wanted Net Zero. No one ever really sought to justify it, or explain how it might work, either. The green elites have tried to shut the voters out of the debate at every turn. They thought we would just put up with a more expensive and meagre existence, just because 'the science' said so. I dare say they are beginning to learn just how wrong they were.
Fraser Myers is deputy editor at spiked and host of the spiked podcast. Follow him on Twitter: @FraserMyers
To enquire about republishing spiked's content, a right to reply or to request a correction, please contact the managing editor, Viv Regan.