Kevin Spacey and the death of #MeToo
The acquittal of Spacey is yet another blow against the unreason of the #MeToo movement.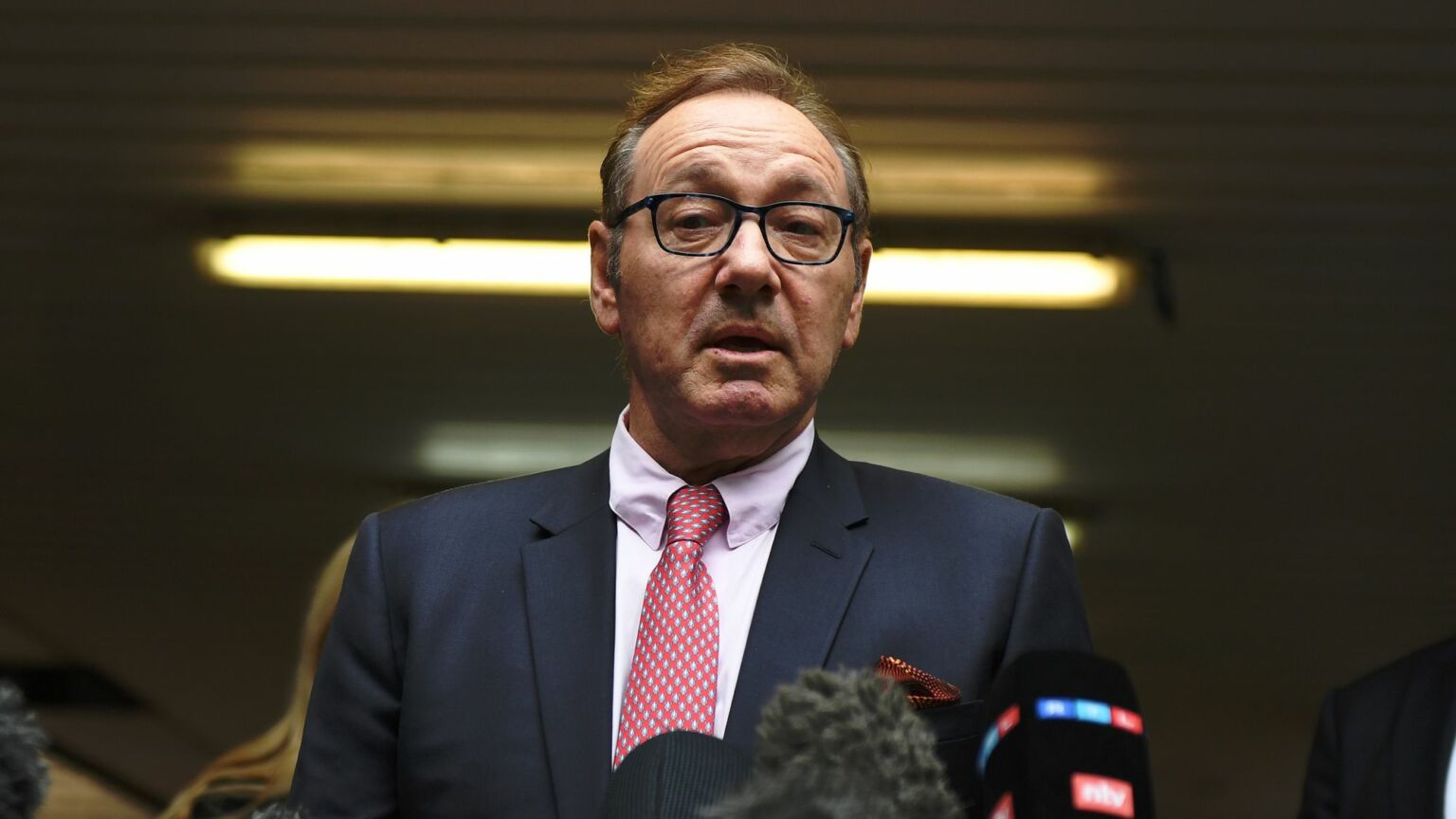 The acquittal of Kevin Spacey feels explosive. Not only in relation to the Spacey case itself, where the Hollywood star has been found not guilty on nine accusations of sexual assault. No, in relation to the entire ideology of #MeToo. This looks like a reasoned, rational judgement, first on the things Spacey was alleged to have done, and second on the finger-pointing culture that has gripped public life over the past five years; on that presumption of guilt we were all encouraged to feel in response to every accusation of sexual licence made against famous men. Has the light of democratic deliberation finally been brought to bear on the unjust excesses of #MeToo?
Jurors at Southwark Crown Court in London acquitted Spacey on all charges. He stood accused of nine offences against four men, ranging from grabbing crotches to 'causing a person to engage in sexual activity without consent'. The accusations pertained to incidents that supposedly occurred between 2001 and 2013, when Spacey was mostly in London, serving as artistic director at the Old Vic theatre. According to the BBC, he put his hand on his chest following his acquittal and mouthed the words 'Thank you' to the jury. This was the second time Spacey was found not guilty of sexual charges: in New York in 2022, he was cleared of any wrongdoing in relation to actor Anthony Rapp, who said Spacey made an unwanted sexual advance towards him in 1986, when Rapp was 14 and Spacey was 26.
The London jurors' decision is a blow not only against Spacey's accusers, but also against the accusatory climate of the #MeToo era. 'Believe the victim' has been the cry of our times. But these 12 men and women, plucked from everyday life, did not believe the accusers. Or rather, they remained unconvinced by the accusers' claims. Following months of evidence and then 12 hours and 26 minutes of jury deliberation, these representatives of the people gave voice to their scepticism towards the things Spacey stood accused of. They failed to do what the woke elites expect of all of us these days – namely, to instantly believe every accusation of sexual assault – and instead did what what democratic, enlightened, fair culture demands: that we think, discuss, weigh things up and always seek the truth. That we use rational judgement rather than rushing to judgement.
The jury decision is an act of resistance, in some ways, to our unforgiving climate of instant belief and furious denunciation. It is worth recalling the treatment received by Spacey and other famous men who found themselves accused of sexual assault. All were swiftly presumed guilty by the social-media mob. 'OF COURSE we believe you', influencers tweeted in response to Rapp's allegations against Spacey. Spacey was airbrushed from Hollywood. Millions of dollars were spent on replacing him with Christopher Plummer in Ridley Scott's 2017 movie, All the Money in the World, as if audiences might expire in a vapour of emotional pain if they were to clap eyes on this evil accused actor. Spacey's lawyer in the Rapp case surely had a point when she criticised 'one of the cardinal rules of the so-called #MeToo movement' – 'that you have to believe the victim'.
Against the feverish pre-judgement of the elite #MeToo project, against the rash, borderline Stalinist denunciation of famous people on the basis of accusation alone, this jury in London said: 'No. We prefer to use reason.' Their resistance of the cultural and media pressure to believe every accusation feels almost Herculean. Rarely has it been more apparent that jury trial is often an oasis of sense and objectivity in a turbulent sea of mob censure. This verdict is a reminder that reason remains, even in these febrile, vindictive times, and that it's far more likely to be found among 'proles' than the influencer elites. Just as the finding in favour of Johnny Depp against Amber Heard last year felt like both a specific judgement and an act of moral criticism of #MeToo, so this acquittal of Spacey essentially says: 'We won't be swayed by your unforgiving climate. We'll use our faculties of reason instead.'
Of course, whether this is the end of #MeToo remains to be seen. It strikes me that the issuing of holy, unquestionable accusations might be too useful a tool for the cultural establishment for it to be jettisoned now. #MeToo has allowed the cultural elites to reprimand individuals, create new cultures of control and oversight, and advance the careers of whole new layers of correct-thinking activists and actors. And yet the steady, measured decision-making of those men and women in Southwark unquestionably challenges the frenzy of what has often felt like sexual McCarthyism in our #MeToo times. The next step will surely be the rehabilitation of Spacey's career: Hollywood will appear positively medieval if it continues to banish a man found guilty of no crime. After that, there should be a broader reckoning with our era's culture of denunciation and its horrible consequences for reason, justice and everyday relations.
Brendan O'Neill is spiked's chief political writer and host of the spiked podcast, The Brendan O'Neill Show. Subscribe to the podcast here. His new book – A Heretic's Manifesto: Essays on the Unsayable – is available to order on Amazon UK and Amazon US now. And find Brendan on Instagram: @burntoakboy
To enquire about republishing spiked's content, a right to reply or to request a correction, please contact the managing editor, Viv Regan.