Kevin Spacey is innocent
It isn't virtuous to believe Spacey's accuser — it's backward.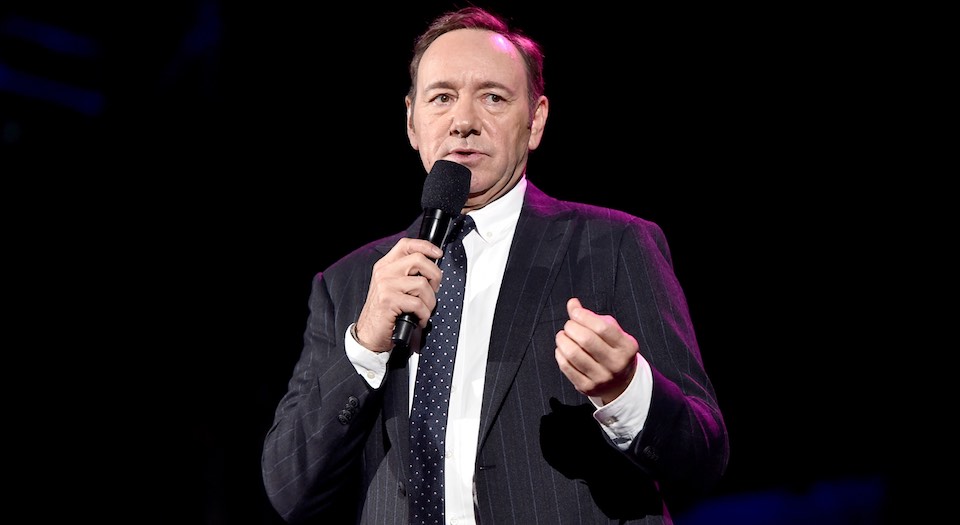 Why does everyone believe Kevin Spacey's accuser rather than Kevin Spacey himself? In a civilised society, it would be the other way round. In a civilised society we would doubt the accuser and maintain the innocence of the accused. But increasingly we do not live in a civilised society. As demonstrated by the hysteria of the Harvey Weinstein scandal and the increasingly strange and narcissistic #metoo contagion, we live in a society where accusation is now proof. Where accusation alone can colour someone's reputation beyond repair. I fear we haven't yet registered how worrying, and terrifying, this state of affairs is.
No sooner had Star Trek: Discovery actor Anthony Rapp claimed that Spacey made a 'sexual advance' towards him in 1986, when Rapp was 14 years old, than the internet was aflame with whispers and chatter about Spacey being a paedophile. Everyone, it seems, believes Rapp, and they want the world to know they believe Rapp. 'I believe him', people are tweeting. 'Of COURSE we believe you', says civil-rights activist — read professional tweeter — Danielle Muscato. One political comedian says we need to use the right term for 'what he did' — it was 'child molestation'. 'What he did'. The arrogance. The mob thinking. How do we know Spacey did this thing? Because one person said he did. If we had any kind of attachment to the ideals of reason and justice, the building blocks of civilisation, this wouldn't be enough. It would be so far from being enough.
Spacey says he doesn't remember the assault. 'I honestly do not remember the encounter', he said in a statement, before going on to say that if it did happen, then he's sorry. (Who's advising these people? Do not apologise for something you do not remember doing.) Spacey, in his own lame way, is calling into question the veracity of Rapp's accusation. And you know what? We should all be doing that. For three reasons.
First, because the alleged incident took place 31 years ago. Thatcher and Reagan were in power. Mark Zuckerberg was two years old. Boy George joined The A-Team. It is entirely feasible — likely, in fact — that Mr Rapp misremembers what happened that long ago. We all have foggy memories of decades-old events. Secondly, because Mr Rapp has made his accusation as part of the #metoo phenomenon, which may well have coloured how he sees that alleged event that is a third-of-a-century old. As part of #metoo, individuals can fast-track themselves to a position of moral and cultural authority through claiming to have been victims of celebrity abuse. Can we agree that this attractive prospect, this promise of cultural cachet, might — only might — have influenced both Mr Rapp's recollection of what happened and his decision to accuse now? And thirdly because this is what we are meant to do. We are meant to believe in the innocence of everyone accused of a crime or misdemeanour, until such a time as a jury of their peers has been convinced beyond reasonable doubt that this is 'what he did'.
We are meant to side with the accused. It is the civilised thing to do: side with the accused. We are meant to insist upon his or her innocence until guilt has been properly and convincingly established. But today the Twitterati, the media, the feminist set and increasingly the political class — see the jumped-up, 'me too!' sex-harassment panic now brewing in the House of Commons — line up with accusers. Or behind them, torches in hand, crying: 'We believe you! Hound the sex pest / rapist / paedophile out of Hollywood, the media, politics, etc etc.' Why bother with law at all? Perhaps everyone accused of a crime should be dangled before the Twitterati and trending-obsessed MPs. 'I believe the accuser', they could wail, before expelling the accused from public life. Just be grateful the stocks and gallows no longer exist.
People are now 'calling out' Spacey for using his statement on Rapp to come out as gay. He is suggesting that child abuse and homosexuality are intertwined, they say. No, he isn't. He is doing something he didn't want to do — speak publicly about his sexuality — under the pressure of a baying media mob howling 'paedo' and 'me too!' at him. He is a man in profound turmoil because an accusation that can never be proven but will linger and fester forever has been issued against him. If you're more shocked by Spacey's sad, defensive statement than you are by the fact we live in a society where people can be crushed by accusation alone, then your moral compass is in urgent need of repair.
'I believe' has become the ultimate virtue-signal. But it is utterly lacking in virtue to say this. Sixty-two years ago a woman called Carolyn Bryant Donham accused a young man of sexual harassment. He grabbed her by the wrist and said 'How about it baby?', she said. He wolf-whistled at her, she claimed. Everyone in her local community believed her, uncritically, and instantly. 'I believe.' They went after her harasser, tied him to the back of a truck, and then beat him to death in a barn. His name was Emmet Till. He was a victim of uncritical belief in people who make accusations of sexual harassment. Crying 'I believe' in response to every accusation of a sexual crime isn't progressive; it's a species of savagery.
If people want us to believe that an individual has behaved criminally, they will need to convince us beyond reasonable doubt.
Brendan O'Neill is editor of spiked.
Picture by: Getty Images.
To enquire about republishing spiked's content, a right to reply or to request a correction, please contact the managing editor, Viv Regan.