Charles should butt out of the climate debate
The king's confab with Joe Biden was an outrageous political intervention.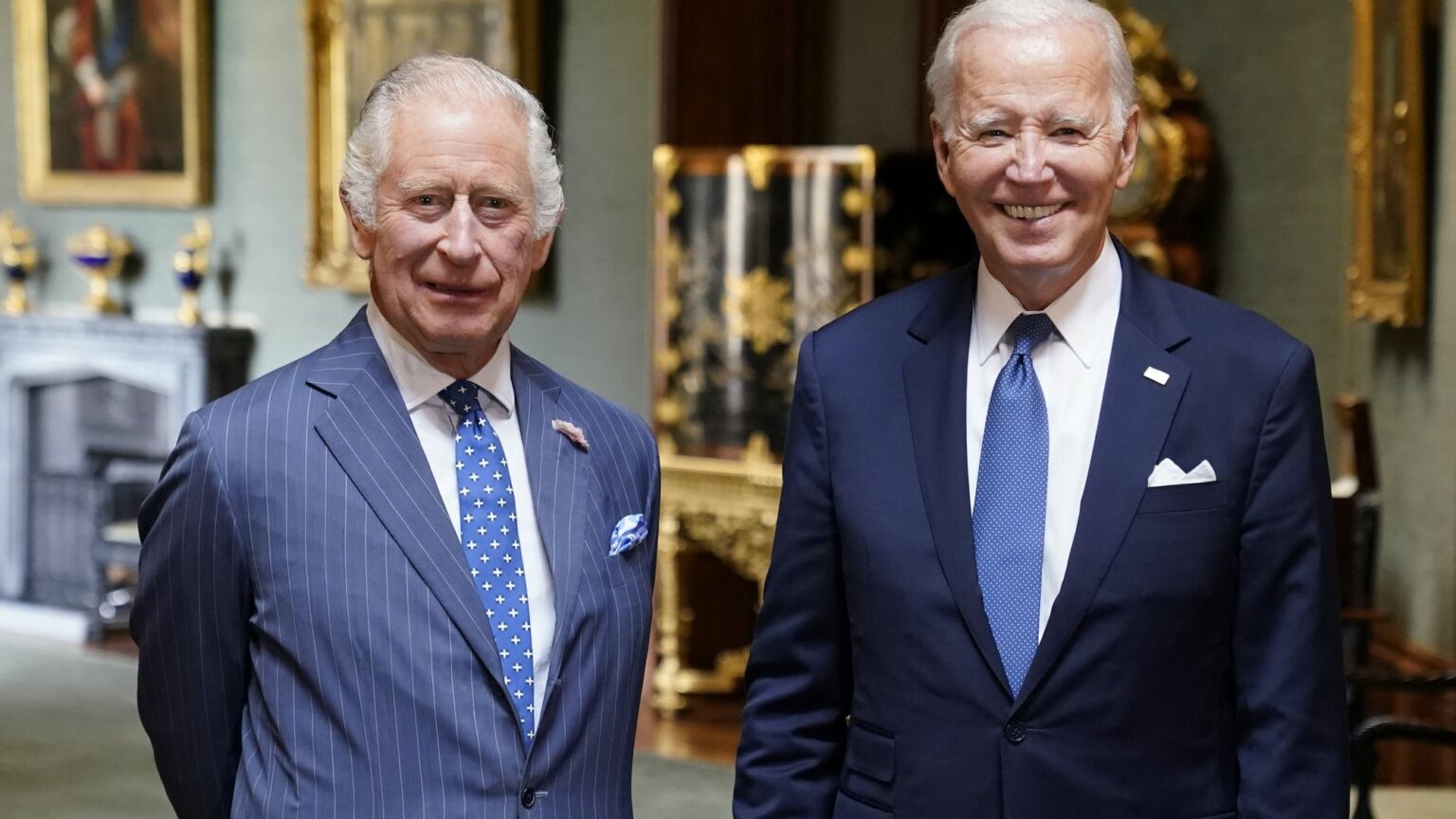 After chatting to British PM Rishi Sunak today, US president Joe Biden headed over to Windsor Castle for the main event of his UK visit – a chinwag with King Charles III.
At first glance, there's nothing especially unusual about a US president hanging out with Britain's monarch, even outside of a state visit. Queen Elizabeth II enjoyed numerous informal catch-ups with America's leaders, from President Eisenhower's trip to Balmoral in 1959 onwards. Ronald Reagan even went riding with Liz in 1982. These meet-ups were justified on the grounds that they served a diplomatic purpose. They built personal relationships, eased tensions and flattered egos. All the soft-focus stuff of international relations. They were political in a way, of course, but not to the extent that they appeared meddlesome.
But Biden's meet-up with the king this afternoon was not a diplomatic nicety. It was an explicitly political meeting. It was a chance for Britain's unelected figurehead to get stuck into world affairs.
The theme of the meeting was how America and Britain can lead the world on the 'climate issue'. The UK's Net Zero secretary, Grant Shapps, and Biden's climate envoy, John Kerry, also turned up – according to Kerry, to outline the transatlantic drive to 'accelerate the deployment of literally trillions of dollars' of climate-change investment. Charles and Joe sat around and formulated proposals for a Net Zero future. They met with representatives from the financial and charity sectors to work out how to 'encourage' private companies to abandon fossil fuels and support 'clean energy'. One major focus was on how to advance their green agenda in 'developing economies'.
So here we had Charles doing his best impression of Greta Thunberg, demanding the total transformation of our economy and society, and yet few among our elites seem to have noticed anything wrong with this – or told our unelected king to keep his opinions to himself.
This reveals the extent to which our elites now treat climate policy as 'above politics'. It's not viewed in the same way as taxes or spending or international trade. It is seen as an issue that doesn't even need to be debated – a problem beyond ideological contestation. The science is settled, we're told, and Gaia's will is final. John Kerry himself even suggested as much today: he hopes our unelected king will continue to press for action on climate on the grounds that it's 'a universal issue' and not about 'ideology'.
This is nonsense. The discussions at Windsor Castle today could affect millions of lives. Abandoning fossil fuels and embracing renewable energy will have extraordinary implications – for the economy, for national budgets, for industry and for household bills. What's more, the climate apocalypticism espoused by the likes of Charles and Kerry reflects a particular elite view of the world. It's born of a deep cultural pessimism about modernity and industry, rather than a rational appraisal of the scientific evidence.
Yet Charles' courtiers in the press seem to be labouring under the delusion that none of this counts as politics. Even the pseudo-republicans on Twitter have largely remained silent, mainly because on this issue they agree with him. Across the political spectrum, there has been a widespread failure to call out King Charles' intervention for the democratic outrage that it is.
Most Britons tolerate the monarchy so long as the royals are seen and not heard. The late queen won over much of the public by keeping her personal views close to her chest. At one point, Charles – who has been vocal on various issues for much of his adult life – at least pretended he planned to follow her example. Yes, when he was still a prince he took the liberty of espousing his comically reactionary views – from his aversion to modern farming methods to his embrace of population control. But he insisted he would drop all of that when he ascended to the throne. Famously, he once said he'd have to be 'stupid' to think he could be a meddling, campaigning king. Yet here he is now, meddling and campaigning on his pet cause – doubling down on his batty desire to return Britain to some pre-modern idyll.
If we are to be lumbered with an antiquated monarchy, we should at least expect our unelected rulers to keep their noses out of politics. Today's climate confab confirms that King Charles III has zero intention of doing so.
Tim Black is a spiked columnist.
To enquire about republishing spiked's content, a right to reply or to request a correction, please contact the managing editor, Viv Regan.