Ed Miliband's eco-madness
Labour's deranged energy policies would cause severe economic harm.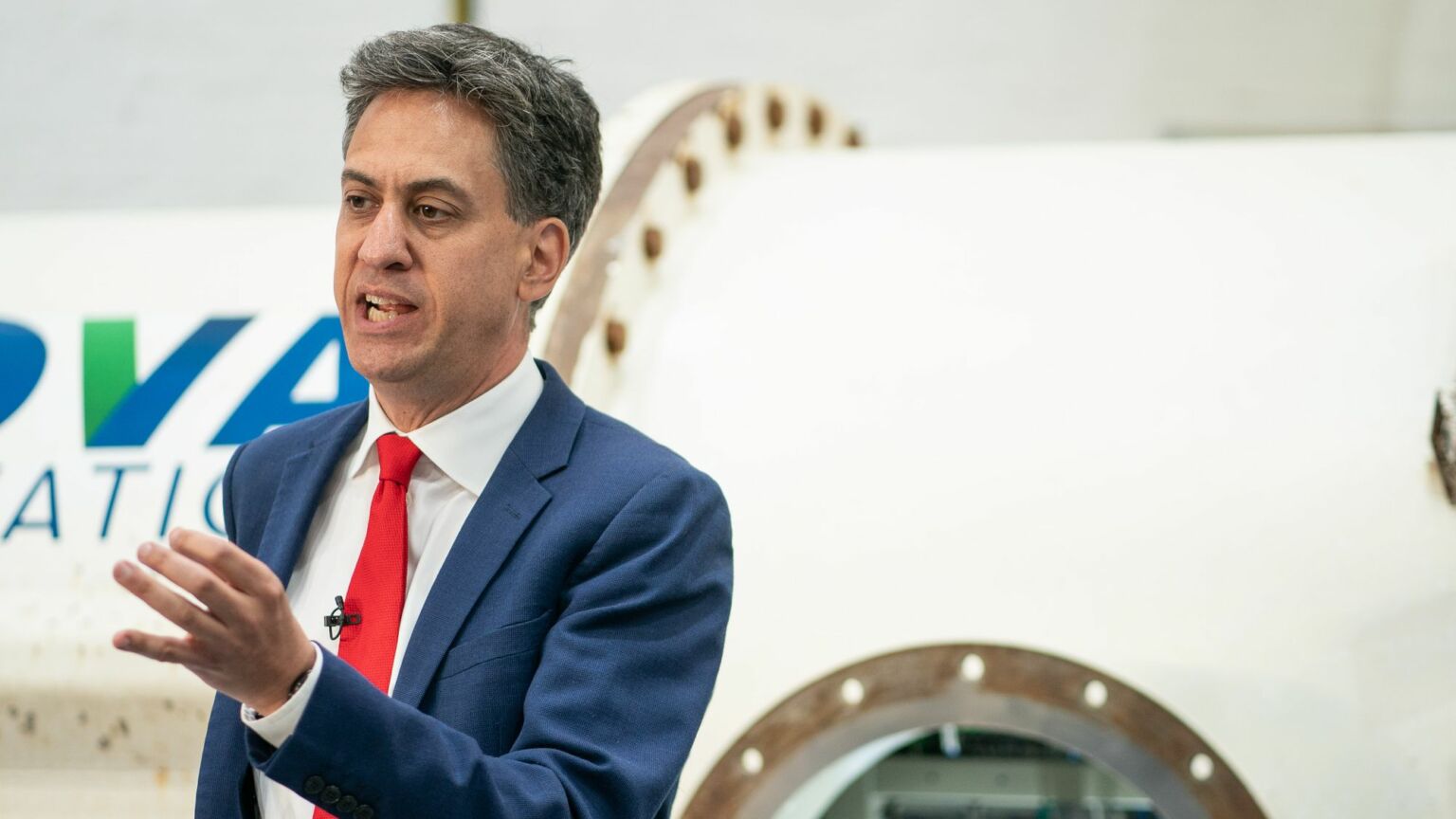 The Boris Johnson Show has dominated the mainstream media for what seems like weeks on end. And with the Tories continuing to implode, many observers now seem to think that the Labour Party is all but guaranteed to win the next General Election.
But Labour leader Keir Starmer has a secret weapon that might just help prime minister Rishi Sunak snatch victory from the jaws of defeat. Step forward Ed Miliband, shadow climate-change secretary. He's the only Labour politician who has been able to break through the Boris media circus and generate headlines for Labour. The only problem is, most of them have been negative.
Take Keir Starmer's announcement at the beginning of June that a future Labour government would ban all new North Sea oil and gas projects. That is straight out of Ed Miliband's playbook.
Many have suggested that this anti-fossil-fuel policy is linked to Labour receiving a £1.5million donation from Dale Vince, owner of green electricity company Ecotricity and backer of the Just Stop Oil protesters. But there's little doubt that Miliband has been the one pushing the policy.
A ban on new oil and gas projects is a foolish move. As others have rightly noted, stopping drilling for North Sea oil and gas will make us more reliant on energy produced overseas. And this will increase costs. As Sunak succinctly pointed out to Starmer at Prime Minister's Questions last week: 'His predecessor [Gordon Brown] once said he wanted British jobs for British workers – [Starmer's] policy is British jobs for Russian workers!'
Unsurprisingly, trade unions, local Labour councillors and trade bodies have also slammed the ban. The Aberdeen Labour Group leader, councillor Tauqeer Malik, said: 'If we were to stop development in the North Sea we would inevitably have to rely more heavily on imports from countries where the stringent measures we have in place to reduce the impact to the environment are, frankly, non-existent. We have jobs and families to protect. We cannot just throw the baby out with the bath water.'
Labour's more moderate union backers have weighed in, too. Gary Smith, the GMB union's general secretary, said the policy lacked 'intellectual rigour' and that it 'would be a huge mistake to put all the nation's eggs in one energy basket'.
Trade association Offshore Energies UK has expressed similar sentiments. In a statement released at the end of May, it reminded Labour that the oil and gas industry provides 200,000 skilled jobs across the UK. In the last fiscal year alone, the sector contributed over £20 billion to the economy and an estimated £11 billion in taxes. 'People wouldn't forgive anyone', the statement read, 'who shut down Britain's oil and gas industry only to replace it with imports of foreign oil and gas'.
Indeed, the policy has been so badly received it's now reported that Starmer had to spend last week phoning round energy companies trying to reassure them that it would not have an adverse impact on their businesses.
But the oil and gas ban is only the tip of Miliband's energy iceberg. In November last year, ahead of COP27, the UN's climate-change convention, Miliband announced that a future Labour government would give British taxpayers' money in reparations to countries, such as Pakistan and the Maldives, as compensation for loss and damage from climate change.
And it doesn't stop there. There's also Labour's green prosperity plan, another rumoured brainchild of Miliband. According to this plan, Labour would borrow £28 billion each year for initiatives to create environmentally friendly jobs and shift us towards Net Zero emissions. After observers pointed out the damaging economic consequences of such a policy, Labour's shadow chancellor, Rachel Reeves, began flailing around trying to dilute the initiative.
Little wonder Reeves is now backtracking on the green prosperity plan. 'Economic stability, financial stability, always has to come first', she said earlier this month, before calling the plan an aspiration, rather than a commitment.
But even though the green prosperity plan would result in more public borrowing, even higher mortgages and inflation, Miliband has refused to make any concessions. 'Some people don't want Britain to borrow to invest in the green economy. They want us to back down… I will never let that happen', he said recently.
Incredibly, Starmer is also doubling down on his friend's energy strategy. On Monday, he turned up in Scotland and reiterated Labour's commitment to the UK oil and gas ban and the green prosperity plan.
Some in Labour's shadow cabinet are becoming increasingly puzzled as to why Starmer listens so intently to the man who lost the 2015 General Election. He's even had Miliband stand in for him at PMQs. Ed is also said to be responsible for last year's Labour conference theme of 'a fairer, greener Britain'.
There are reports that the former Labour leader is always in the current leader's office, and that Keir is close to Ed's Arsenal-supporting sons. They are also close neighbours in north-west London.
Therein lies a clue as to why Miliband has Starmer's ear. They are both very much part of the same Labour clique, sharing the same north-west London vision of the world. They see implementing a green ideology as more important than jobs, security and sustaining the economy.
The media could continue obsessing over Boris Johnson and lockdown parties, or they could start challenging Starmer and Miliband about the consequences of their environmental plans. If this happens, Sunak might just be in with a shout at the next election.
Simon Danczuk was the Labour MP for Rochdale between 2010 and 2017.
To enquire about republishing spiked's content, a right to reply or to request a correction, please contact the managing editor, Viv Regan.