The hysterical pursuit of Boris Johnson
This is not about him lying about lockdown parties.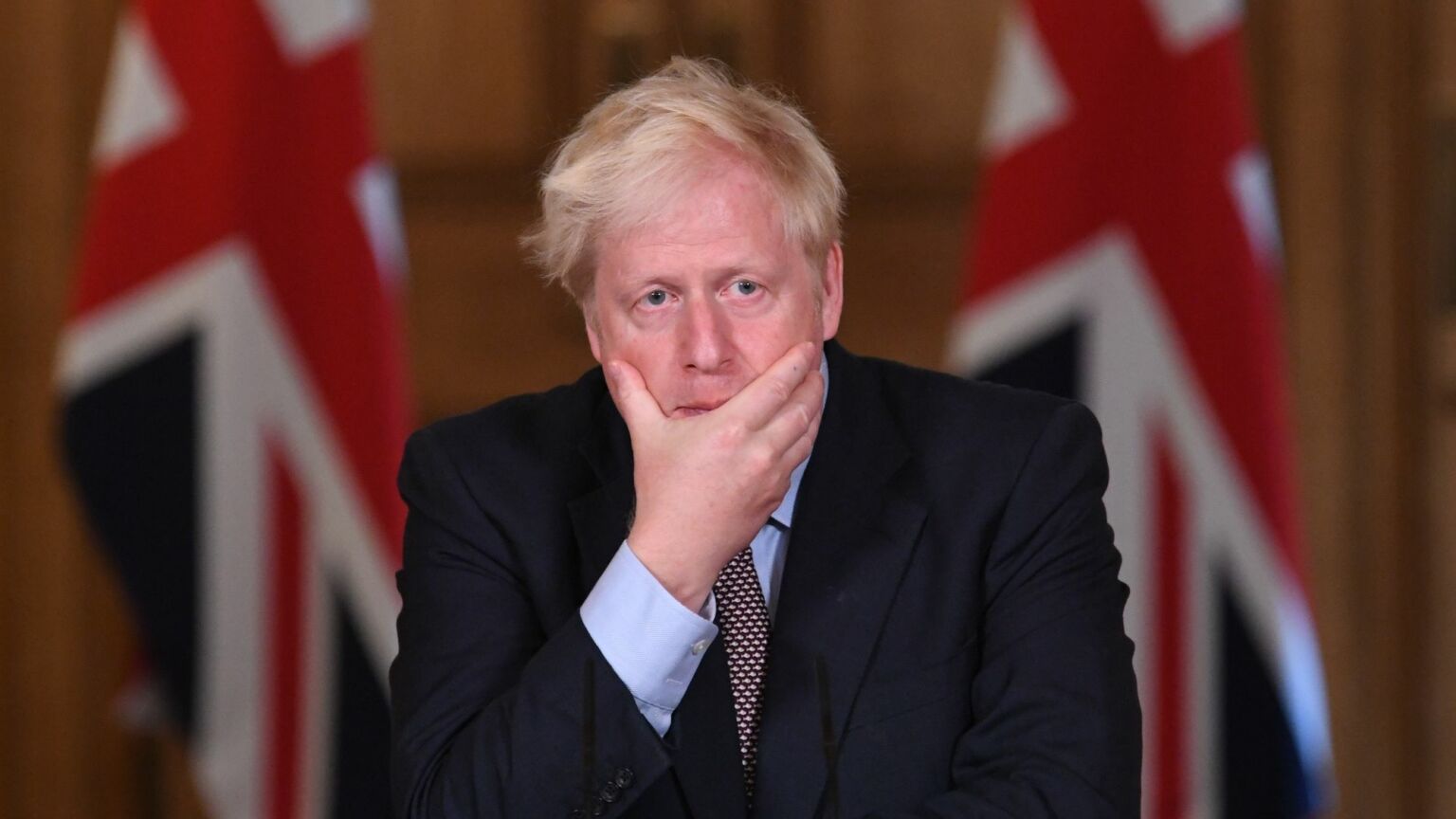 The House of Commons Privileges Committee has finally published its judgement on whether Boris Johnson lied to parliament over those Downing Street parties. The report and the recommended punishments are so extraordinary that no fair-minded person could possibly view them as simply an impartial judgement, based on the facts and the severity of his actions. The report seems aimed not at holding Johnson to account for his lying to parliament, but at banishing him from public life. Meanwhile, commentators are hoping that the report will put the entire populist movement to bed.
The Privileges Committee accuses Johnson of holding parliament in contempt on five counts – not just for lying to parliament over parties in Downing Street, but also for impugning the motives of the committee. Had Johnson not already resigned as an MP, the committee would have recommended a suspension from the Commons of 90 days – the kind of punishment usually reserved for serious corruption charges. As he has already stepped down as an MP, it also calls for him permanently to lose the parliamentary pass that all ex-MPs are entitled to.
Of course, every man and his dog already knew that Johnson broke lockdown rules. Just as they surely also knew that he was either lying or deluded when he said that 'the rules were followed at all times' in Downing Street. We have known these things since 2021. What's more, he has already been investigated and fined for this by the police. He has been investigated by civil servant Sue Gray. The Partygate scandal has generated enormous amounts of coverage. It was arguably the key factor in his resignation as PM. Yet even after his exit from Downing Street, the political class still couldn't let Partygate go. The hysteria never died down.
The Privileges Committee report now adds another 30,000 words, and over 100 A4 pages, to the case against Johnson. The investigation took a whole year to conclude, so grave and serious a matter it considers his lies over Partygate. But even the Privileges Committee's unduly harsh punishment is not enough for some. There are demands to revoke Johnson's resignation honours list. To strip him of his income. To force him to pay his own legal fees. To ban him from Remembrance Day events and other prime ministerial occasions. Naturally, the usual suspects are saying now is the time to reverse Brexit, too. Because why not? Nothing short of a lengthy spell in prison would settle the matter, it seems.
This vociferous pursuit of Johnson simply cannot be explained by the No10 lockdown breaches alone. Breaking lockdown was far more common than our school-snitch political class would ever dare to admit. Indeed, the list of Westminster lockdown hypocrites is now extensive. MPs of all parties, scientific advisers, special advisers, lobby journalists, the current prime minister Rishi Sunak and even one MP on the Privileges Committee – all of them presented themselves as Covid sticklers in public, only to be accused of breaking the rules in private. Besides, as all those photographs from the Downing Street 'parties' attest, Johnson was hardly presiding over weekly saturnalian orgies. A dozen people in a meeting room sharing a few warm cans of Estrella and a slice of cake in the afternoon should never have been treated as a Watergate-level scandal.
If we're honest, it isn't about Johnson's lying, either. To be clear: no one wants a PM who wilfully deceives the elected Commons. No one is against truthfulness in public life. But those who present Johnson's self-serving fibs as 'unprecedented' are either painfully naive or utterly disingenuous. Reading the report, you would think Johnson was the first prime minister ever to have lied to parliament or the broader public. 'There is no precedent for a prime minister having been found to have deliberately misled the House', the report insists. But 'having been found' is the key bit. Johnson's tall tales pale into insignificance when set against, say, Tony Blair's dodgy dossier that helped propel us into Iraq. (As if on cue, Alastair Campbell, who was instrumental in that particular misinformation campaign, has popped up to gloat that the 'truth [has] caught up' with Johnson.)
Perhaps the most sinister thing about all this is that Johnson is not only being punished for lying to the Commons, but also for attacking the judgement and integrity of the committee. His comments branding it a 'kangaroo court' and a 'witch-hunt' are singled out for special opprobrium in the report. It seems likely that, were it not for this supposed 'attack on our democratic institutions', the committee would have recommended a much shorter punishment than the 90 days it has now decreed. Worse still, MPs who have rallied to Johnson's defence could soon be sanctioned, too.
But there have always been good reasons to question the Privileges Committee on both its motives and its methods. Harriet Harman, before she was appointed as chair, was busy tweeting articles branding Boris a liar. Some of the committee's Tory MPs, who are often held up as proof that its work is impartial, are also known to loathe Johnson for both personal and political reasons. Johnson's lawyers have long accused the committee of failing to follow due process. Yet any MP who raises these problems can now be accused of contempt of parliament. This is positively Kafkaesque.
Johnson is no fallen hero. No one is in any doubt that he broke the lockdown rules and lied about it. His own venality and fundamental unseriousness have given his critics an extraordinarily wide opening. Part of the reason his premiership became so consumed by the Partygate scandal was because his government had become increasingly defensive, pointless, incapable of rallying support or achieving anything much at all. But it should fall to voters – not Harriet Harman and Co – to render a verdict on him. Instead, he has been pushed out by a years-long campaign of which this committee and its overheated report is just the final flourish.
We all know that Boris Johnson's real 'crime' is not showing contempt to parliament, but showing contempt for the establishment more broadly – for backing the campaign for Brexit and then fighting to make sure it was implemented. That is why the hysteria about him never dies. That is why a relatively minor scandal like Partygate has dragged on for years now – a whole year after Johnson resigned as prime minister. The least his crowing critics could do is be honest about it.
Fraser Myers is deputy editor at spiked and host of the spiked podcast. Follow him on Twitter: @FraserMyers
To enquire about republishing spiked's content, a right to reply or to request a correction, please contact the managing editor, Viv Regan.