The irrationality of Just Stop Oil
That protest at the World Snooker Championship was a self-indulgent strop.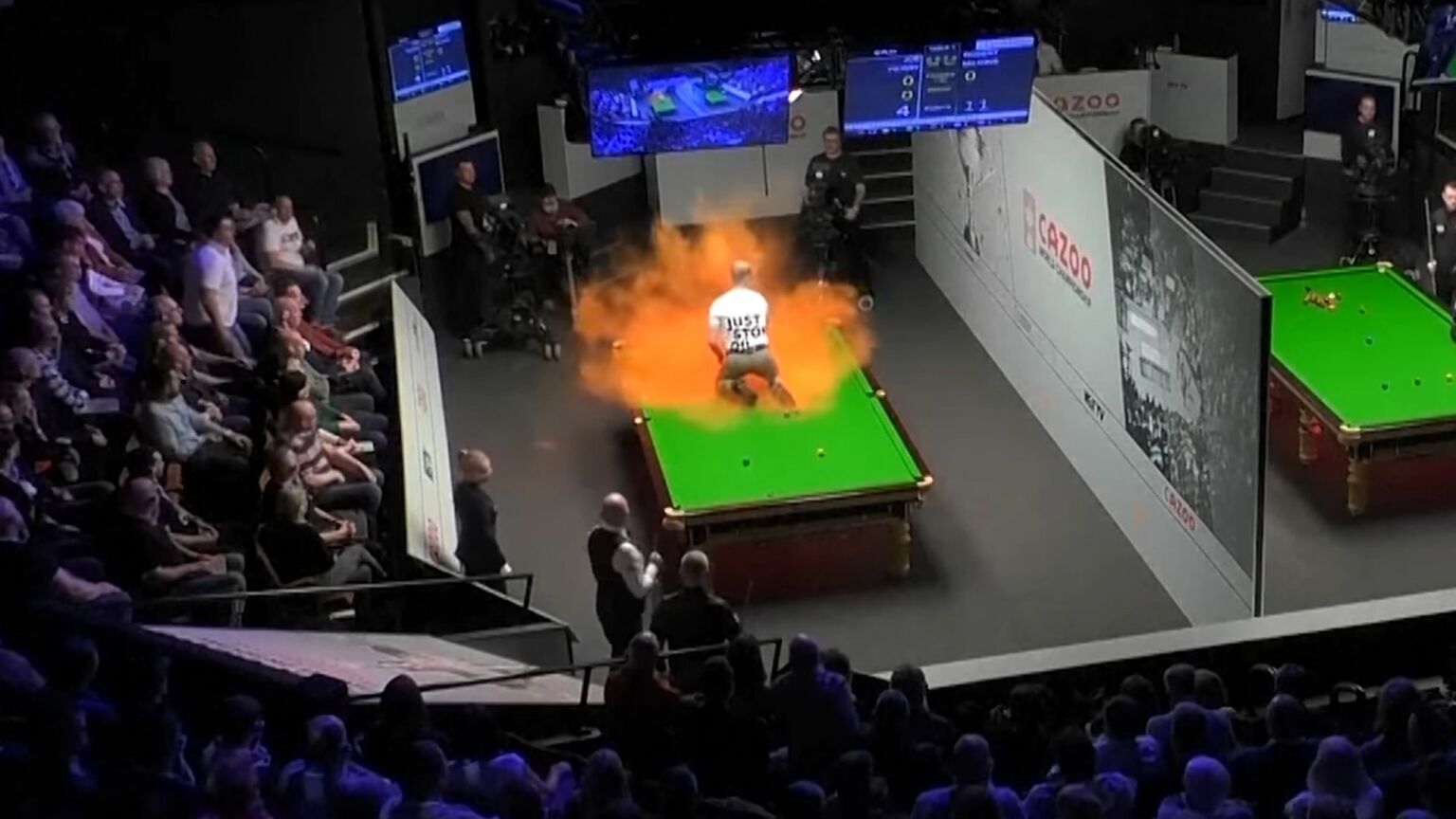 You never know what match you're going to see when you buy a ticket to the World Snooker Championship. The two Just Stop Oil activists must have been hoping for something more glamorous than Robert 'The Milkman' Milkins vs 'The Gentleman' Joe Perry when they booked their seats for last night's match at the Crucible in Sheffield, but you always take a gamble with these first-round matches. Strictly a red button / Eurosport affair, it wasn't even broadcast on BBC Four. With all the money they get from the heiress to the Getty Oil fortune, you would think that Just Stop Oil would be able to afford a ticket to the final, or at least a match played with the one table set-up.
With no frames on the board and the Milkman to play, JSO activist Edred Whittingham could wait no longer. He sprang from his seat, jumped on top of the table, disturbed a red and poured what appeared to be orange powder paint all over the place.
Over on BBC Four, Whittingham's female accomplice missed her cue and belatedly lurched towards the other table, where no-nonsense Belgian referee Olivier Marteel apprehended her. Unable to do more than grip the middle pocket, she failed to glue herself to the table as planned. She will soon be gripping the oak in Sheffield Crown Court instead.
In January, Extinction Rebellion made a New Year's resolution to give up 'public disruption', after noticing that there was no sign of the UK taking up its policy of full decarbonisation by 2025, despite many of its members languishing in Wormwood Scrubs. No such pledge was made by the preening narcissists and unstable drama students who make up XR's various offshoots. Insulate Britain piped down somewhat once motorists started to become less passive during its roadblocking stunts, and when judges started handing out some hefty sentences. But Animal Rising (formerly Animal Rebellion) tried to ruin the Grand National on Saturday. And Just Stop Oil has now gone one further, targeting the king of sports.
It is not a novel observation that these tactics are self-defeating. Just Stop Oil and its fellow travellers' sole contribution to civilisation has been to disprove the theory that there is no such thing as bad publicity. While Europe suffers from a painful shortage of fossil fuels, stunts from the likes of Just Stop Oil only serve to remind the public that they are a bunch of idiots. At least when they blockade petrol stations, there is some sort of coherent message. The link between snooker and the oil industry, by contrast, is not immediately obvious.
My hope is that Just Stop Oil activists will bring their protests to more snooker halls in the north of England and try to make their point more clearly. I would gladly pay to watch that.
Christopher Snowdon is director of lifestyle economics at the Institute of Economic Affairs. He is also the co-host of Last Orders, spiked's nanny-state podcast.
To enquire about republishing spiked's content, a right to reply or to request a correction, please contact the managing editor, Viv Regan.