Sturgeon's trans crusade could be her undoing
The Scottish prisons scandal has fatally undermined the first minister's credibility.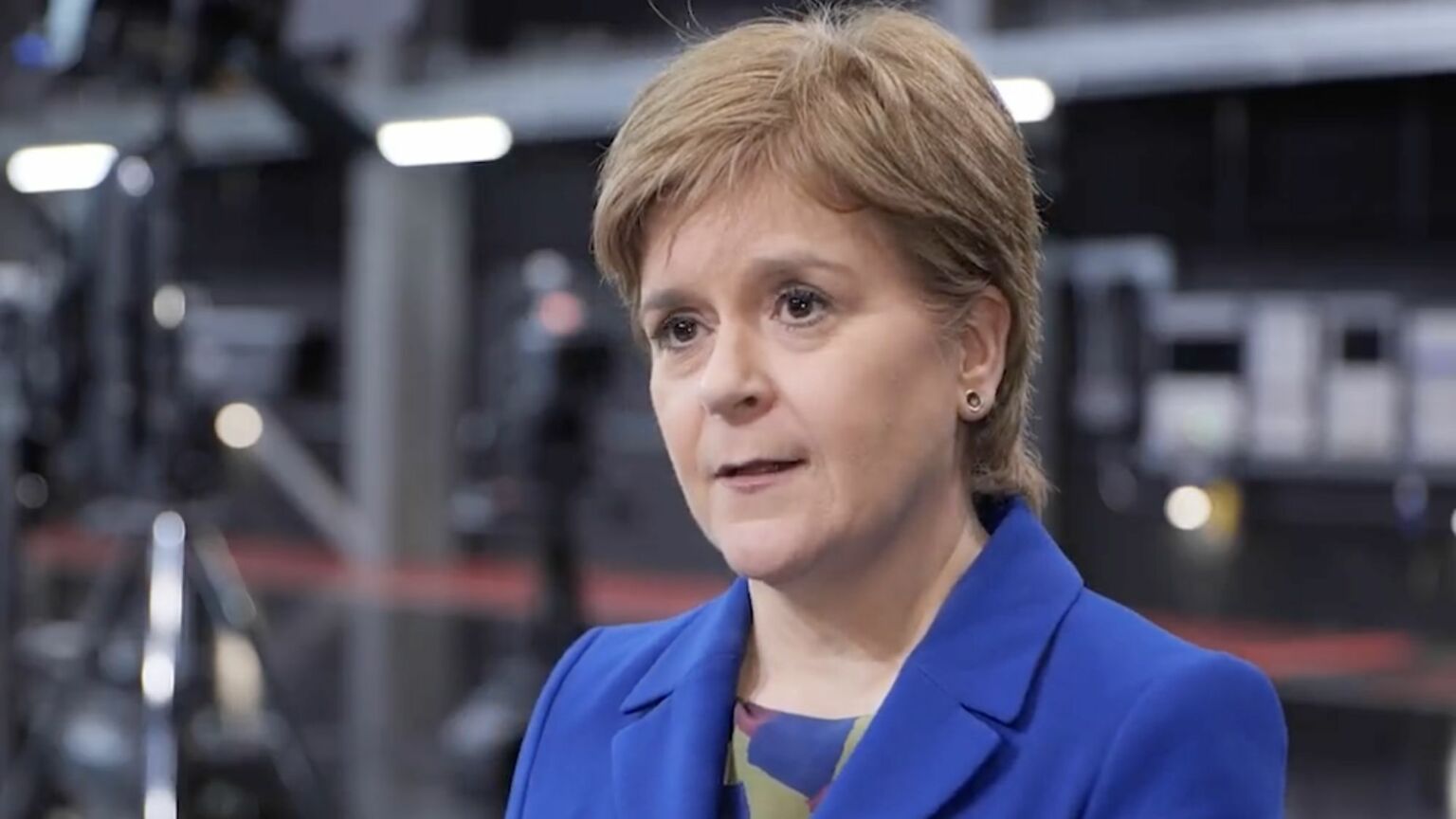 It is not often that we see Nicola Sturgeon squirm visibly in TV interviews – she is normally a master of the medium. But when ITV News correspondent Peter Smith asked her repeatedly this week whether 'transwomen are women', she was obviously struggling. Yes they are, she insisted. Except when they aren't. But they still are…
The revelation that trans sex offenders have been housed in Scottish women's prisons has blown apart Nicola Sturgeon's landmark Gender Recognition Reform (Scotland) Bill, which would allow any man to become a woman by self-declaration and without any medical intervention. Trans on demand has been blocked by the UK government on the grounds that it might have an adverse effect on the safety of women. And it rather seems as if it might.
Astonishingly, the Scottish Prison Service (SPS) had been routinely allowing trans offenders to self-declare their gender for years, in anticipation of the legislation. As a result, double rapist Isla Bryson (formerly Adam Graham) ended up in Cornton Vale women's prison, because, well, 'she' is a woman. To say that Scottish voters, who were already opposed to a bill that would also allow 16-year-olds to change sex on a whim, were shocked by this discovery doesn't quite get the measure of it. They were 'scunnered', to use the only Scots word that fits.
The first minister is rattled, and she is rarely rattled. She is proud of her feminist image as Scotland's Jacinda Ardern – kind, caring, progressive – and is accustomed to getting an easy ride from the press. The UK media love to flatter her as the acceptable face of politics – in contrast to the sleazy, misogynistic Tories. Now Saint Nicola has found herself on the wrong side of history, accused of exposing women prisoners to the risk of male violence.
Her transgender legislation was supposed to show how progressive Scotland is, in order to drive a wedge between Holyrood and Westminster. It would portray the UK Tories as bigots and transphobes for opposing what she insisted was merely an 'administrative' change. After Rishi Sunak blocked the GRR Bill last month, on the grounds that it would have an 'adverse effect' on UK law, the first minister erupted as only she could. She described the move as 'Unconscionable, indefensible and really quite disgraceful', and 'a full-frontal attack on our democratically elected Scottish parliament'. She promised to unite Scotland's political clans and fight the transphobic Tories all the way to the UK Supreme Court.
She will almost certainly lose. The mere fact that trans sex offenders were being housed in women's jails makes Rishi Sunak's case for him, and the UK government is pleased with events as they have unfolded. For it was not just one violent trans offender who was en route to Cornton Vale women's prison last week – Tiffany Scott (aka Andrew Burns) had also been approved to transfer. Yet another, a violent 6ft 5in paedophile called Katie Dolatowski, had already been there since December.
Sturgeon has had to reverse Scottish prison policy by decree, ordering the SPS to stop sending male-bodied offenders to women's jails, even if they identify as 'women'. She has effectively sabotaged her own legislation on self-declaration. Yet she still adheres to the Stonewall dogma that 'transwomen are women'. It was never clear exactly what this slogan, so often used to shut down any debate about sex and gender, actually means. But Scottish voters are no longer in any doubt: it means putting male sex offenders in women's prisons.
Ministers are now claiming that they didn't know about the self-declaration policy in Scottish prisons which, if true, betrays a staggering lack of responsibility. This, after all, is the SNP's flagship legislation. The GRR Bill was designed to extend the practice of trans self-declaration and make it legally watertight, by giving people who want to change their sex a gender-recognition certificate after only three months. The bill, passed by Holyrood in December, caused the biggest parliamentary rebellion in the SNP's 15 years in power, and the resignation of the community-safety minister, Ash Regan.
The collapse of gender reform has fatally damaged Nicola Sturgeon's credibility precisely because she made it a personal crusade. It was always 'Nicola's Bill'. Most SNP members, like most Scottish voters, were either actively opposed to or bewildered by the reforms. What did rejecting human biology have to do with independence?
Many believe the bill was part of the first minister's plan to secure a big international human-rights job after she stands down. Sturgeon has been saying for the past two years that she wants another job after politics. The trans fiasco will only heighten speculation that she'll go after the next General Election in 2024.
Sturgeon is a highly effective political operator, always well briefed, rarely lost for words and with the gift of credibility. During the pandemic she conveyed the impression that she was calmly in control of events, unlike reckless, blustering Boris Johnson (despite the fact that the death rate in Scotland was the same as in England). But the first minister's grip has been visibly weakening after nearly 10 years in office.
Last year, the Supreme Court delivered a humiliatingly tart rebuff to her bill to hold a referendum on Scottish independence without UK consent. After that, she recklessly called for the 2024 UK General Election to be turned into a 'de facto referendum' on independence – a constitutional nonsense which has also divided nationalists. A General Election is about electing a government in Westminster, not ending the UK. She has already started to distance herself from her own policy.
The immediate political impact of the trans scandal has been blunted because the Scottish Labour leader, Anas Sarwar, unwisely whipped his MSPs into voting for the GRR Bill, even though many Labour women are deeply unhappy about so-called self-ID. But far from uniting Scotland against the Union, the prisons scandal has vindicated the hated Tories. Worse still, it has made Rishi Sunak look like a better protector of women's rights than Sturgeon. The best laid schemes gang aft agley, as the bard said.
Picture by: Twitter / PeterAdamSmith.
To enquire about republishing spiked's content, a right to reply or to request a correction, please contact the managing editor, Viv Regan.