Starmer's pitch to be chief beancounter
Labour's tepid managerialism is the last thing Britain needs.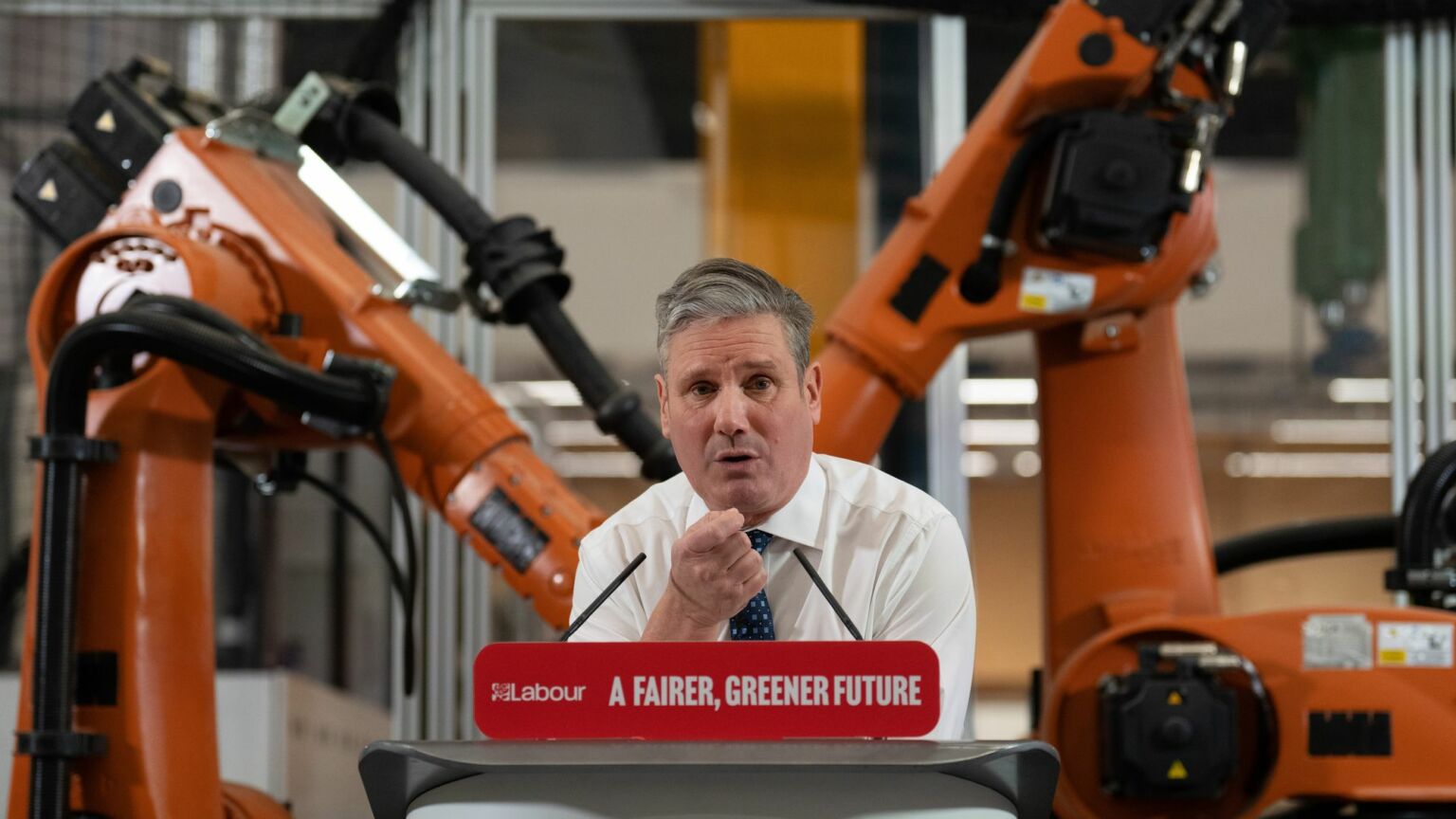 'Taking back control' – that was the central motif of Sir Keir Starmer's first speech of the new year earlier today. No doubt this reference to the slogan of the Vote Leave campaign was supposed to be a bit of clever positioning – a sop to those Red Wall Brexit voters who Starmer once so egregiously betrayed. Perhaps it had even got the thumbs up in a focus group. Yet his allusion to the Brexit vote of 2016, that great populist revolt against the establishment, served only to highlight what the rest of the speech – and Starmer himself – is so sorely lacking.
For this was supposed to be Starmer's big-ideas speech. It was supposed to set out his stall for the next election and, crucially, show us some clear blue water between Starmer's Labour and the Sunak-led Tories. Instead, much like Rishi Sunak's speech yesterday, what we got today was a technocrat trying to manage expectations.
Despite being in opposition, Starmer is oddly keen to spell out what a future Labour government won't do. In his speech today, he said there will be no 'big government spending' or getting the 'cheque book out'. 'Stability' would be his watchword. A Starmer government would give people hope, he said. But not 'utopian' hope. Just 'basic, ordinary hope'. Stick that on the side of a bus.
Implicit in all this is that Labour essentially accepts the self-imposed economic-policy constraints set out by the Sunak government. The lesson Sir Keir seems to have drawn from Liz Truss's ill-fated free-market experiment last autumn is not that her confused policies were mistaken, but that any big change from the status quo is best avoided.
Starmer's speech made it clear that Labour would govern within the limits set out by technocrats, such as the beancounters in the Treasury or the forecasters at the Office for Budget Responsibility. Whoever you vote for at the next election, the orthodoxy gets in. That doesn't sound like 'taking back control' to me.
Even on the specifics of Labour's mooted Taking Back Control Bill, there is little to get excited about. Sir Keir's version of taking back control is apparently focussed on the Westminster system, rather than the EU. Certainly, many ordinary people do feel distant and alienated from what passes for our representative democracy. But Starmer's answer to this is to promise more devolution – just as he promised in his plans to reform the House of Lords last month. Devolution, it seems, is Labour's answer to everything.
Local politicians can of course do a lot of good for their areas. And local government has been cash-starved since the first round of Tory austerity in the 2010s. But local politics inevitably has more to do with bins and buses than it does with the huge challenges that confront us. Wrestling with the big issues is a task far better suited to national parliaments and broad public debate. What's more, it is not at all clear that the devolution we already have in the UK has actually enhanced democracy in any meaningful way. Turnout in elections for devolved assemblies is consistently lower than for General Elections. Public enthusiasm for a more localised politics is conspicuous by its absence.
Devolution seems, if anything, to have created another layer of government that is geographically closer to people, but even more out of touch. Starmer's thirst for devolution seems to speak more to a reluctance to wield power himself – because he has no idea what he wants to do with that power. It shouldn't surprise us that the same Keir Starmer who led the crusade to reverse the Brexit vote and keep us under the thumb of Brussels is now looking to offload responsibility on to metro mayors and local authorities.
Starmer's policy offering is pretty thin gruel, too. In his speech today, he gave a nod to Great British Energy, his plan for a nationalised green-energy firm, which was first set out in last year's party-conference speech. This seems all but guaranteed to exacerbate the energy crisis, by ploughing more resources into unreliable renewables. Earlier this week, he promised a revolution in jobcentres (involving more devolution, of course). He also wants to introduce 'mental-health hubs' and 'policing hubs' to our local high streets. This endless talk of hubs is not only meaningless, sub-The Thick of It wonk-speak, it also echoes Rishi Sunak's big idea from his speech yesterday – for every town to have a 'family hub', where people can access some sort of ill-defined 'support'. The similarity between these two empty suits is striking.
The formidable challenges of our time – from the energy crisis to war in Europe – call for a leader with vision, with big ideas and with the boldness to see them through. Going on the speeches of the past few days, it is clear that neither Keir Starmer nor Rishi Sunak will ever be that leader.
Fraser Myers is deputy editor at spiked and host of the spiked podcast. Follow him on Twitter: @FraserMyers
To enquire about republishing spiked's content, a right to reply or to request a correction, please contact the managing editor, Viv Regan.