The tech emperor has no clothes
From the Theranos fraud trial to the collapse of FTX, the tech bubble was well and truly burst this year.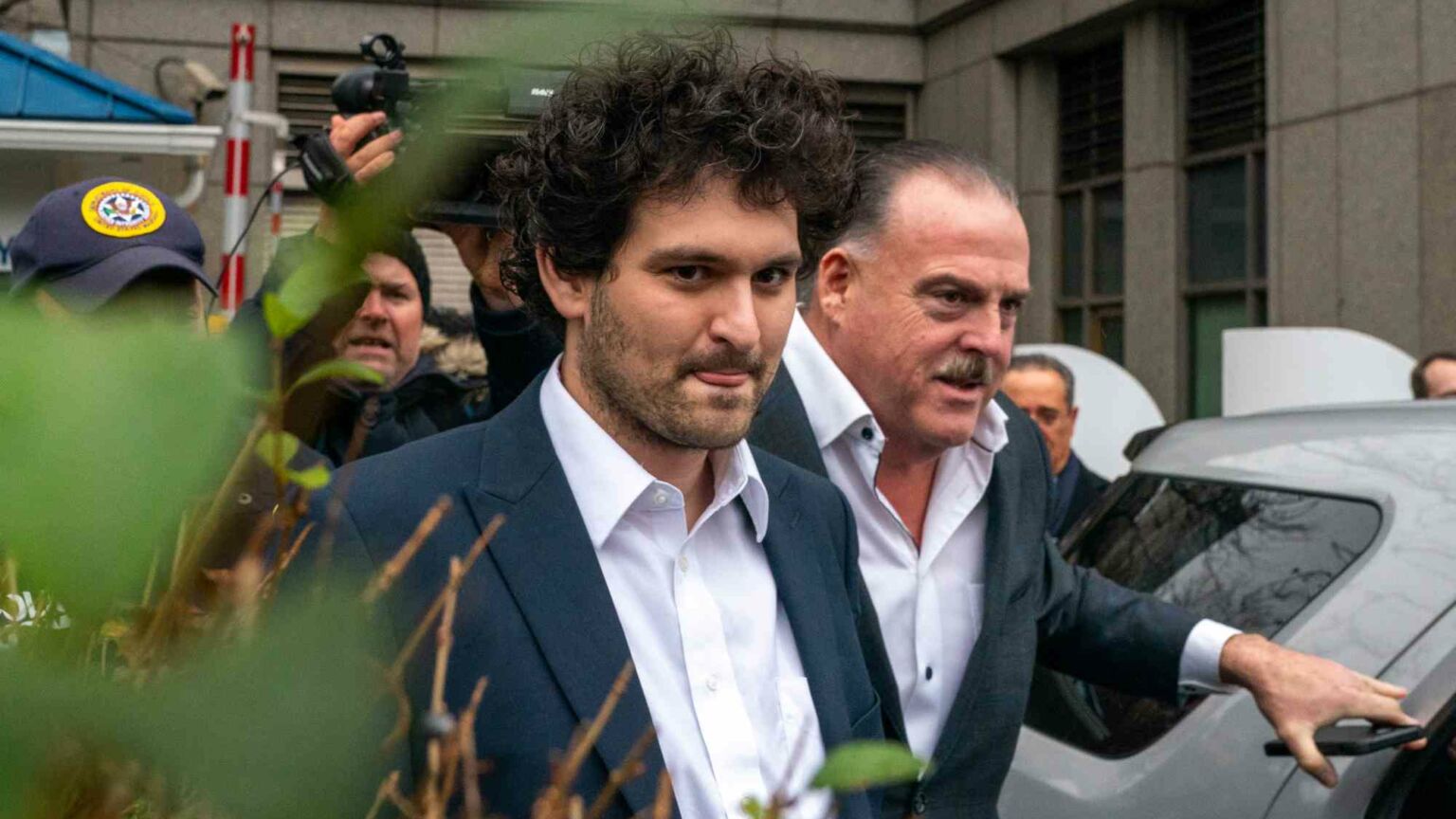 Donate to spiked this Christmas, and help keep us free, fearless and independent.
2022 began with Elizabeth Holmes, founder of health-tech company Theranos, being found guilty of fraud. It ended with the arrest of crypto-king Sam Bankman-Fried in the Bahamas. As one technology 'visionary' leaves the courtroom, another arrives. It's a nice bookend to the year, but the real problem in tech today isn't so much fraud, but misdirection.
In 2022, the sound of screeching brakes was deafening. In the previous 15 years of artificially low interest rates, too much money had been chasing too few good ideas, with speculative capital flowing to new ventures in ever-increasing desperation. This year's rise in interest rates across the globe, in response to post-pandemic inflation, has exposed so many tech companies as duds.
Uber and WeWork had already been rumbled well before Covid hit. Both were once touted as society-changing new ventures and given astronomical valuations by investors. This was despite Uber only ever being a straightforward predatory-pricing ploy. The hope was that cheap rides, funded in part by the deep pockets of Saudi Arabia's wealth fund, would kill off local competition. Uber's only real innovation turned out to be its elaborate shadow IT systems, such as the one designed to show regulators a fake version of its app – featuring fake cars and drivers. Meanwhile, behind the façade of free beer and mindfulness classes, WeWork's commercial-property business worked by cramming more people into offices than its rivals.
Cheap money gave oxygen to all kinds of poor ideas. Take house-flipping site Zillow. It bought and sold property apparently on the basis of clever algorithms. But it struggled during market lulls, leaving the company with masses of negative equity.
Higher interest rates have also exposed products with high costs but a very limited market. For example, Beyond Meat had loyal customers for its expensive synthetic-food products – just a much smaller market than it wanted.
Higher interest rates also send the expected returns on investments further into the distance, causing investors to lose patience. This accounts for the collapse of all those 'personal mobility' ventures, which flooded cities with electric scooters.
Deliveroo, once lauded by Rishi Sunak as a 'true British tech success story', recorded what some bankers described as 'the worst IPO' (initial public offering) in the history of the London Stock Exchange when its shares were floated last year. The IPO pipeline was once a reliable source of funding for tech companies looking to expand to the next level. But this dried up almost entirely in 2022, and venture capitalists told their investments to show some black ink. Things can only get grimmer in 2023.
Yet hope springs eternal for some tech ventures. The value of crypto tokens exploded during Covid lockdowns. Hyped new assets like NFTs (non-fungible tokens) created a market estimated at $44 billion out of thin air. Much of this was a mirage. The practice of 'wash trading' is commonplace in the crypto world – in which an asset is transferred from one wallet to another, generating an illusion of value. In the spring, crypto investors scrambled after the high-profile crash of blockchain platform Terra and its Luna cryptocurrency. In 2022, Bitcoin lost two-thirds of its value. Crypto mining rigs and graphics cards could suddenly be picked up cheap. Despite all this, just a few months after Luna crashed, the FT was reporting another crypto gold rush.
Most dramatic of all was the collapse of Sam Bankman-Fried's much-feted crypto-exchange, FTX. FTX and its sister company, Alameda Research, mishandled some $8 billion of customer money – a significant chunk of which is still missing. Yet even this has not quite dimmed the speculative thirst for crypto.
Bankman-Fried cynically exploited investors' longing for an ethical CEO. He managed to pass off his grim utilitarian philosophy as 'effective altruism'. And he made generous donations to the twin religions of the bien pensant, left-wing tech world: climate change and artificial-intelligence ethics (both of which create plenty of non-jobs for the sons and daughters of the virtue-signalling middle class).
The prize for the greatest delusion of all surely goes to Meta CEO Mark Zuckerberg. The Facebook founder has committed enormous amounts of R&D spending on the bet that what we all want is for cartoons to represent us in 3D meetings. Many years ago, VR site Second Life conclusively proved there was very little demand for this, but Zuckerberg has spent over $36 billion to have another go, with little to show for it. Leaked memos show that not even Meta's staff want to turn up to virtual meetings, because the software is 'too buggy'.
One area that the much-reported tech downturn didn't really touch was Big Tech itself. Several tech giants made layoffs in the autumn, with Amazon losing 10,000 staff and Facebook parent-company Meta losing 11,000. Companies froze their hiring and reined in the more extravagant expenses, which is standard practice ahead of an economic downturn.
Talk of a tech 'crash' is not quite true. The tech giants are still larger than they were before Covid. Google has maintained a compound headcount increase of 20 per cent year-on-year. Yes, some layoffs are planned for next year – bring out the world's tiniest violin for a company where the median salary is $295,884. For those Big Tech firms that enjoy a secure market position as a monopolist or oligopolist, any economic downturn can be navigated comfortably. And it's likely to stay that way for the foreseeable future. Antitrust reform in the US stalled in 2022, with the tech giants' relatively small investment in the ruling Democratic Party finally paying dividends.
Rising interest rates aren't the only market distortion. The other is government, with its cringeworthy desire to get into the venture-capitalism game, by funding outlandish green and sustainable technologies. States across the world have ploughed fortunes into costly and unviable tech in a bid to reach Net Zero carbon emissions. Take the US Department of Energy's hydrogen programme. Hydrogen is so difficult and expensive to make, store and transmit that any hydrogen energy 'solution' is doomed at birth. This is an idea that could never be viable in the marketplace.
Subsidies and grants for green tech have created a culture of perpetual demos and prototypes. A manufacturer or consortium wins a government grant, creates a proof of concept – an electric-powered plane or a carbon-capture plant, for example – but it never reaches the market. Green tech is awash with such Potemkin innovation.
Even in the private sector, failure continues to be rewarded. 'Adam [Neumann] is a visionary leader who revolutionised the second largest asset class in the world – commercial real estate – by bringing community and brand to an industry in which neither existed before', wrote venture capitalist Marc Andreessen earlier this year, as he bunged the WeWork founder another $350million dollars. Forgive and forget. But forget first.
None of the tech messiahs can be accused of thinking small. But they are all thinking narrowly. Most eschew the deep and difficult challenges of creating really useful synthetic hydrocarbons, for example, or better nuclear fusion and fission. Ideas that might genuinely revolutionise society tend to get left on the shelf.
Now the cheap money has dried up, the next would-be tech geniuses are starting to resemble a cargo cult, adorning a field with sticks and bunting, chasing the forlorn hope that the giant metal birds might come to visit the island once again.
To enquire about republishing spiked's content, a right to reply or to request a correction, please contact the managing editor, Viv Regan.