Gary Neville should put a sock in it
His tiresome political posturing reached new lows during the World Cup Final.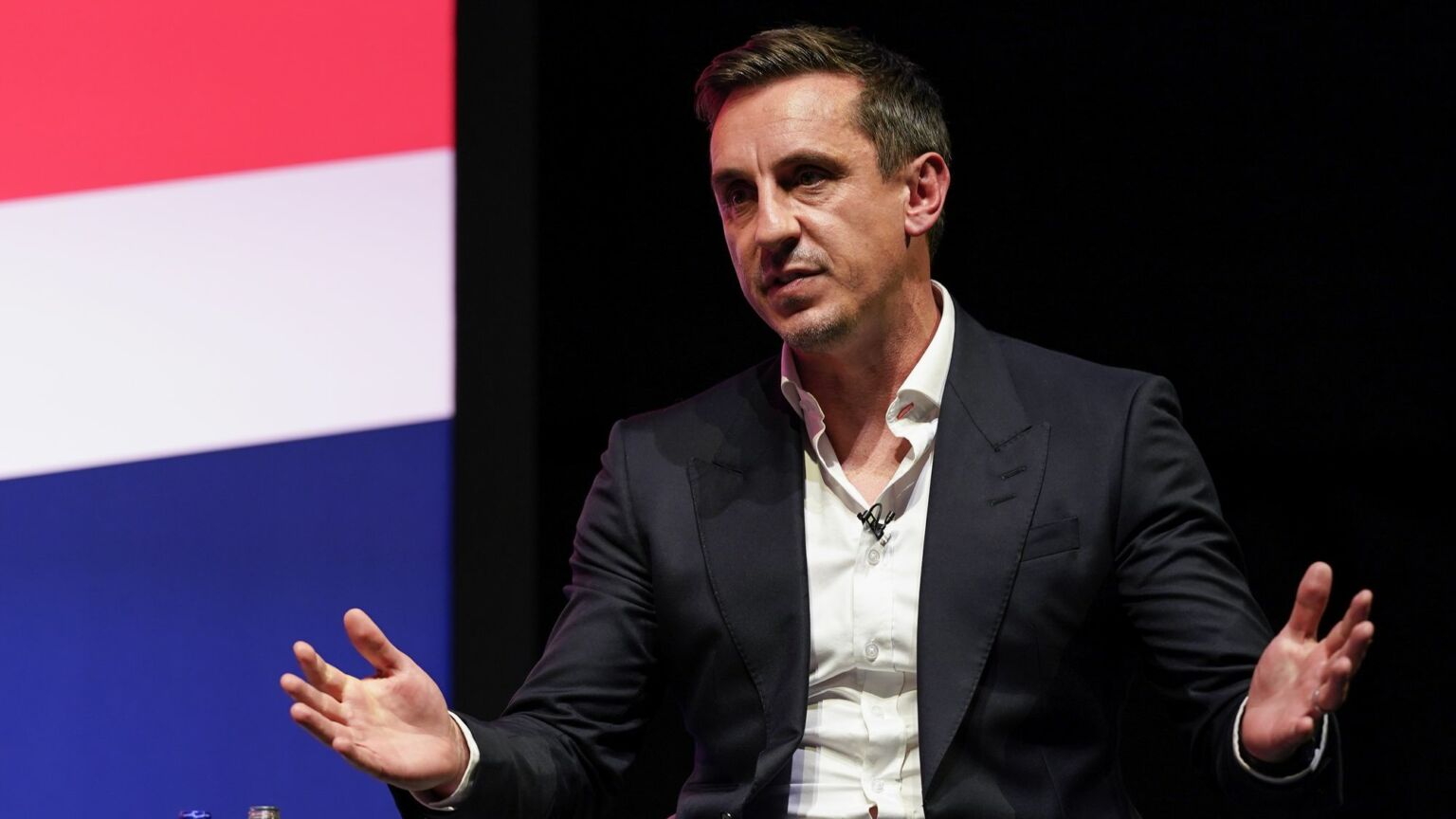 Gary Neville was always an irritating footballer, especially if you weren't a Manchester United fan. But who would have thought he would become such an irritating pundit? Not in the way that the BBC's Danny 'Dignitas' Murphy is irritating. Neville's actual football commentary has always been decent. No, Neville is irritating because he constantly turns his pundit's chair into a platform for asinine, Guardian-lite political commentary. BLM. Knee-taking. Anti-Toryism. Name a right-on soapbox and you'll find Nev standing on it.
Now, you might have thought that the flak Neville copped for taking Qatari cash for his stint as a pundit on Qatari-owned BeIN Sports during the World Cup would have dampened his high-and-mighty act. After all, many viewers and commentators found it hard to take his liberal sanctimony seriously when he was happily being paid by a state in which homosexuality is illegal, and migrant workers have been treated appallingly for years.
Of course, Neville should be free to work for whomever he chooses. Slamming anyone and everyone who has any business dealings with Qatar, from Qatari World Cup ambassador David Beckham to Lionel Messi (who plays for Qatari-owned Paris Saint-Germain), can become its own form of virtue-signalling. But what always set Neville apart was that, unlike Beckham or Messi, he set himself up as a moral arbiter, an avatar of every right-thinking opinion going. Which is why they have generally escaped the flak, while he most certainly hasn't.
Incredibly, Our Gary seems to have responded to the charges of hypocrisy by ramping up the posturing. You can almost hear his inner voice: 'Keep digging, Gary.' And he seems to have thought that there was no better place to preach to the masses than during ITV's World Cup Final coverage on Sunday.
He began by taking some gentle shots at his one-time employer for its poor treatment of migrant workers, which he implied was now in the past, before training his sights on his main target. 'We can never accept poor treatment of workers in this region or any other region', he told the millions settling down to watch a football match, '[but] it is just worth mentioning we've got a current government in our country that [is] demonising rail workers, ambulance workers and terrifying nurses'.
Now, we at spiked are fully behind those striking for better pay and improved conditions. But there is a world of difference between the Qatari state's brutal treatment of migrant workers as second-class non-citizens and the Tory government's crass confrontation with striking rail workers and nurses. To suggest, as Neville did, that there are any parallels is bonkers. UK workers can still strike and join unions, a form of political agency that was denied to those labouring and sometimes dying on Qatar's vast construction sites.
And, lest we forget, Neville made the comparison at a time when he was meant to be analysing the brilliance of Messi, or the sublime impudence of Mbappé. This was a football match, not Newsnight. And not just any football match, either. It was the World Cup Final, the greatest sporting event on Earth. And still, Neville decided this was the moment to read out his latest letter to the New Statesman?
You can't help but think Neville was overcompensating for something yesterday. He clearly loved the plaudits he has received from bourgeois left-liberals over the past few years. They cheered him on every time he tweeted 'The Conservatives are a cancer on the UK', or called Boris Johnson a racist. It must have stung when they turned on him over his BeIN punditry gig last month – on Have I Got News For You of all places. Since then, he has been desperately trying to make up for the Qatari cash in his pocket by becoming even more shrill. Even more sanctimonious. Even more 'Gary Neville'.
It has made for a bizarre side spectacle during the World Cup. In an attempt to reingratiate himself with the smart set, he even attacked FIFA president and Qatar's cheerleader-in-chief, Gianni Infantino, on BeIN Sports itself, likening him to Boris Johnson and Donald Trump. Which is not something anyone wanted to hear during Wales vs USA. Last night, he was spouting off about the Tories in the run-up to one of the most exhilarating World Cup Finals in recent memory. Come January's FA Cup Third Round coverage, we will no doubt be able to listen to him advocating for gender self-ID, or perhaps a rise in the highest rate of income tax.
It's desperate stuff. But it's not entirely Neville's fault. He is far from alone in treating the Beautiful Game as a vehicle for political posturing. But right now he is easily the most tiresome. The sooner we rid football of all the vacuous sermonising, the better.
Tim Black is a spiked columnist.
To enquire about republishing spiked's content, a right to reply or to request a correction, please contact the managing editor, Viv Regan.