In praise of Gianni Infantino
His hilarious 'I feel gay' speech has laid bare the hypocrisy of elite wokeness.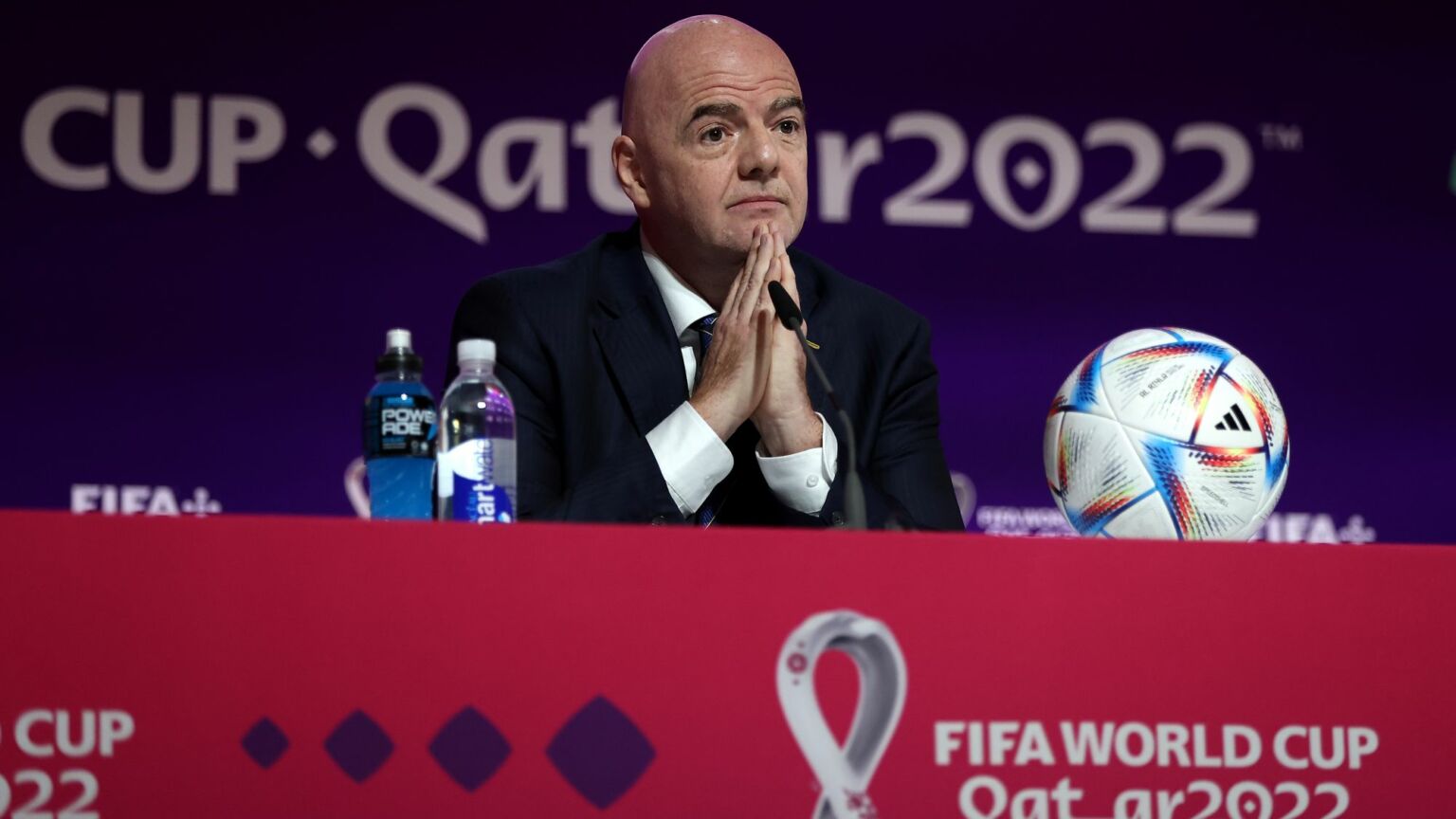 You've got to hand it to Gianni Infantino, the embattled president of FIFA. That rambling, hour-long monologue he gave in Qatar over the weekend – attempting to deflect criticism of the World Cup being held in the tiny authoritarian statelet by going on a bizarre faux-woke tirade – was the funniest thing the internet has been gifted for a while. His opening gambit – 'Today I feel Qatari. Today I feel Arab. Today I feel African. Today I feel gay. Today I feel disabled. Today I feel a migrant worker' – has already launched a thousand memes, so self-parodying and shameless a display it was.
What's more, in trying and failing to feign solidarity with the fallen migrant workers and oppressed gay people of Qatar – he claimed at one point to understand discrimination by dint of him being bullied at school for being ginger – he has done us all a bit of a service. He has laid bare the nonsense of elite wokeness, the tendency of cash-stuffed corporates, or in this case notoriously corrupt sports governing bodies, to try to use identitarian slogans to absolve themselves of any alleged sins.
The only real difference here is that Infantino did it so badly, the cynicism was so obvious and the allegations against FIFA too glaring to ignore, that he hasn't got away with it. He was undone by the ridiculousness of it all. At one point, he seemed to suggest that Qatar was actually more pro-migrant than the West – because while the Qataris open their doors to migrants so they can earn a pittance under terrible conditions, 'we in Europe close our borders'. While there is a point to be made about the hypocrisy and sanctimony of those posturing against this World Cup while happily taking part, painting Qatar as some pro-migrant utopia is more than a bit of a stretch. As is deflecting criticism of the last-minute beer ban by implying the outrage has been fuelled by Islamophobia.
By contrast, during the Great Awokening of 2020, corporations won plaudits for getting behind Black Lives Matter and denouncing the alleged rise of white supremacy. There were some grumbles from progressives about 'woke-washing', but generally 'speaking out' was presented as the right thing to do – silence was violence, you'll remember. In recent years, firms have taken to virtue-signalling about everything from toxic masculinity to red-state voting laws in the US – often to praise from the great and good. More than that, these firms have now started directly meddling in politics over woke causes.
Now you could say that those corporates might actually mean it, unlike FIFA. Meanwhile, Infantino's speech appeared to be plainly cynical – on the one hand, expressing a deep connection with migrant workers and gay people, while on the other, saying things weren't as bad for them in Qatar as the media like to make out. In many cases, woke corporates probably do believe they are doing God's work. Some, like Gillette, have actually doubled down on pious advertising campaigns in the face of consumer blowback.
But, at the same time, even the most passionate adherents of corporate wokeness seem to be able to reconcile their virtue-signalling with the dreadful treatment of foreign or migrant workers, and profiteering from somewhat politically incorrect products. So while Nike threw its support behind Black Lives Matter in 2020, allegations of forced labour in its supply chain continue to surface. Then there's Ben & Jerry's. The PC purveyor of sickly sweet treats has taken to giving lectures on white supremacy and migrant rights, but has itself been protested against by migrant workers over dreadful working conditions. Its parent company, Unilever, also sells skin-lightening cream in India.
So next time you see politicians, corporations or other big organisations being praised for saying All The Right Things in ostentatious fashion – remember Gianni Infantino's 'I feel gay' speech and hop on Google. You'll probably find more than a few skeletons in their closet.
Tom Slater is editor of spiked. Follow him on Twitter: @Tom_Slater_
To enquire about republishing spiked's content, a right to reply or to request a correction, please contact the managing editor, Viv Regan.