The myth of the 'red-state murder problem'
Democratic policies like 'defunding the police' have caused crime to soar all over the US.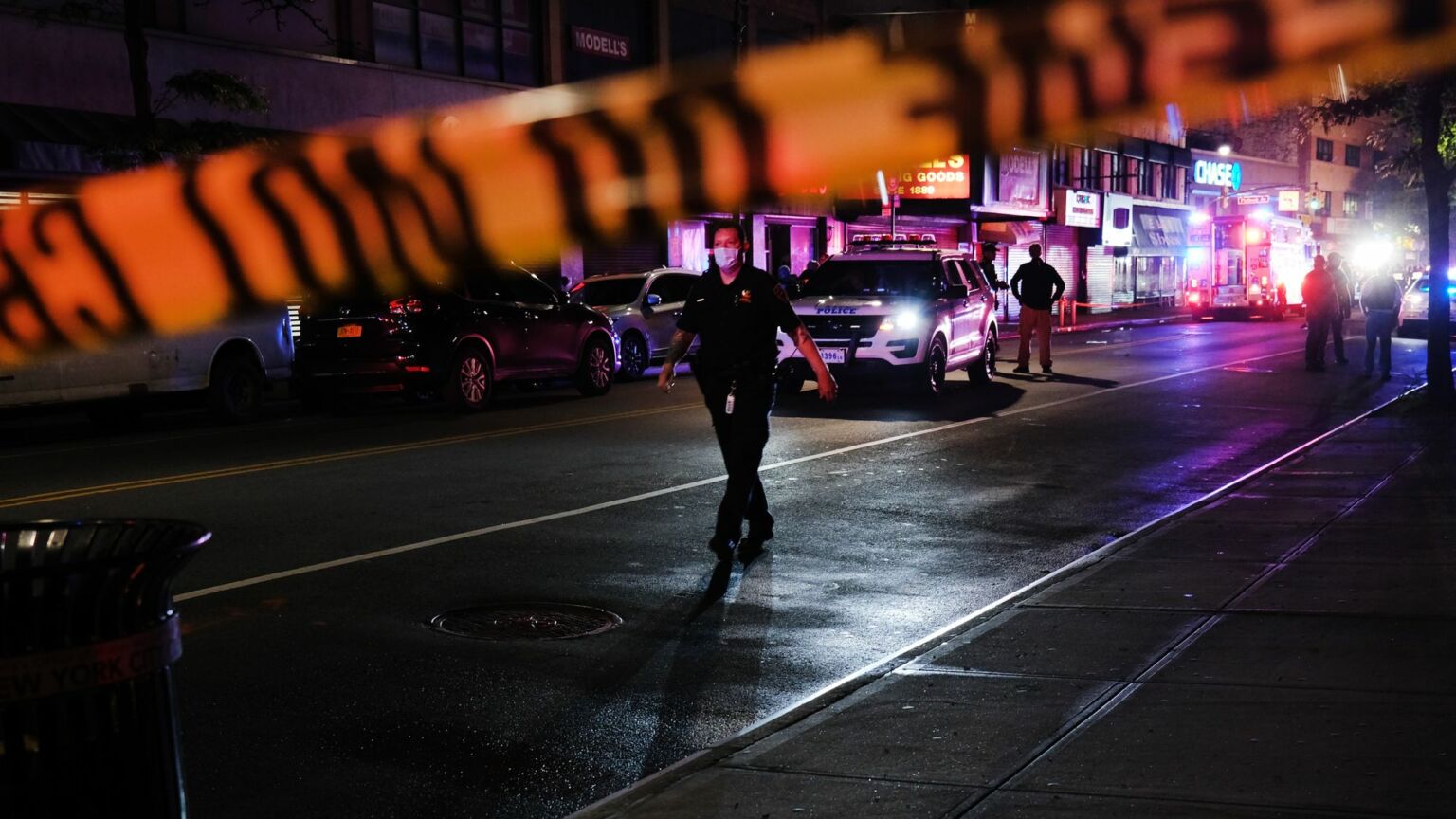 If this even needs to be said, the US does not have a 'red-state murder problem'. Yet this frankly bizarre claim has been made over and over by Democrats and their media allies in the run-up to this week's Midterms.
In March, Jim Kessler and Kylie Murdock penned a widely read article for the centrist think tank, Third Way, entitled 'The Red State Murder Problem'. They make some riveting claims: that rising crime is an issue that affects 'Republican-run cities and states as much or more than… Democratic bastions'; that rates of homicide per capita are 40 per cent higher in US states that voted for Donald Trump in 2020 than in states that went for Joe Biden; and that 80 per cent of US states with the highest murder rates are consistently Republican. So, according to Kessler and Murdock, bucolic Missouri and Tennessee apparently have higher state-level murder rates than New York.
During the recent Oklahoma gubernatorial debate, Democratic contender Joy Hofmeister made the same claim. She argued that violent crime is more of a problem in Oklahoma than in California or New York, and that murder and similar offences are not a localised blue-state problem.
Is any of this true? Should tourists and business travellers watch for muggers and pimps as keenly in an Iowa cornfield as on the streets surrounding Times Square or the North Side projects in Chicago? Well, as plain common sense might suggest, not quite.
The US is a truly massive, federal-system country and crime within almost every state is centred on a few large and diverse cities. In both Republican- and Democratic-led states, almost all true epicentres of crime are in large 'blue' communities – particularly those that recently flirted with defunding the police. In Missouri, for example, Democratic St Louis posts roughly the same annual homicide rate (69.4 per 100,000) as El Salvador.
This pattern is not atypical. In Louisiana, the driver of crime is 'blue' New Orleans, with 41 homicides per 100,000 residents (about on par with Lesotho). In Ohio, it is Cleveland (33.7) and Cincinnati (23.8). In Tennessee, the driver is Memphis (27.1) and the surrounding blue-collar suburbs. Across the entire list of the 20 most violent American cities, just two currently have Republican or independent leadership teams (Tulsa and Las Vegas respectively).
This alone should debunk the 'murder concentrated among Republicans' narrative. But there's more. There are 11 large Republican-led cities in the US, but only one of these – Tulsa, with 18.6 murders per 100,000 citizens – makes the top-20 list of high-crime big cities, finishing in 14th place.
Other large Republican-led cities, like Oklahoma City or Jacksonville, miss out entirely, despite sometimes posting high rates of overall crime. In fact, of the 19 most violent large cities, 17 are controlled by the Democrats. This indicates that there are more problems with crime in large blue areas than in large red ones. Interestingly, this relationship exists in smaller cities, too. Famously violent places – like East St Louis, Illinois and Benton Harbor, Michigan – are almost invariably under Democratic control.
Advocates of the 'red states are going wild' narrative will sometimes claim that blue-governed areas in Democratic states are safer than blue-governed areas in red states – thanks to tighter gun laws in the Democratic states. But there is a simpler if much less politically correct explanation for this state-level gap. Many of the largest and highest-crime red states are located in the heavily African-American US South. And for complex historical reasons, the black violent crime rate is generally about 2.3 times the white violent crime rate.
This disparity is greatest in the case of murder. The rate at which blacks are killed by homicide currently seems to be eight-to-10 times the rate of whites. And it seems to have risen to over 20 per 100,000 during the 'racial reckoning' era, which began with the Black Lives Matter unrest in Ferguson, Missouri in 2014. When we look deeply at the 10 'red' states specifically cited by Murdock and Kessler, it is hard not to notice that most of them are the US's traditional African-American heartlands. The list includes: Mississippi, Louisiana, Alabama, Missouri, South Carolina, Georgia, Arkansas and Tennessee. As a quantitative methodologist, I suspect that a simple adjustment for population demographics – or poverty, for that matter – would mitigate if not reverse the relationship between GOP governance and murder rate.
Take Missouri, for example. While Murdock and Kessler argue that Missouri has a very high homicide rate, this seems to be almost entirely the result of minority-led gang violence. The overall murder rate in the state is fairly high (14 per 100,000), but this is driven largely by the black murder rate – which stood at a remarkable 50.64 per 100,000 in 2019. In contrast, the whites-alone murder rate in Missouri (which includes Hispanics) is far lower.
We can probably endlessly debate the exact breakdown of American crime along regional, racial and partisan lines. But one thing seems clear: silly ideas about policing, advanced almost entirely by the political left, are making crime worse just about everywhere. As a PhD student at the University of Massachusetts discovered recently, cities that played host to Black Lives Matter protests and riots in 2020 endured 'a huge overall increase in murders'. The paper concludes bluntly that BLM protests, and the subsequent demands of activists, resulted in 'less police effort and less proactive policing' – with awful and predictable results.
I have found essentially the same causal relationship in my own research, with the key driver being police stop rates. As Jason Johnson of the Law Enforcement Legal Defense Fund has pointed out, between 2019 and 2020 police stops and officer-initiated arrests in New York City dropped by 38 per cent, while murders surged by 58 per cent. In Chicago, stops plunged 53 per cent. In Louisville, stops dropped 35 per cent. Murders rose in both cities, just as they did in NYC.
This pattern is nothing new. During the first wave of BLM riots almost a decade ago, one of the better Chicago neighbourhood newspapers was forced to run the headline: 'Police stops down by 90 per cent as gun violence skyrockets.'
Chicago is not a Republican city, and there is no 'GOP surge in crime'. Almost all of the most violent metropolitan areas in the United States are under Democratic control. Adjusted for demographics and poverty, red states probably do a statistically better job of handling crime than their blue counterparts.
To enquire about republishing spiked's content, a right to reply or to request a correction, please contact the managing editor, Viv Regan.