Why Just Stop Oil is so wrong about fossil fuels
The eco-zealots' childish demands are a recipe for disaster.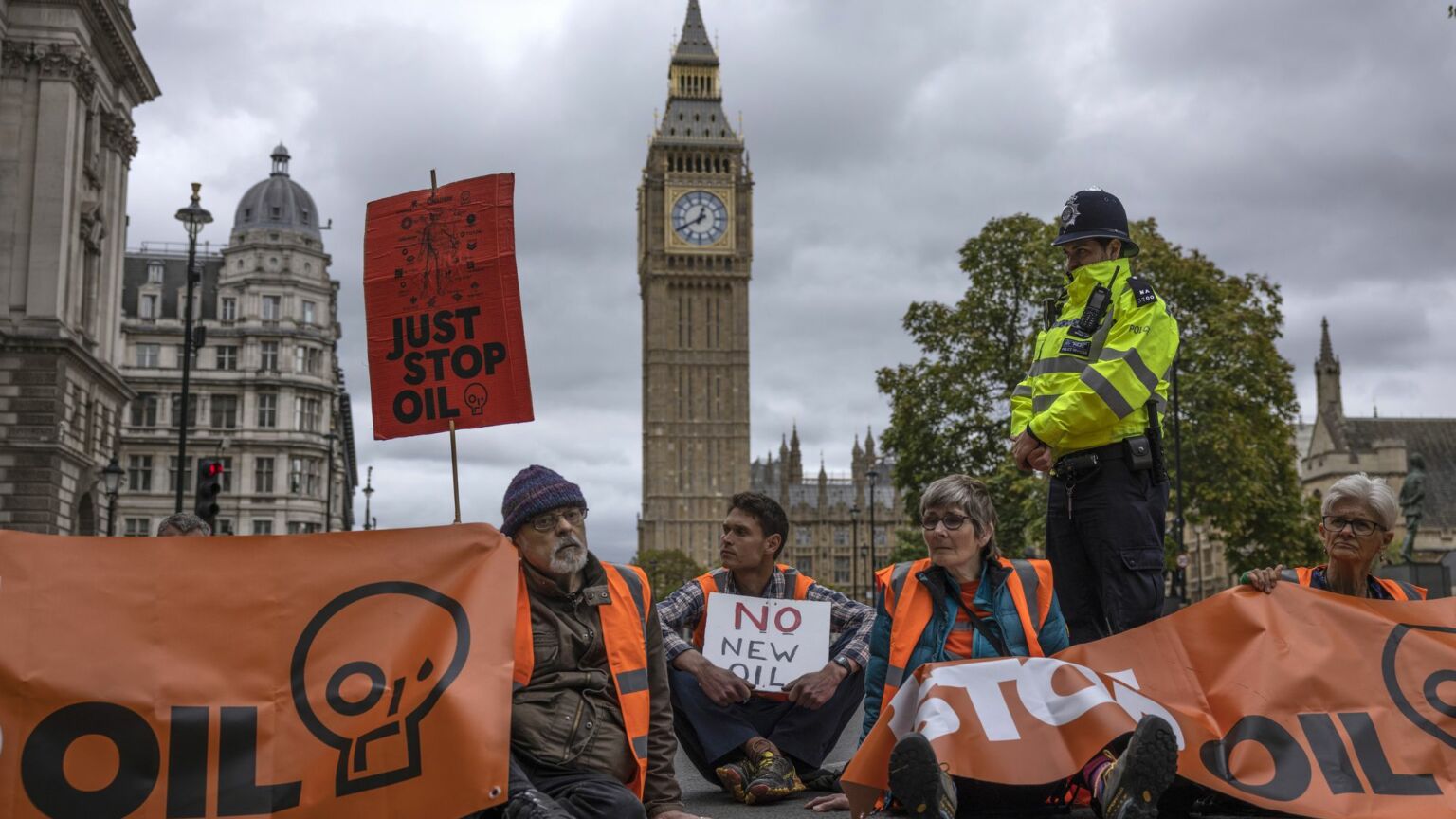 Oh good grief, they're back again. The eco-numpties from Just Stop Oil have spent the month of October irritating people with petty crimes masquerading as serious protest. Social media are littered with their infantile antics, from throwing soup at art, to blocking traffic and vandalising think tanks – all in an effort to persuade the public and government to abandon new fossil-fuel projects.
In terms of publicity they are successful. Their irritation tactics generate a lot of (generally negative) coverage, of which this piece is an example. In substance, however, they achieve little. The UK is expanding North Sea oil and gas licences. And while the Tories may like having photo-ops with young eco-campaigners, the protesters they really fear are motivated residents' associations.
To its media supporters, Just Stop Oil consists of 'brave eco-activists' trying to save the world. We're told that whatever we might think of the protesters' tactics, their message is correct – that unless we stop drilling now, the world will burn. But this is not true. Their message is just as bad as their reprehensible methods. Both Just Stop Oil and apparently respectable groups like the International Energy Agency are wrong if they think 'leaving it in the ground' will save the planet. On the contrary, this will do far more harm than good.
Globally, nearly four fifths of the world's energy needs are met by fossil fuels – in the UK, three quarters of its energy needs are met by fossil fuels. The world consumes around 176,000 terawatt hours (TWh) of energy every year. This figure has nearly tripled in the past 50 years, in order to provide the heat, power, transport and industrial processing necessary for vast worldwide economic growth.
Just how viable would it be to transition away from fossil fuels entirely? If all of the world's energy were to come from nuclear alone, it would require over 7,000 modern nuclear power stations. But globally today there are fewer than 500 nuclear plants, many of which are ageing. To meet the world's energy needs would require a massive expansion in nuclear power.
To think that our energy needs could be met with renewables is even more impractical, especially in the UK. A couple of years ago, the Financial Times estimated that a solar farm would require 300 square kilometres of land to produce the same energy output in the UK as a single nuclear power station. The same goes for wind power. The late David MacKay, former chief scientific officer to the UK Department of Energy and Climate Change, estimated that if wind turbines were to meet Britain's energy needs, they would have to cover half the UK's landmass. And even then you would still need scores of back-up power plants for when the wind doesn't blow.
'Net Zero power by 2030' enthusiasts are kidding themselves. We live in a nation held hostage by NIMBYs, who object to the construction of virtually anything. And we're meant to believe that these same NIMBYs would put up with wind turbines and solar panels covering most of the UK?
This is not to say that Net Zero is impossible. But it won't be achieved through issuing childish demands and setting arbitrary targets. Innovation doesn't work that way. Change is constrained by complex international supply chains and the availability of raw materials, such as cobalt and lithium for batteries, which currently require fossil-fuel energy to extract at scale. Making energy expensive makes this more difficult. In what amounts to a green-growth paradox, reining in fossil-fuel usage actually constrains the innovation necessary for green growth.
Net Zero is also constrained by politics. No electorate will put up with a government that is giving them giant energy bills or blackouts in order to meet an emissions-reduction target.
But then the public hasn't had much of a say on climate-change policies at all. Nearly all countries with a Net Zero plan have instead allowed powerful green-energy lobbies to set the agenda – and their own deployment targets. The green-energy lobbies then request subsidies to meet said targets. This means inefficient allocations and enormous waste – all at the taxpayers' expense.
Net Zero will not be easy. It certainly won't be achieved through t-shirt-slogan solutions like 'leave it in the ground' or 'just stop oil'. The sensible path to a low-carbon transition is to focus on prosperity and use the dividends to fund better solutions. This could mean using the oil and gas resources we own to generate wealth, and then taxing it to support research and development.
Instead, our current approach of obstructing resources when we are still dependent on them simply means relying on more imports. It means getting poorer and increasing emissions. In other words, 'leave it in the ground' is the exact opposite of a rational plan for Net Zero. The smarter idea would be to let the problem of fossil fuels fund its own solution.
Which brings us back to Just Stop Oil's tactics. It has no interest in finding practical solutions to our energy problems. It is a creepy, apocalyptic cult, fuelled by fear and anger. As it states on the website of the Climate Emergency Fund, which funds Just Stop Oil: 'Feelings of grief and terror are healthy and normal responses to the climate emergency. Let them motivate you to get heroically involved!' If you changed 'climate emergency' to 'Western imperialism', it would read like something ISIS puts out to attract recruits.
This malign movement is exploiting young people's fears and anxieties, and doing nothing to help tackle the energy crisis. Just Stop Oil just needs to stop.
Andy Mayer is chief operating officer, company secretary and energy analyst at the IEA.
To enquire about republishing spiked's content, a right to reply or to request a correction, please contact the managing editor, Viv Regan.