The Rejoiners are on the march to nowhere
The anti-Brexit fanatics think they're on the up, but they will not win.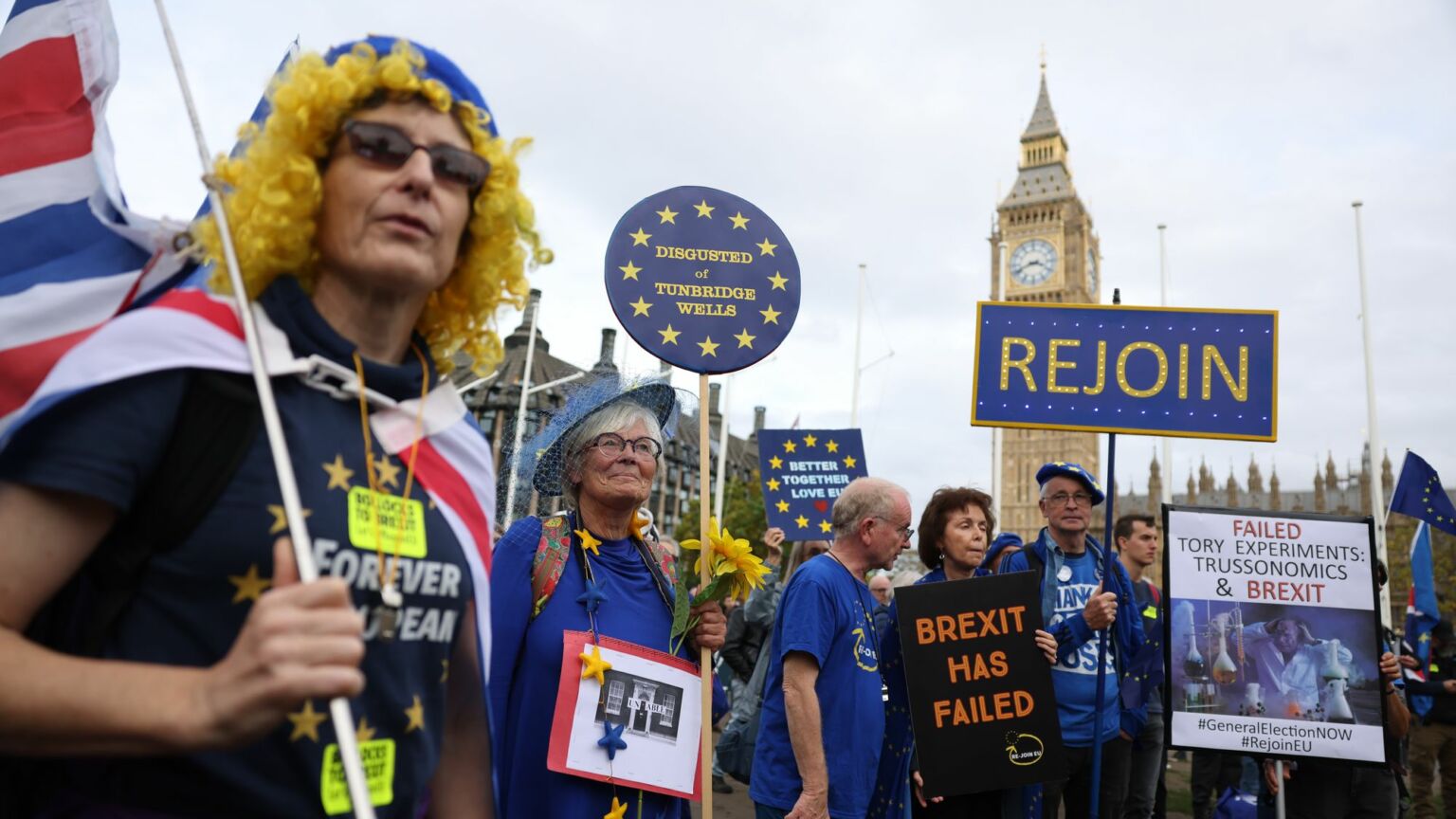 The 'blue people' are back – thousands of them. An army of mainly middle-class people took to the streets at the weekend, marching to get Britain back into the EU.
Saturday's 'Rejoin' march through central London may not have come close to the million demonstrators that the People's Vote campaign once claimed to have amassed back in 2019. But a good few thousand folks still snaked their way from Park Lane to Parliament Square at the weekend.
Nearly all the blue people are actually white, of course, given that most ethnic-minority citizens have more pressing things to do than set off on political wild goose chases. It is just that these days a lot of pro-EU activists actually dress in the blue of the EU flag, with sewn-on yellow stars being an optional extra.
All of this prompts a pang of recognition in me from the days when I was in UKIP, when we were insurgents seeking radical change with an exit from the EU. Back then, a lot of our activists decked themselves out in red, white and blue, often with theatrical twists: here a John Bull, there a lady who looked like she had stepped out of the audience of the BBC variety show, The Good Old Days. There were also a large number of chaps dressed in the uniform of the right-wing old duffer – dark, chalk-stripe suits with black lace-up shoes that had seen better days. Nigel Farage, who was far more of a restless moderniser than he ever let on in public, once termed these the 'dandruff and bicycle clips brigade'.
The Rejoin march was essentially the pro-EU mirror image of this, with many last-of-the-summer-winers dressed in the uniform of leftish old duffers – hessian shoulder bags, Corbyn-style caps, cagoules, shoes with the hue and consistency of Cornish pasties. There were legions of recently retired public-sector professionals seeking to relive the glorious radicalism of their youth.
I looked at photos of the Rejoin march to see which big-name politicians or other public figures were leading it. But I only recognised Steve Bray, the oaf who stands around Westminster yelling 'Stop Brexit' through a megaphone. No Keir Starmer, no Emily Thornberry, not even an Ed Davey or a Stella Creasy as far as I could see. Perhaps there was a fleeting glimpse of Baroness Ludford, a Lib Dem true believer who was an MEP back in the day – but I couldn't quite be sure.
No doubt the Rejoiners would tell us to look at the opinion polls instead. Most recent surveys show a plurality of people thinking leaving the EU was probably a mistake. Some even suggest that Rejoin could shade another in-out referendum.
However, that would require rather a lot of hurdles to be cleared. At least one of the major parties would need to include a referendum pledge in a manifesto. It would then have to invest political capital in negotiating a good 'Rejoin' deal with Brussels, containing renewed opt-outs from key EU demands, such as membership of the Euro. It would also have to secure an agreement for a new British rebate. Good luck with that, chaps. Then it would need a prime minister – presumably a Labour one – ready to stake everything on winning such a referendum, knowing that David Cameron had been the last guy to take exactly this gamble. Look what happened to him.
With Keir Starmer showing every sign of running for the hills whenever such a Rejoin vote is mentioned in his earshot, Saturday's voters may need to copy the old 'People's Army' of renegade Brexiteers in one further respect if they wish to make progress. They need their own political party to gain traction at elections, taking votes off Labour and therefore massively ramping up pressure on it to adopt a Rejoin stance.
It is what we did in UKIP with great success. According to the memoirs of former Cabinet Office minister David Laws, when David Cameron was asked by Nick Clegg why he had buckled in the face of demands to hold a referendum, he replied that not only were his backbenchers immensely Eurosceptic, but also that 'I've got UKIP breathing down my neck'.
So who is to breathe down Starmer's neck? Step forward Gina Miller, leader of True and Fair, who attracted up to five journalists to her party's launch, whenever it was. She has just announced that her party will field candidates at the next General Election, which has made a bit of a media splash. The Biggleswade Today website, for instance, has run a story headlined: 'True and Fair party sets sights on Mid Bedfordshire for next General Election.' It quotes the party's candidate, retired executive Alan Victor (great name for a candidate, by the way), saying: 'I do actually have at least a tiny base to start from because I got 812 votes back in 2019.'
Well, Alan Victor's tiny base is as good a place to start as any, though Miller herself has announced she will stand in Epsom and Ewell as part of the first tranche of nine announced T&F candidates. The party has, however, already attracted claims it is not living up to its name. Its economic strategy is based on the idea of raising enormous sums by plugging tax loopholes, something far easier said than done. It doesn't actually have a policy of rejoining the EU yet, either – just one of negotiating a closer relationship with our neighbours in a way that doesn't threaten our national sovereignty.
The actual truth, which is not particularly fair, is that under the first-past-the-post electoral system, creating a new party that can take serious numbers of votes off the traditional big two – let alone gain elected representation – is formidably difficult.
In UKIP, we managed to come top in the 2014 European elections, partly because a proportional voting system was in place. We managed to win a seat at the 2015 General Election because, under the leadership of Farage and with a core of very able lieutenants at hand, we had become really, really good at what we did. Good enough to scare the bejesus out of Cameron. But it had taken many years and many factors to go our way all at the same time to get there.
The marching Rejoiners seem to possess suitable levels of single-issue fanaticism to keep trucking on. But to actually get to their intended destination will take a miracle. And naturally, I hope they don't get it.
Patrick O'Flynn is a former MEP.
To enquire about republishing spiked's content, a right to reply or to request a correction, please contact the managing editor, Viv Regan.