'You were promised the earth, and you're going to get hell'
Steve Bray, the Stop Brexit man, talks to spiked about why he's not giving up the fight.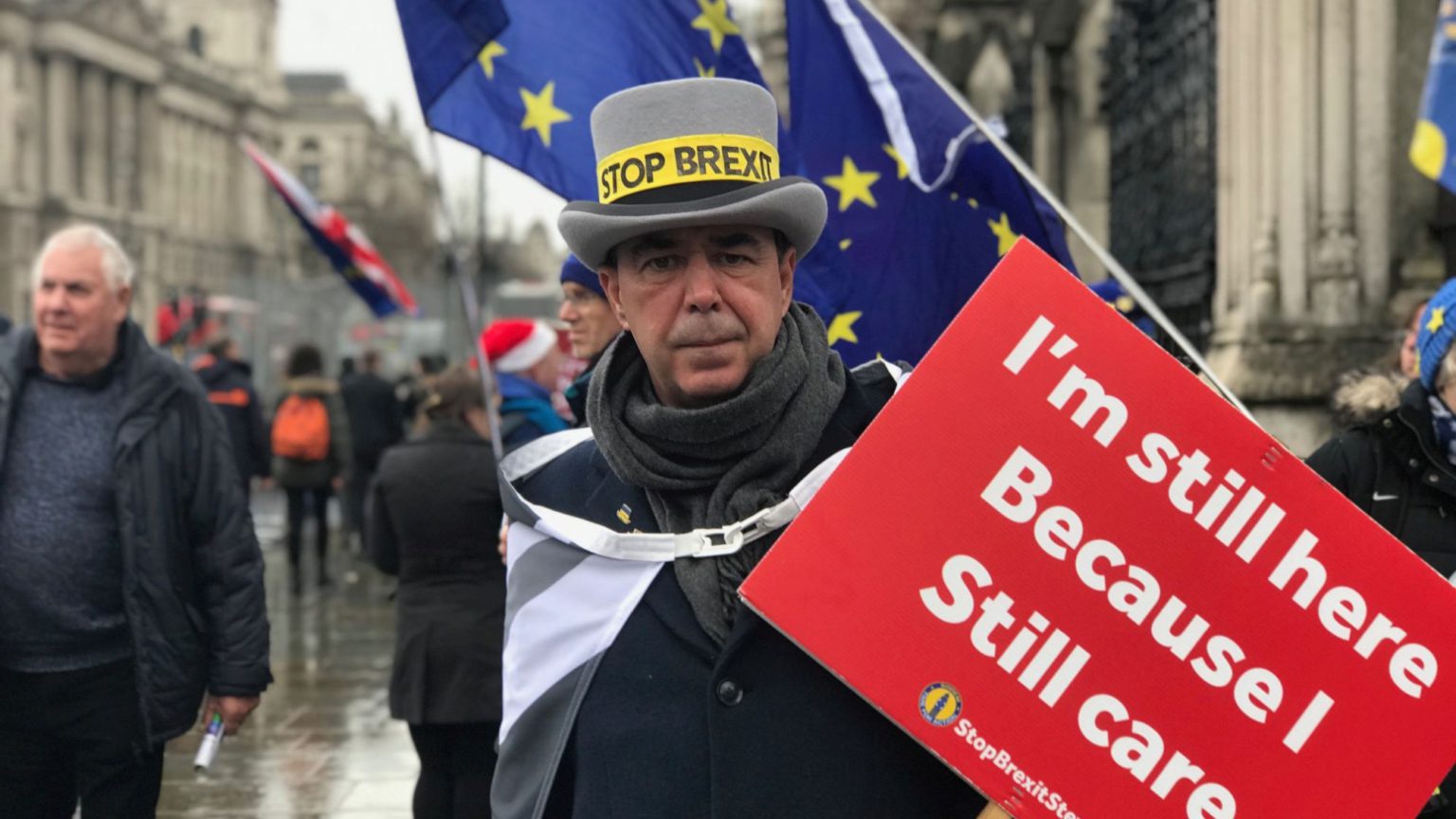 Before the 2016 EU referendum, Steve Bray was a rare-coins dealer in South Wales with a passing interest in politics. But the EU referendum got his blood up. He became convinced that Brexit was the wrong move and after Leave won he decided to do something about it. He became Stop Brexit man. For more than two years he has held a near-permanent protest in Westminster, heckling politicians using a giant megaphone, and holding placards in shot of TV news cameras, all in his homemade 'Stop Brexit' top hat. One of the more colourful characters in the anti-Brexit movement, Bray even stood at the General Election for the Liberal Democrats in Cynon Valley, where he came fifth.
But what now for Bray and his accompanying band of blue-beret-wearing Remainers? Since Boris Johnson won the General Election last week – delivering a pro-Brexit majority in parliament to implement the pro-Brexit majority vote to leave in 2016 – many Remainers are demoralised. There is a palpable sense that the battle for a second referendum, let alone a revocation of Article 50, is over. But Bray says he is fighting on. spiked spoke with him in Westminster yesterday. He was outside parliament as he always was, but in a new hat – a more funereal grey, rather than the usual EU blue. It was a fitting reflection of a damp, overcast day in Westminster, and of the spirits of the pro-EU movement in the wake of another historic defeat at the ballot box.
spiked: It's after the election, there's now a pro-Brexit majority in parliament – isn't yours a lost cause now?
Bray: No, absolutely not. We haven't left the European Union yet – where there's hope, there's a way. But Boris needs to be held to account. He's a proven liar, he's never kept a promise yet. Remember 'dead in a ditch, do or die, 31 October'? Didn't go well for him, did it? He should have resigned after that, to be honest. But there you go. We are where we are. And of course, we've got the transition period now, we haven't left yet. So the campaign will continue, it's just a question of in what format.
spiked: What do you think the route is now to stopping Brexit?
Bray: The route now for stopping Brexit is the people of Britain. It always has been. When you look at the election, more people voted for Remain parties than they did for Leave.
spiked: But Leave won the referendum, we've now returned a pro-Brexit parliament under First Past The Post, you still don't think the people want Brexit?
Bray: Well, look, we've got a problem with First Past The Post. We need proportional representation, every vote should count, everybody should have a voice. That's democracy. And that is not the system we have at the moment. If we did have proportional representation, everybody would have a voice, including Nigel Farage, smaller parties… But the two larger parties do not want proportional representation, because it does not serve them.
spiked: I've read that you weren't that politically active before the referendum. What was it about that result that made you feel like you had to get involved?
Bray: Throughout the referendum I listened to the argument, and I knew that what was being promised was not possible. So based on that, doing a bit of research, people voting to Leave… I think it was too big a decision for us, Joe Public, to make. Because we don't fully understand all of the implications. For the first year of Brexit, when we're in the transition period, it will look rosey, because we won't have actually left the curtain of the European Union. But after that, that's when things will start to go wrong rather quickly.
spiked: You said there that this was too big a decision for us to make. Will that not convince people on the Leave side that you're just not in favour of democracy?
Bray: No, absolutely I'm in favour of democracy. This is why I also believe that there should be a vote on a deal… Because there wasn't an actual deal in our referendum, there was nothing tangible to vote on, just Yes or No, In or Out. So we should say to the British people: look, here is the deal, if you accept this, so be it, or we Remain and we work together in the European Union to make things better.
spiked: Say we leave on 31 January, we enter the transition period, and say we do end up leaving at the end of it, what's the fight for you then – to rejoin?
Bray: If we do leave, the battle will be to hold the government to account while they're in office and to look at every tangible way to get back into the European Union. I don't think we'll ever have as good a deal as we had, should we ever get back in. But that's something that they need to sort out in there.
spiked: Have you bumped into your neighbour, Jacob Rees-Mogg, since the election?
Bray: He's not my neighbour anymore. But I bumped into Dominic Cummings. You will have heard Boris's acceptance speech, where he said, basically, I need to put a sock in it. Well, I will. I'll put a sock in it when he stops lying and he's more honest with the British people. So that's going to be never.
spiked: What do you say to those Brexit voters who are happy about this government, people who do want their vote to be delivered?
Bray: I'd say to them, look, we are where we are. You now own this, and you are going to see the fallout from it. I don't blame anybody that voted to Leave. You were promised the earth, and you're going to get hell.
Steve Bray was talking to Tom Slater.
Picture by: Tom Slater
To enquire about republishing spiked's content, a right to reply or to request a correction, please contact the managing editor, Viv Regan.