So much for the 'libertarian' Tories
A crackdown on weed would be a bonkers, authoritarian move.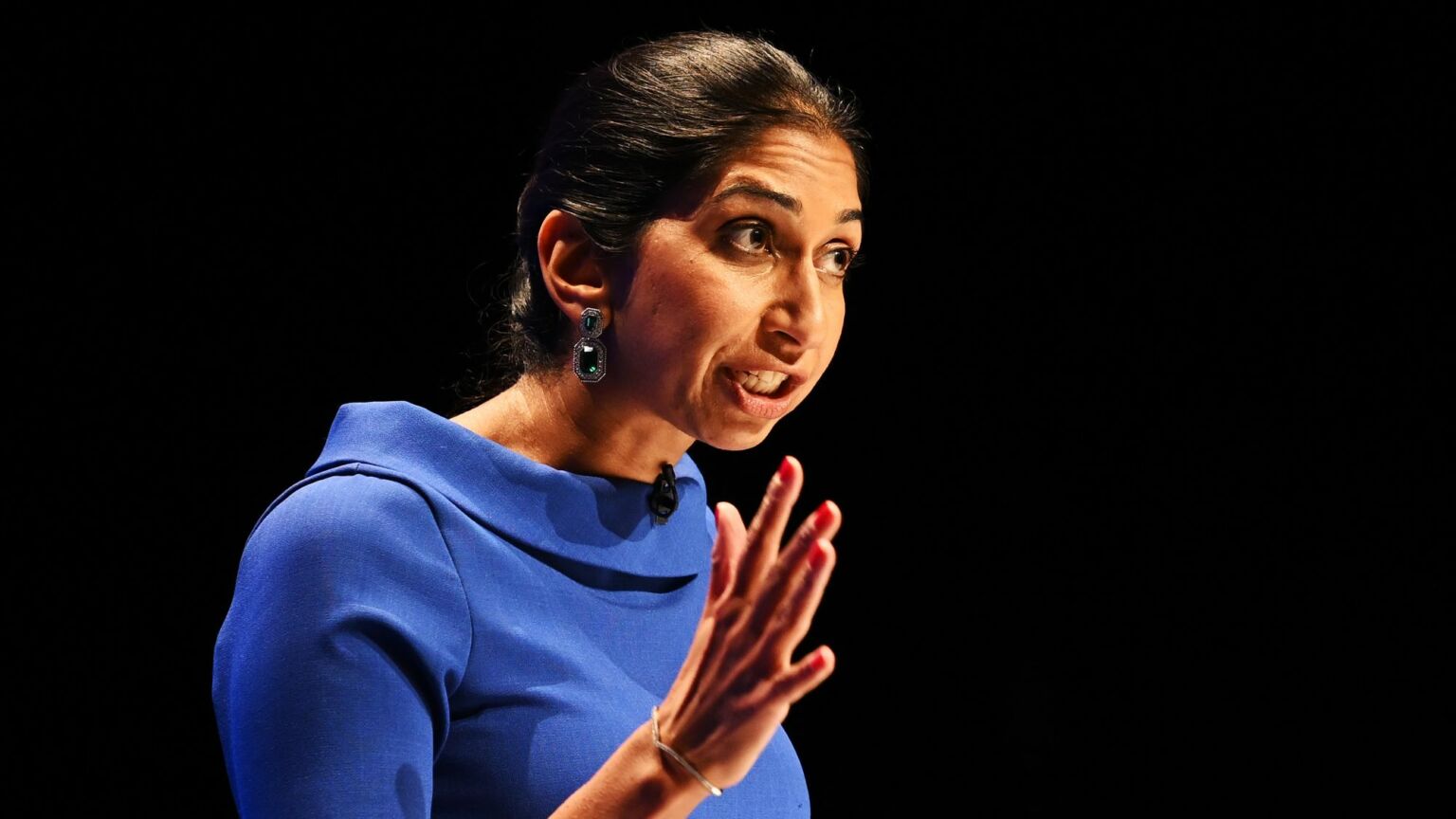 Nick Timothy, Theresa May's former chief of staff who masterminded the loss of her majority in the 2017 election, is on a mission to oust Liz Truss. He says that 'libertarian thinking has brought the Conservative Party to the edge of disaster' and 'Tory MPs need to save their party, and the country, from the libertarian ideology emanating from Downing Street'.
Timothy's article appeared just as it was reported that home secretary Suella Braverman wants to make cannabis a Class A drug. And there is definitely nothing libertarian about the war on drugs.
While the countries of Europe and North America are increasingly moving towards full legalisation of cannabis, a government that is supposedly hooked on 'libertarian ideology' wants to double down on prohibition by putting it in the same category as heroin. Life imprisonment for weed dealers! It is such an old-school Conservative idea that it is amazing that Theresa May never suggested it.
A day later, we learned that the government plans to ban solar panels on most farms in England. Regardless of what you think of solar power, arresting farmers for using their land as they see fit is not a libertarian move, either.
So what exactly has this government done that is libertarian? According to Nick Timothy:
'Those at the top of the government are ideological. They are libertarians. This explains the desperation to cut taxes, in particular those paid by the rich, without bothering with anything as boring as an accompanying fiscal policy. It explains the miserable new immigration policy, which is designed to allow even greater numbers to come to Britain, regardless of what it means for our culture, infrastructure or labour markets. It explains why No10 has ruled out a public-awareness campaign to help households to reduce their energy costs.'
Let's take these three examples in reverse order. Firstly, it has been reported that the government is reluctant to advise people to cut their energy use because Liz Truss hates nothing more than the nanny state. Some have defended her inaction, saying that everyone knows how to save energy and any government campaign would therefore be a waste of money.
I happen to disagree with that analysis. If everyone knew how to save money, Martin Lewis wouldn't be a national treasure and wouldn't have millions of subscribers to his weekly email. Perhaps the government should leave it to Martin and others to tell us how best to save money on our gas and electricity use. But there is nothing illiberal about informing the public about the scale of the energy crisis and the costs this will impose on households – particularly when the government has given people the false impression that they will pay no more than £2,500 a year for their domestic energy. It shouldn't require a £15million advertising campaign, but a quick press conference would be a start.
Secondly, libertarians tend to be keen on immigration, but so too is the Labour Party. There are plenty of people on the far left who would like open borders. Britain currently has more job vacancies than it has people looking for work. A lack of workers is severely hampering all sorts of industries, including haulage and house building. You don't have to be a libertarian to see what the quickest solution is. Any prime minister on the left or right would come to the same conclusion at this moment in time. And while there has been no announcement of what Liz Truss's immigration policy will be, I bet it will be more restrictive than anything that existed while the UK was a member of the EU.
Thirdly, tax cuts. Libertarians do believe in lower taxes because they believe in a smaller state and a smaller state requires less tax revenue. But nothing the government has done so far implies a smaller state. What we have seen from the Truss administration is not libertarianism but a weird sort of Reaganite un-populism, focused on deficit-funded tax cuts.
In all my years working for a free-market think tank, I don't remember anyone saying that the government should borrow money to take a penny off income tax. But if this is the mark of a radical libertarian, Rishi Sunak must be some kind of anarchist because he vowed to take 4p off income tax in his bid for the Tory leadership.
The British state has been borrowing money every year for two decades and the government gambled on being able to do so indefinitely. The market reaction to the mini-budget made it clear that this is not sustainable. If I thought the government was capable of playing 4D chess, I would say that the whole thing was a cunning plan to make fiscal conservatism popular again. Twitter was suddenly awash with born-again fiscal hawks as soon as the mini-budget was delivered, which was fine by me. Whoever wins the next election will probably have to raise taxes or cut spending.
Libertarians will cheer if the government trims down the bloated state but, again, there have been no such announcements so far. A libertarian government would have immediately abolished the Online Safety Bill, scrapped the sugar tax, repealed the smoking ban, privatised the NHS and legalised cannabis. None of this has happened and very little of it looks likely to happen. Instead, we have a colossally expensive energy price cap and rumours that random drug testing could be introduced in offices.
As a libertarian myself, I dearly hope that Liz Truss will prove Nick Timothy right, but there isn't much sign of it at the moment, is there?
Christopher Snowdon is director of lifestyle economics at the Institute of Economic Affairs. He is also the co-host of Last Orders, spiked's nanny-state podcast.
To enquire about republishing spiked's content, a right to reply or to request a correction, please contact the managing editor, Viv Regan.