Why Remainers are still obsessed with the 2012 Olympics
The opening ceremony was the last gasp of middle-class progressivism.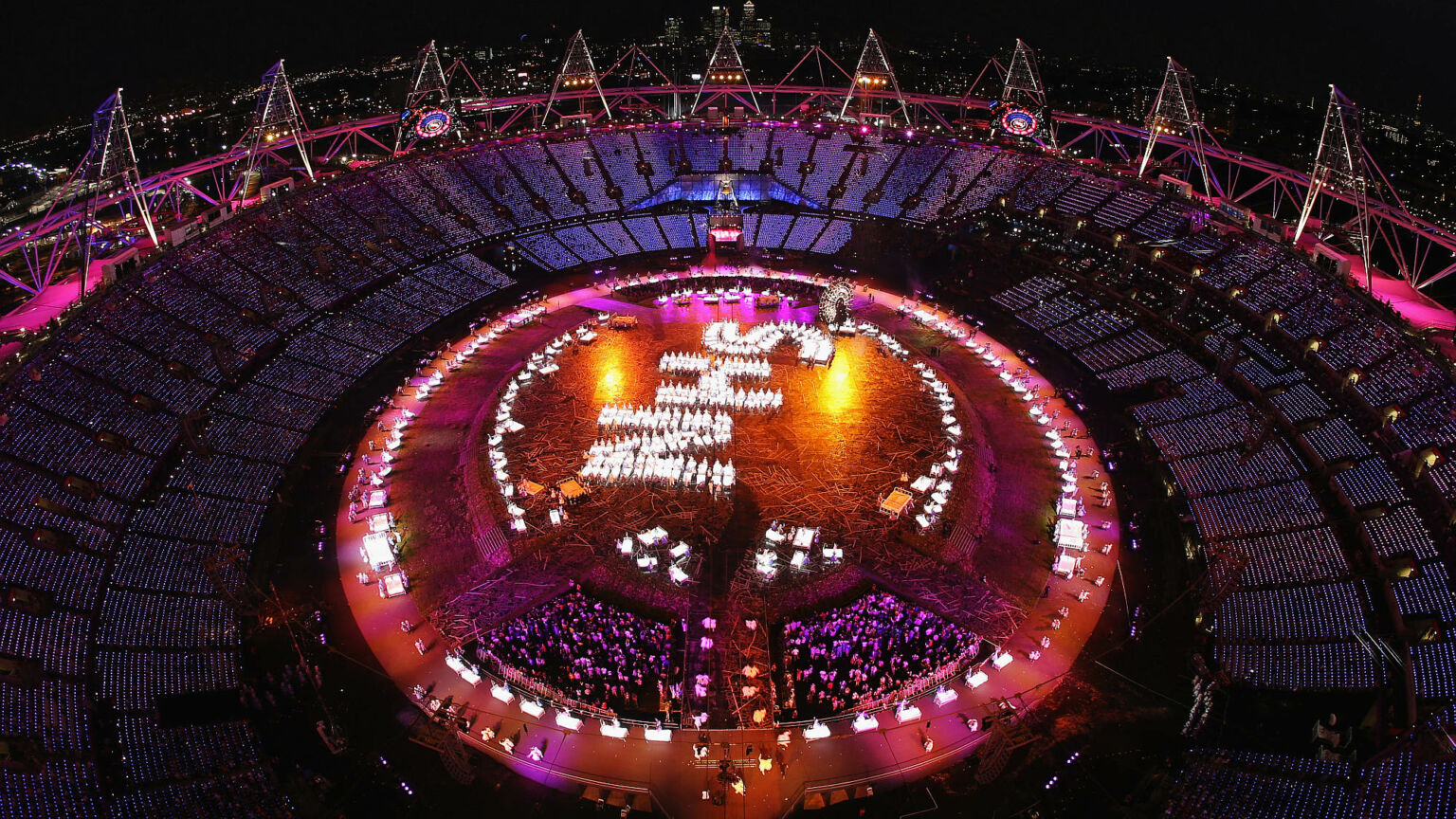 'Isles of Wonder', the London 2012 Olympics Opening Ceremony, turns 10 tonight.
My own feeling at the time was surprise that the UK had pulled off a spectacle so grand and so smooth-running. It's forgotten now, but the press had been screaming hysterically for months that nothing at the London Olympics would be ready in time. (A friend of mine started appending the cry 'and if it's like this now, what will it be like during the Olympics?!?' to things like her hair and her kitchen floor.) There were many gloriously silly and stirring moments in the ceremony. Who could forget the sheer outrageousness of that stunt with James Bond and the queen, smacking the gobs of the nation?
But it wasn't long before an uneasy sense crept up that this jolly jamboree was being regarded by a certain section of society – the people we would later come to know and love as Remainers, though neither they nor we knew it that night – as the ultimate triumph of progressivism, a victory parade for middle-class liberals. These people were enjoying the fun so much that when the Tory MP Aidan Burley expressed his misgivings on Twitter, they started piling on to him while it was still going on.
The NHS dance number stood out as particularly strange and crass, suggesting that the UK was the only country in the world with doctors and nurses. There were hints not far from the surface that British history had been just a quaint and unfortunate run-up to the splendour of the modern world of ITV3, Amazon Prime and Nando's. It was slight, but there was a sensation of being psyched into line, as if the state ceremonial powers of Kim Jong-un had suddenly been granted to a Liberal Democrat councillor from Bath called Jake.
It's telling that nobody remembers – or if they do they shudder to remember – the closing ceremony, which was meaningless and naff, exactly the kind of embarrassing spectacle you would have anticipated. Or that nobody ever talks about the actual games, in which the UK outperformed expectations by several country miles.
What has endured, and grown, is the claim that this was the apogee of the nation before everything went wrong – that is, before the hapless, misguided plebs / revolting racist gammons (delete to taste) got ideas above their station and voted, to the horror of the good people, for Brexit.
The subsequent totemic elevation of Isles of Wonder, and the laments for its supposedly lost paradise, have been stomach turning. Reverend Richard Coles tweeted this week: 'I remember watching the opening ceremony and thinking "we've cracked it – progressive, inclusive, outward looking, and everyone's cheering". It's the most wrong I've been.' The novelist Jonathan Coe, the acme of Remain, has a character in his 2018 book Middle England reminisce that: 'What he felt while watching it were the stirrings of an emotion he hadn't experienced for years – had never really experienced at all, perhaps. Yes, why not come straight out and admit it, at this moment he felt proud, proud to be British.'
It's hard not to spew. What a stunted dream, what a meaningless utopia, what a burden of significance for such a flimsy bit of fluff!
This is an example of the progressive tendency we might dub the 'if my opponents don't like something then it must be great' syndrome, which has seen the most unlikely things – Channel 4, reporting people to the authorities, refusing to accept democratic results, mutilating teenagers – elevated to the status of the vital and sacrosanct.
The syndrome is often based on the most bizarre assumptions. In the programme for the ceremony, director Danny Boyle puffed away that he hoped the audience 'will glimpse a single golden thread of purpose – the idea of Jerusalem – of a better world, the world of real freedom and true equality. And that it will be for everyone.' Presumably he felt that was a bold statement. It sounds to me like something trite that Margaret Thatcher or Tony Blair would have said at the end of a conference speech.
Because what the critics and the proponents of the ceremony both get wrong is that it wasn't particularly left wing, and it obviously wasn't right wing. It was aggressively orthodox.
It's the orthodoxy of 'just shut up'. Shut up about the possible downsides to uncontrolled mass immigration. Shut up criticising the NHS and its funding model. Shut up about the EU. And close your mouth on any doubts you have about our wonderful progressive hegemony. Because raising objections would make you a nasty person.
And in the decade since that night, the ceremony has become another one of those things – Star Wars, superheroes, Jeremy Corbyn – where a fandom has warped the memory and meaning of the object of adulation, loading it with a weight it cannot bear.
2012 is a peculiar choice of annus mirabilis. I think it was the last time the progressives could ignore reality. They presumably thought then that Ed Miliband would be in Downing Street by 2015, and the brief blip of a Tory PM on the shining path would be over. These are people for whom David Cameron was too strong a flavour of conservative, who later found the queer-positive Theresa May and Net Zeroing Boris Johnson to be slavering fascist murderers.
These delusions might be more tolerable if they didn't come with such big dollops of simpering tweeness. Their folk-memory of the ceremony has become another gooey progressive fetish – like the portmanteau fake swear words, the Wooferendum and the constant invocation of Paddington Bear to represent illegal immigration. Oh no, Paddington is all saddington!
Twee is like sex – lovely behind closed doors, appalling in public, and you should be sent to prison if you force it on people who don't consent.
This affected sentimentality is what the ceremony, rather unfairly, has come to represent – for them and for us. People who smashed up communal values and traditions and meaning, replaced them with the cultural equivalent of a municipal pamphlet, and then when things turned to rat's piss got very upset and ran about demanding to know 'who on Earth did this?'. Adults who flail and steam and shout like toddlers when they don't get their own way, jollying along other adults like Blue Peter presenters with meaningless cliches, 'inclusive, outward-looking'. The half niminy-piminy, half boiling tone of celebrities, from Sue Perkins to Hugh Grant. People whose empty ideology has been embedded across all governments for decades and who still imagine that they are the insurgents.
They're welcome to extol their Jerusalem. But please, find something more inspiring, more credible, to hang it on than a daft night's fun.
Gareth Roberts is a screenwriter and novelist, best known for his work on Doctor Who.
No paywall. No subscriptions.
spiked is free for all.
Donate today to keep us fighting.
Donate online
To enquire about republishing spiked's content, a right to reply or to request a correction, please contact the managing editor, Viv Regan.