We need to stop importing America's racial mania
There is nothing just or sane about 'reckoning' with historical ills we had nothing to do with.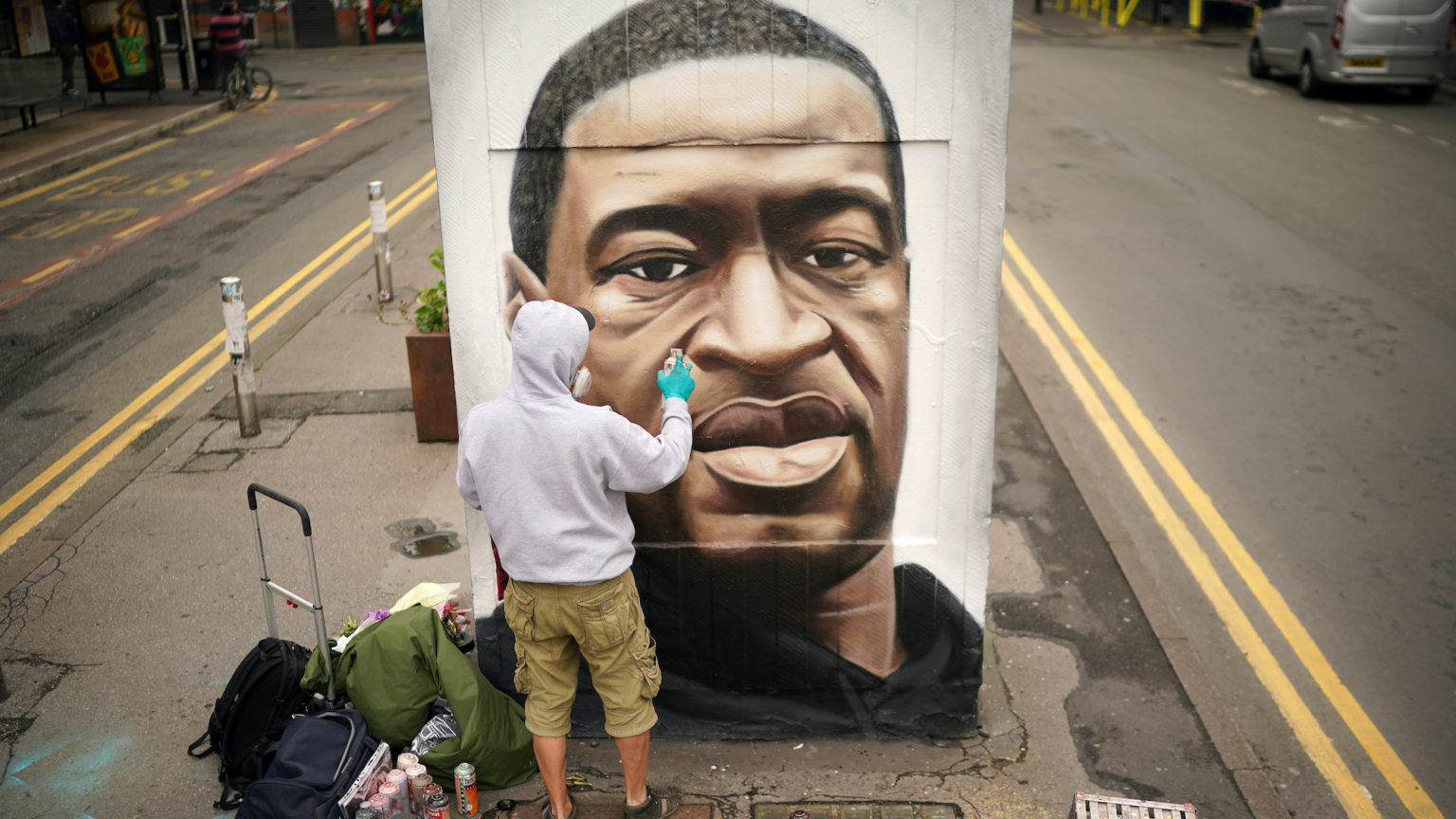 My wife and I went to the Gielgud Theatre last week, to see one of her favourite books, To Kill a Mockingbird, adapted for the stage by one of my favourite screenwriters, Aaron Sorkin. It has received uniformly excellent reviews and we were very much looking forward to it.
Idly leafing through the programme, waiting for the lights to dim, I noticed that an essay had been contributed by de facto Guardian race correspondent and BBC regular Afua Hirsch. Under 'A Story that Transcends', the sub-header warned me that Hirsch had meditated on 'challenging racism in a modern world' and addressed 'how the universal truths [the book] holds are still relevant today'. There was a full-page image of that Mockingbird of the modern world, George Floyd.
I should have known to turn the page and peruse instead the stage credits of the associate lighting designer. Or simply to close the pamphlet, and to take the production on its own terms. But no. I had to read it, didn't I? And then spend the rest of the evening grimly seething, at about a pound a minute.
Mockingbird is not a book to which I have any great attachment. But I recognise its emotional heft. And my wife points to it as one of her favourite books, a formative text. She identifies with Scout, I think. She does not, thankfully, say 'y'all'. But like Scout, she placed her father on a pedestal of virtue, honesty and masculine decency, from which any man must sooner or later stumble and fall. And to this day, she is always inclined to think the best of the neighbourhood Boo Radleys.
Anyway, I doubt there is much dispute between us on what its lessons are.
It is a story about the terrible damage wrought by prejudice, bigotry and fear, in a particular place and time. The legacy of a terrible wrong, still not adequately addressed. Of the past, as Faulkner put it, not being dead, nor even past. This is the essence of the Southern Gothic, of which this book is an easily digested example. If you like it, I'd recommend Flannery O'Connor for a main-course serving of the genre.
But it is also about the dawning realisation in the consciousness of a young girl, that her beloved father also has feet of Alabama clay, and that all his fine words and all his ideals cannot quite put Humpty back together again.
This is why it is a much-loved novel rather than an op-ed in the Grauniad. And why one thing it does not need, in my view, is Hirschsplaining.
It is risky for a straight white male like me, albeit one with a deceptively complex and colourful weave of ethnicities and indeed compromised masculinity, to critique pros like Hirsch. When I try to make clear certain distinctions between the Jim Crow South of 1930s America and the minority-majority London of today, with its mayor of Pakistani heritage and recently departed, openly lesbian chief of police, it will be patiently explained to me that of course I don't see white supremacy and brutal patriarchy as the still-unchallenged behemoths shaping society – because I'm a white male and that blindness is just another luxury, a facet of my privilege.
I try to let it go. But when Hirsch clouds my expensive evening at the theatre with guff about 'the complicated nature of interrogating one's whiteness', I think it's about time I said something. Because what Hirsch is trying to do, yet again, what a certain class of commentator always does, is centre herself, as a person of colour.
The fact is, that To Kill a Mockingbird didn't happen here. And it wouldn't happen here. And it certainly wouldn't happen now.
Sam Ashworth-Hayes has written brilliantly about our pathological determination to import not just the racial dynamics and historical sins of American society, but also its most hyped-up, activist-remapped, lurid manifestations.
But even in America, presenting George Floyd – a man who really had, some years earlier, brutally assaulted a young mother – as a modern-day Tom Robinson, is bordering on the grotesque.
In the book, Robinson is clearly exonerated of the capital charge of rape. Atticus Finch's devastating cross-examination of racist thug Bob Ewell reveals the truth – that he assaulted his own daughter, for her presumed encouragement of the man's advances. But the all-white jury nevertheless convicts, and in attempting, wildly, to escape his fate, Robinson instead meets it, in a hail of bullets.
None of those responsible for this desecration of justice face any sort of consequences, except Ewell himself – and even then, only when he assaults Finch's children to avenge his humiliation, and draws the quasi-mythical Radley out of the shadows for a final reckoning.
In 1930s Alabama, such a cascade of tragedy was all too believable. Familiar even.
By comparison, in 2021, for the killing of George Floyd, Derek Chauvin faced perhaps the most easily anticipated verdict of the century. He is currently serving a 22-year sentence for murder. According to the New York Times, he is held in solitary confinement for 23 hours a day.
These two things are not the same.
As black academic and fellow spiked columnist Wilfred Reilly has put it, 'A good way to sum up the modern left is that, as racism has decreased 90 per cent, mass media discussion of it has increased 1,000+ per cent'.
But at least America does have Jim Crow to atone for – let alone for what came before. Britain does not. What we did have is worth remembering, too.
The Gielgud Theatre sits, as it happens, on Shaftesbury Avenue. This thoroughfare is named to honour the seventh earl of that line, Anthony Ashley Cooper, and his tireless campaigning to eradicate, among other things, the evil of child labour. It has been said that 'no man has ever done more to lessen the extent of human misery or to add to the sum total of human happiness'. The statue popularly known as Eros – perhaps London's most beloved landmark – was erected in honour of his tireless charity.
It was Ashley's Chimney Sweepers Act that finally ended the servitude of these young boys. Boys who really would have had trouble interrogating, or even discerning, their whiteness. Thousands suffered 'scorched and lacerated skin, their eyes and throats filled with soot, the danger of suffocation and their occupational disease – cancer of the scrotum'. The act was passed in 1875 – 10 years after the end of the American Civil War.
Whether the programme notes to the current run of Mary Poppins remind us to 'interrogate our cleanness', meanwhile, I cannot with authority say.
There are still plenty of problems with justice in this country, let alone around the world. And they are problems which drama has the power to illuminate. But the people who find their way blocked are, as they have always been, the poor. The materially poor, the poorly educated, the poorly raised – and those who subsequently make poor choices themselves.
And the class of people who really do enjoy privilege, whatever their colour, are the same as ever, too – the well-off, whether from Guildford or Ghana or Ghent. The expensively educated, the Oxbridge elite, the articulate, well-connected and, frankly, the fine-boned and beautiful. Every single one of which boxes Afua Hirsch does and should gratefully tick.
This is not to say that anyone lacking direct experience of poverty should be silent. But I am sorry – they don't get to identify with the dispossessed, or loosen that category to allow themselves to slip in undetected.
The harping on about immutable, irresolvable differences, the seeking to paralyse half the country with guilt and anxiety, and to deflect from the genuine and remediable roots of injustice, is getting old now. It really is.
The past, thank God, is another country. We do things differently here. Despite those who wish us forever to shoulder the guilt of the long gone.
Meanwhile, if you feel you might have earned the right to actually enjoy yourself when you go to the theatre of an evening, I heartily recommend Jersey Boys, at the Trafalgar Theatre on Whitehall. It tells the story of Frankie Valli and the Four Seasons, and these boys really 'don't do one thing but sing their hearts out for us'. The songs make you grin from ear to ear, and old timers and the young have a ball. But it also reminds us of another important lesson of history. America may have its problems, but if a poor kid has a pinch of talent and an ounce of ambition, he or she has as good a chance of making it there as anywhere. And if there is one thing we do want to adopt from the States, it's that.
Simon Evans is a spiked columnist and stand-up comedian. He is currently on tour with his show, Work of the Devil. You can buy tickets here.
To enquire about republishing spiked's content, a right to reply or to request a correction, please contact the managing editor, Viv Regan.