Joe Biden and the poison of identity politics
The most powerful man in the West is resuscitating racial thinking.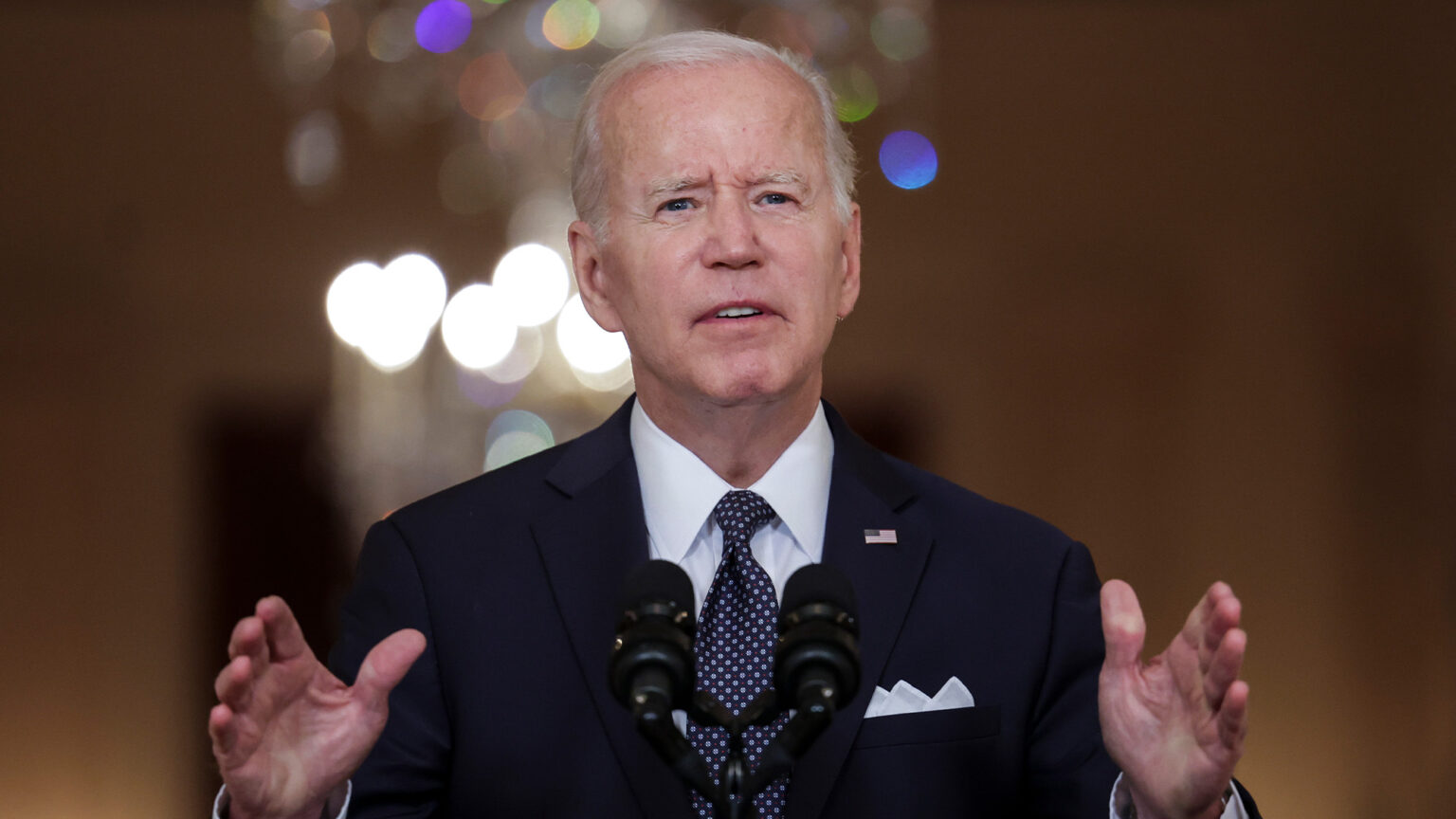 When we hear the word 'identitarian', we tend to think of a certain kind of person. Young, overeducated, not a fan of freedom of speech, probably white but positively obsessed with the pain and suffering of black people. They'll be a TikToker too, no doubt, and a professional protester, forever turning up to public gatherings to shout 'Black Lives Matter!', or, for extra woke cred, 'Black Trans Lives Matter!'. Well, it's time we shook up our vision of identitarians. Next time you hear that i-word, think not of earnest Ivy League youths who spend too much time on social media, but rather of a 79-year-old man, stiff, not quite all there, and in possession of real political power rather than just influencer fame. Think of Joe Biden.
President Biden is the most powerful identitarian in the world. His presidency has been defined by identity politics. In the run-up to the 2020 presidential election, anti-woke liberals insisted that the insanity of identity politics would be kept in check if the American people ditched Trump and replaced him with Biden. Biden's an old-fashioned political operator, they said, not a player in the pseudo-left's crazy culture war against equality, reason and science. How wrong they were. Biden has guzzled down the identity Kool-Aid. He seems to view everything through the prism of race. He openly says he will pick people for high office on the basis of their skin colour rather than their skill set. Biden's identitarian presidency risks overturning the great gains of the post-civil rights era, and replacing the humanising ideal of equality with the divisive new ideology of 'equity'.
Biden's hyper-identitarianism has been thrown into sharp relief by the Ilya Shapiro controversy. Shapiro was a senior lecturer at Georgetown University Law School. He resigned on Monday after months of controversy over a tweet he posted in February. Following Biden's race-conscious promotion of the attorney Ketanji Brown Jackson as his pick for the Supreme Court, Mr Shapiro tweeted: 'Objectively best pick for Biden is Sri Srinivasan, who is solid prog and v smart. Even has identity politics benefit of being first Asian (Indian) American. But alas doesn't fit into latest intersectionality hierarchy so we'll get lesser black woman.' It was those last three words – 'lesser black woman' – that caused a social-media storm.
It was unquestionably an artless tweet. Shapiro himself admitted as much when he took it down two days later. And yet it should have been clear to anyone of good faith that Shapiro was not saying that black women are 'lesser' people. Indeed, his tweet made the case for a brown-skinned man – Srinivasan, a top judge in DC – to be elevated to the Supreme Court. It's a strange racist who wants an Indian-heritage person to wield such public power. No, Shapiro was simply saying that Jackson is less qualified than someone like Srinivasan, not less human.
And yet, with crushing predictability, his critics accused him of being a deranged white supremacist. Georgetown announced that it would conduct an investigation into Shapiro's tweet, even though he wasn't yet an employee of Georgetown when he posted it, and even though other Georgetown employees have tweeted far more inflammatory things. For example, during the confirmation of Justice Brett Kavanaugh, Carol Christine Fair, a professor in Georgetown's School of Foreign Service, tweeted about 'entitled white men' and suggested 'we castrate their corpses and feed them to swine'. So you can fantasise about lopping off the penises of dead annoying white men but you can't suggest that a black woman is less qualified than an Indian-heritage man for the position of Supreme Court justice? (To her credit, Professor Fair supported Mr Shapiro over his controversial tweet, saying: 'I have no patience for cancel culture. None.')
Georgetown cleared Shapiro of wrongdoing, but he resigned anyway because he believes he was being set up for discipline 'the next time I transgress progressive orthodoxy'. To my mind, the most alarming thing about the Shapiro controversy is the idea that we should be madder with Shapiro for calling out identity politics than we should be with Biden for practising it. As an anti-racist, I fully agreed with the statement Shapiro made back in February after he deleted his tweet. 'A person's dignity and worth simply do not, and should not, depend on race, gender or any other immutable characteristic', he said. '[Blatantly] using identity politics in choosing Supreme Court justices is discrediting to a vital institution', he continued.
This is correct. The person who violated modern American principles, who injected the baleful consideration of race into what ought to have been a discussion of talent and vision, was not Mr Shapiro – it was President Biden. Biden expressly said he would only consider black women for his Supreme Court nominee. No whites, no Asians, no Hispanics. As a writer for The Hill pointed out when Biden made his blacks-only promise about the Supreme Court, he was engaging in an 'explicit exclusion of more than 93 per cent of the US population' from one of the highest-ranking jobs in America. That is flat-out discrimination. We have to let young ethnic-minority people know that they are capable of achieving great things, the woke set always says. Well, what message did Biden send to Hispanic boys or Chinese-origin girls when he made it clear none of their kind would be considered for the Supreme Court this time round? That people like them count for less?
This is the twisted irony of the Shapiro controversy. It was Biden, not Shapiro, who implied that some people are 'lesser'. The man who said he would be a 'president for all Americans' expressly excluded the vast majority of Americans from consideration for the Supreme Court. It was the same with his pick of Kamala Harris as his vice-presidential running mate. He said he would only consider black women. And as one observer said, selecting someone for office 'based on her identity instead of achievement' is not good. It is patronising to the person being selected, and divisive for society more broadly, given it green-lights the idea that judgements on the basis of race are sometimes perfectly okay. The Biden administration seems incapable of working with black women without constantly saying to the country: 'Have you noticed that she's black and a woman?!' So last month, when Karine Jean-Pierre was installed as the new White House press secretary, departing press secretary Jen Psaki formally introduced her as 'the first black woman… to serve in this role, which is amazing'. Surely there's more to Ms Jean-Pierre than her race and sex?
Identitarianism is central to the Biden project. He often comes across as a presidential version of a campus activist. One of his first executive orders stipulated that trans school students should be permitted to take part in sports teams on the basis of their gender identity. Perhaps worst of all, in January 2021, Biden said that when the government hands out Covid recovery funds, 'our priority will be black, Latino, Asian and Native American-owned small businesses'. That was racial politics. It represented a coming together of the old 'pork barrel' race games played by sections of the American elite, where they tried to shore up ethnic-minority support through funding and favour, with the new woke ideology that says there are the Privileged and the Oppressed and that the latter must take priority over the former. There is something deeply disturbing about an American president openly saying that some races will receive government support faster than others, and that only certain races need apply for government roles.
This is the poison of identity politics. It resuscitates racial thinking. It further fragments society by presenting some ethnic groups as being more worthy of support than others. It eats away at the principle of equality – in which colour-blindness is absolutely key – and replaces it with an ideology of equity in which both government policy and government personnel come to be hyper-racialised issues. Trump was branded a racist by liberals because of his frequently oafish remarks. But it's Biden who risks institutionalising racial thinking in the everyday activity of government. This will be disastrous for the American republic.
Brendan O'Neill is spiked's chief political writer and host of the spiked podcast, The Brendan O'Neill Show. Subscribe to the podcast here. And find Brendan on Instagram: @burntoakboy
To enquire about republishing spiked's content, a right to reply or to request a correction, please contact the managing editor, Viv Regan.