Boris has a point about Brexit and Ukraine
Elite Remainers loathe national sovereignty – the very thing Ukrainians are fighting and dying for.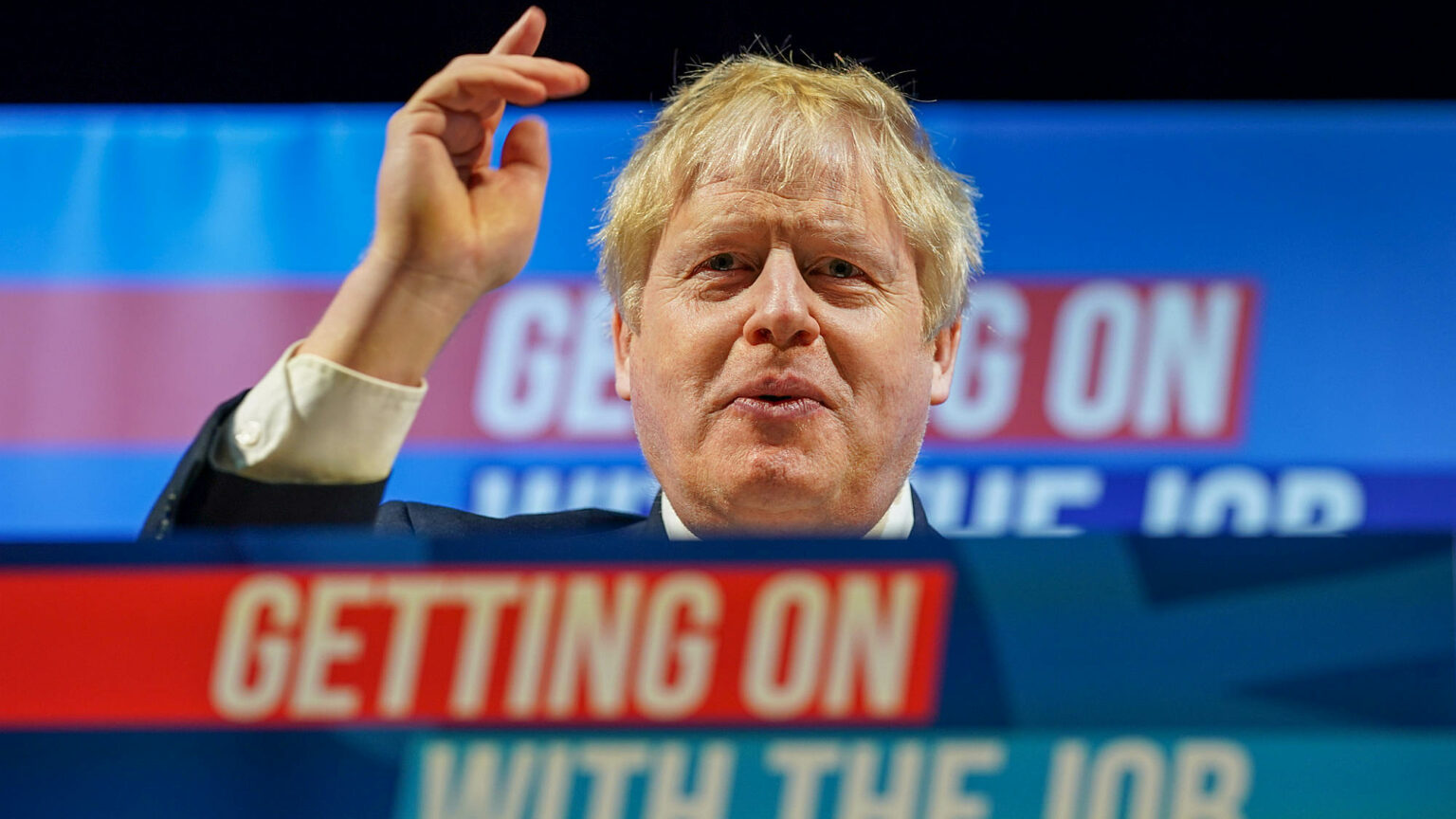 In case you missed the memo at the weekend, it is now unacceptable to mention the war in Ukraine and Brexit in the same breath. Indeed, the mainstream view seems now to be that only the most shameless, shallow and cynical operator could possibly try to draw a connection between these two events.
This new 'don't mention the war' consensus was formed pretty much instantaneously, after Boris Johnson delivered a speech to the Conservative Party spring conference in Blackpool at the weekend. 'I know that it's the instinct of the people of this country, like the people of Ukraine, to choose freedom every time', the prime minister said. And one example he gave of the UK choosing freedom was the vast numbers of Britons voting for Brexit. 'I don't believe it was because they were remotely hostile to foreigners. It's because they wanted to be free to do things differently and for this country to be able to run itself', he argued.
Predictably, the speech has brought the Remoaner commentariat out in hives. Many have expressed their disgust, anger and physical revulsion at the Ukraine / Brexit comparison. Since the speech, every minister doing the broadcast rounds has been browbeaten into denouncing Johnson's comments, or at least into distancing themselves from them. 'How could the PM trivialise the war in Ukraine with his petty obsession with Brexit? How could anyone stoop so low?', we are constantly invited to ask.
Yet all of this outrage is coming from the very same section of politics and the media that has gone to great lengths to find links between the war and Brexit. Indeed, right up until Johnson's speech it was fair game to view the invasion through Brexit-tinted glasses. So in the past few weeks, the pro-Remain media have told us the war in Ukraine 'invalidates' the 2016 referendum result (New Statesman), 'marks an end to Brexit illusions' (Financial Times), 'blows up Brexit' (Politico) and 'reinforces the raison d'être of the EU' (Guardian). Remainer politicians from all of the UK's main parties, and higher ups in the EU involved in the Brexit negotiations, have happily linked the war in Ukraine to Brexit in recent weeks.
The only difference is of course that Remoaner types have used the war as an opportunity to bash Brexit, rather than praise it. It is apparently right and proper to treat the shelling of Kyiv, the siege of Mariupol and the exodus of millions of refugees as opportunities to rehearse familiar smears about Brexit and its supporters. And it is even acceptable in liberal circles to use the invasion to spread conspiracy theories or tell outright lies – such as, that Brexit is a Putin-backed plot, funded by Russian money and pushed over the line by Russian disinformation – as long as it paints Brexit in a negative light. Meanwhile, Johnson's claim that Britons and Ukrainians are united by a shared love of freedom is considered despicable and beyond the pale. The double standards here are head-spinning.
It is no great surprise that Johnson's speech has caused the anger it has. Partly, this is because in our Remain-dominated political and media landscape, Brexit is seen as, at best, a problem to be managed or a disruption to be minimised – not something that any politician should express any positivity about. Plus, many liberals seem to mistake hating Johnson for having a personality. It seems that nearly every remark he makes is a 'new low' that demonstrates his unfitness for office or 'shames the nation' in some way.
Mainly, however, it is because Johnson has touched on a genuine sore spot. The Ukrainians are fighting valiantly for their right to self-determination and for their national sovereignty – two principles that the Remain commentariat have consistently denigrated and dismissed. During the Brexit wars, Remainers claimed that national sovereignty was at best a myth – not something any country could expect to retain in a globalised world – or at worst, a dog whistle for racism.
The contexts of the EU referendum and the war are very different of course – and the stakes in Ukraine could hardly be higher. But the same principle of national sovereignty is at play in both. What Boris Johnson has done is expose the Remainers' inconsistency on this vital question. No wonder they are so furious.
Fraser Myers is deputy editor at spiked and host of the spiked podcast. Follow him on Twitter: @FraserMyers.
Picture by: Getty Images.
To enquire about republishing spiked's content, a right to reply or to request a correction, please contact the managing editor, Viv Regan.