The war in Ukraine has nothing to do with Brexit
Desperate Remainers are hoping a bloody conflict will 'invalidate' the EU referendum.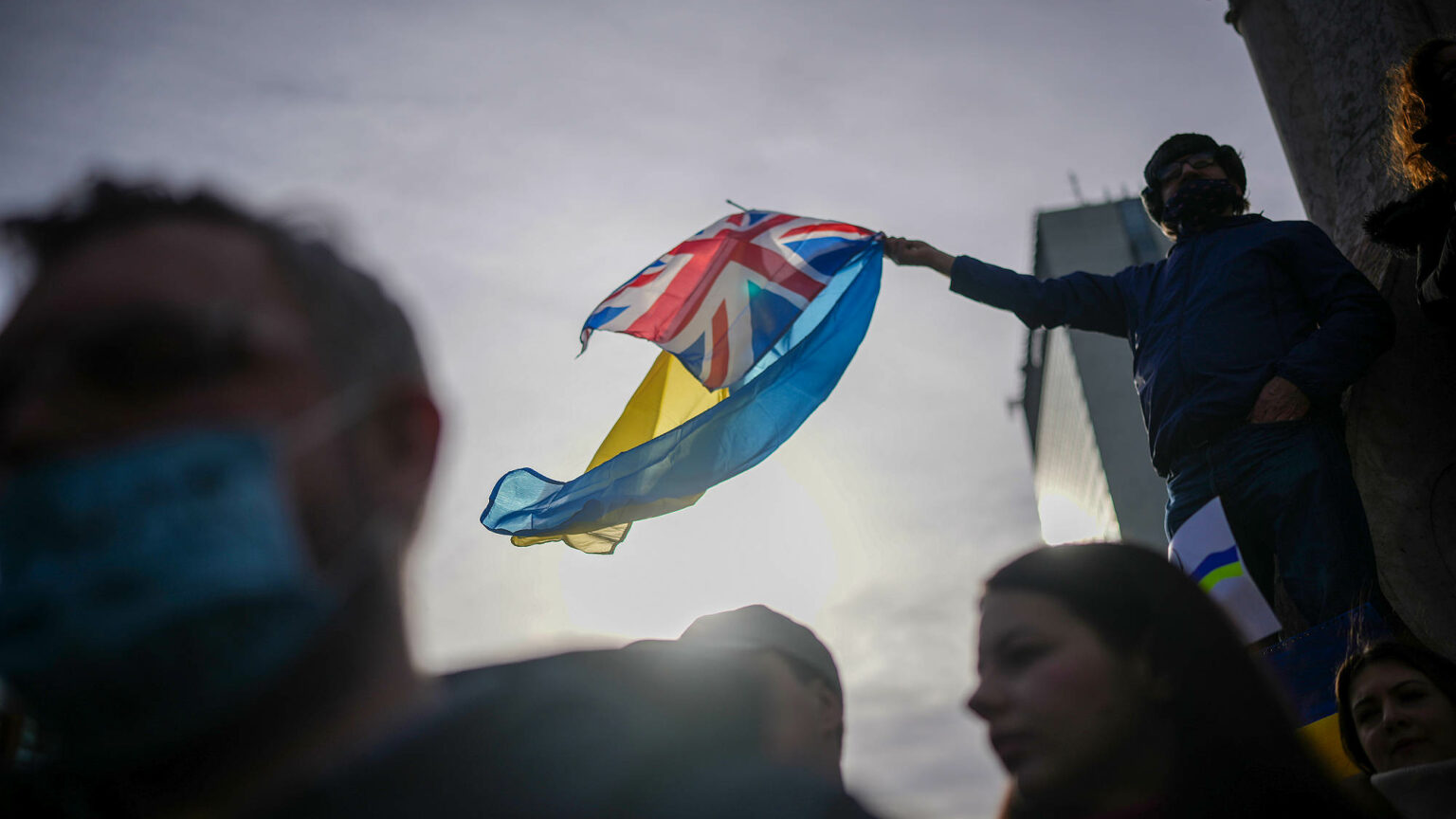 Heartbreaking stories of human suffering emerge daily from Ukraine. Dead bodies hastily buried in mass graves. Bombed-out houses, nurseries and hospitals. Families separated. People left without food, water or power. In response, people in Britain, and in other countries, have shown solidarity with Ukrainians and donated to relief efforts – at one point giving as much as £1million per hour. Some have travelled to Poland to help with the growing number of refugees, or to Ukraine to fight against the Russian invaders.
Yet for some in Britain's political and media elite, none of this matters. Rather than looking at what is going on in Ukraine and feeling empathy, they spy another opportunity to rehash their anti-Brexit prejudices. 'The Ukraine war has invalidated Brexit', crows BBC hack turned pseudo-radical Paul Mason in the New Statesman. Rather than blaming Putin for the suffering of the Ukrainians, or analysing post-Cold War international relations, Mason claims it is 'the xenophobes, Little Englanders and Putin stooges who inflicted this predicament on us'. Another writer celebrates that 'the spasm of xenophobia' unleashed by Brexit has finally lifted. In these people's fevered imaginations, the 17.4million Britons who voted to leave the EU are almost as responsible for pregnant women being bombed out of maternity hospitals as Putin is.
'Brexit Britain is out of its depth', claims SNP MP Kenny MacAskill. He blames 'newfound British exceptionalism', combined with 'past tales of glory', for UK ministers provoking the war in Ukraine by 'seeking to display the nation's mettle on the international stage'. As Fraser Myers has written on spiked, arch Remainer Carole Cadwalladr sees the war in Ukraine and Brexit as both being products of Russian interference in other countries. Her logic, if that's not too strong a word for it, seems to be that Putin used his dirty Russian roubles to manipulate 17.4million British voters before moving on to invade Ukraine. This is not political commentary – it is writing up your delusions for public consumption.
The Brexit-bashing continues. The Irish Times claims it is 'insular Brexit politics' – especially the 'narrative on immigration' – that has 'contaminated' the UK's response to the Ukraine crisis. The 'UK government must stop being blinded by Brexit and let Ukrainian refugees in', argues the Daily Record. Meanwhile, it is apparently 'Brexit red tape' that is stopping British charities from getting supplies to Ukraine. Although, oddly, this is not a problem when it comes to the UK being at the forefront of weapons shipments.
Brexiteers get unfairly accused of nostalgia, but actually it is elite Remainers who see every issue, from the pandemic to war, as an opportunity to bang the drum for the EU. 'Ukraine marks an end to Brexit illusions', gloats the Financial Times. More in hope than reality, the Guardian claims that 'this war reinforces, with a jolt, the very raison d'être of the EU as a peace project'. Politico draws the same conclusion: 'While the EU-UK relationship has been acrimonious since the latter left the bloc, Russia's invasion of Ukraine has seen a rapprochement.'
So determined are Remainers to exploit the war in Ukraine to teach Britain's Brexit voters a lesson that they overlook the many problems with the EU that the current crisis has exposed. Despite claims of EU unity, the early days of the war revealed only divisions between member states. President Macron tried to negotiate with Putin while Poland sought to get weapons to Ukrainian fighters and Germany fretted over its gas supplies and sent 5,000 helmets. This divided response has been compounded by the EU's determination to continue waging its financially disastrous culture war against Hungary and Poland, despite these countries being on the frontline of the refugee crisis. On top of this, the EU's over-reliance on Russian gas and oil has reduced the impact of economic sanctions.
If the war in Ukraine has thrown up any lessons, one is surely that nation states matter. Ukrainian citizens are putting their lives on the line to defend their country, not an economic trading bloc turned supranational political institution. It is the governments of Poland and Hungary, not the bureaucrats of Brussels or Strasbourg, that have pulled out all the stops to provide shelter for millions of displaced refugees. And the British government, freed from EU restrictions, has spent hundreds of millions of pounds on weapons and aid for Ukraine as well as imposing economic sanctions and banning Russian oil imports.
The war in Ukraine exposes the extent to which the UK is hampered by a political class unable to let go of past pet causes. The elite's determination to interpret every issue through the domestic morality tale of bad Brexiteers and virtuous Remainers helps no one. While they obsess over 2016, Ukraine burns.
Joanna Williams is a spiked columnist and the director of Cieo.
Picture by: Getty Images.
To enquire about republishing spiked's content, a right to reply or to request a correction, please contact the managing editor, Viv Regan.