The closing of the artistic mind
Ceramic artist Claudia Clare has been pushed out of the artworld for expressing her feminist beliefs.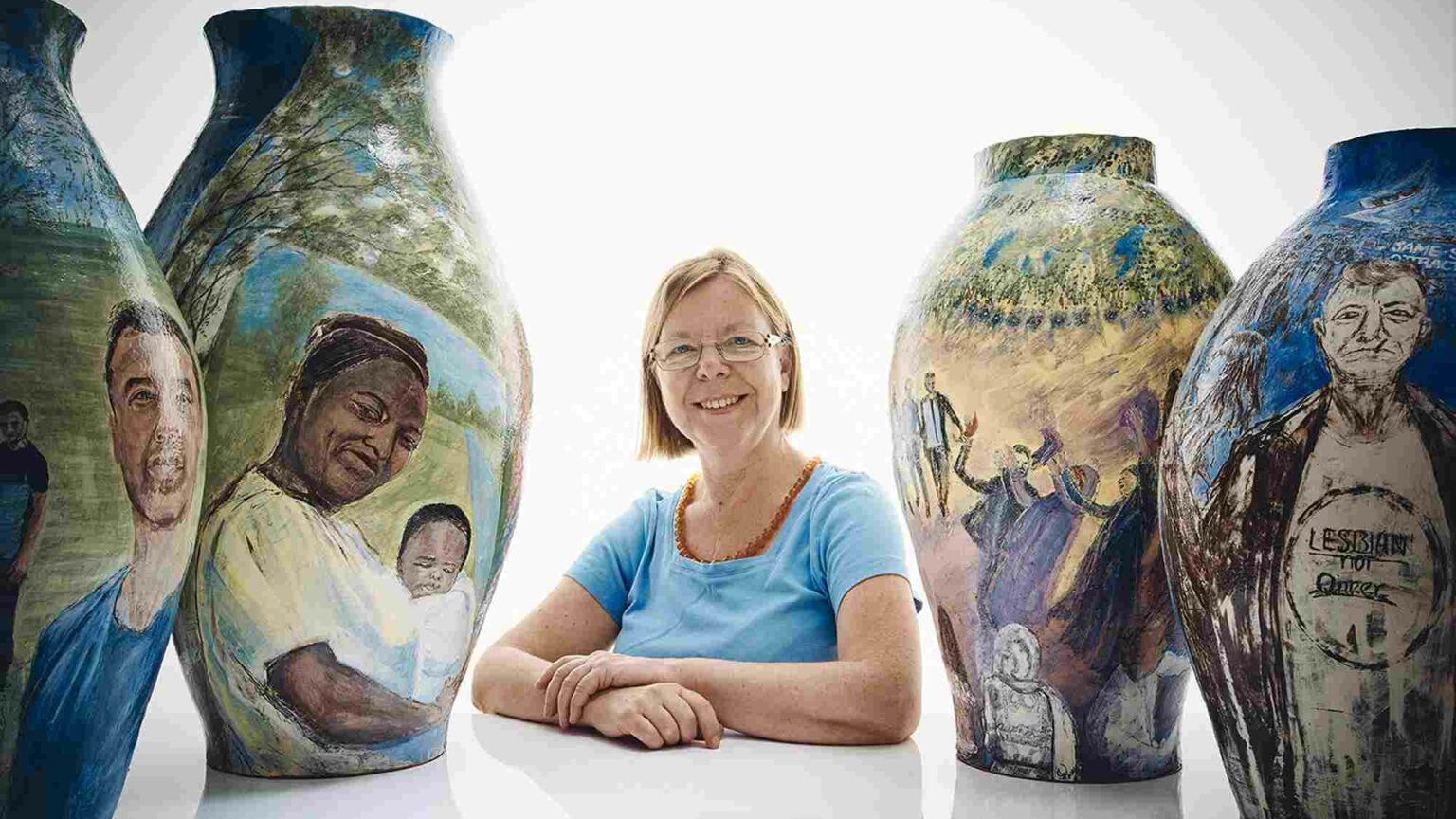 Having been variously branded an 'Islamophobe', a 'whorephobe' and most recently a 'transphobe', ceramic artist Claudia Clare is used to triggering the art world's 'progressive' elite. Nevertheless, it came as a great shock when, three weeks ago, the 60-year-old feminist's invitation to speak at Ceramic Art London, hosted by Central Saint Martin's, was revoked – apparently due to a risk of protest which 'might put the show itself under threat'.
Clare had been booked two years ago to display and discuss her work about women escaping the sex trade, but on 9 February this year, a letter from the Craft Potters Association (CPA), which organises Ceramic Art London, informed her: 'In the time since the talk was originally scheduled in 2020 we have been made aware that its inclusion in the programme may cause the event to be disrupted, leading to possible delay or even closure.'
Clare tells me that her impression was that she 'could have been talking about the Beano, it would have made no difference'. 'Apparently I am the problem', she says, 'But I am not threatening to disrupt anything'.
Clare is a member of the CPA – 'the nearest thing studio potters have to a union', is how she describes it. Yet she says the CPA didn't approach the membership about cancelling her appearance at Ceramic Art London. 'They didn't even ask me what I thought, never mind the membership as a whole, they just booted me out', she says. 'I am still incensed that it is the voices of the sex-trade survivors and those still in prostitution being shut down. But I'm also furious at the [CPA's] cavalier disregard for democratic norms – like consulting the membership of an association', she tells me.
This is not the first time Clare's work has been subject to censorship. In 2016, she offered a beer jug inspired by the Charlie Hebdo massacre to the People's History Museum in Manchester for an exhibition, which was somewhat ironically called 'Ideas Worth Fighting For'. The piece, which featured the Prophet Muhammad, was called 'How The Prophet Was Driven To Drink'. She was informed in an email that the jug would be removed for 'the safety of our staff, visitors, and indeed the artwork itself'.
Three years later, an invitation to hold an event exploring the brutal reality of the sex industry at Crossbones Cemetery in London was revoked. This followed an intervention by what Clare recalls were PhD students who 'presented themselves as allies of "sex workers"'.
As a second-wave feminist, Clare passionately believes that the sex trade harms women, that organised religion is patriarchal force and that women are 'adult human females'. These views put her outside of the identity-obsessed, soft-play world of the woke that dominates the arts sector.
The threat identified by the CPA was apparently from the brats at Central Saint Martin's, who might have been triggered to protest due to Clare's opinions. Rather than welcome dissenting voices or encouraging a discussion, the CPA's kneejerk reaction was cancellation. It seems that far from pushing society's boundaries, today the doyens of the art world have become more risk averse than your average insurance analyst.
There is a telling paradox at the heart of the art world. While the new trans orthodoxy holds that sex difference is irrelevant, and bizarrely that biology itself is a social construct, it seems to be overwhelmingly women artists who bear the brunt of woke censorship – Jess de Wahls, Nina Edge, Rachel Ara to name but a few. While they are cast out, male artist Grayson Perry, who famously explores concepts of sex and gender identity, is prized as an eccentric national treasure.
Art depends on freedom of thought and crucially freedom of expression. For this reason, artists across the world have long occupied a central role in the defence of liberty, kicking against repressive regimes and censorship. Yet today, a cadre of professionals in the arts sector have taken it upon themselves to act as morality police.
Organisations like CPA have forgotten that their purpose is not to coddle the feelings of the perpetually offended, nor to avoid conflict, but rather to further artistic expression by standing-up for their members. Clare has resolved to publicly challenge such thought-policing, and she is launching legal action against the CPA. It's darkly funny that Clare feels she has to turn to the famously fusty judiciary to uphold the values that underpin artistic expression.
Here's hoping the courts are able to protect the interests of artists, because it now seems certain that those who hold sway in the art world will not.
Jo Bartosch is a journalist campaigning for the rights of women and girls.
To enquire about republishing spiked's content, a right to reply or to request a correction, please contact the managing editor, Viv Regan.