Why Ukraine must win
The Ukrainian resistance is a stirring and brilliant democratic movement. Let's get behind it.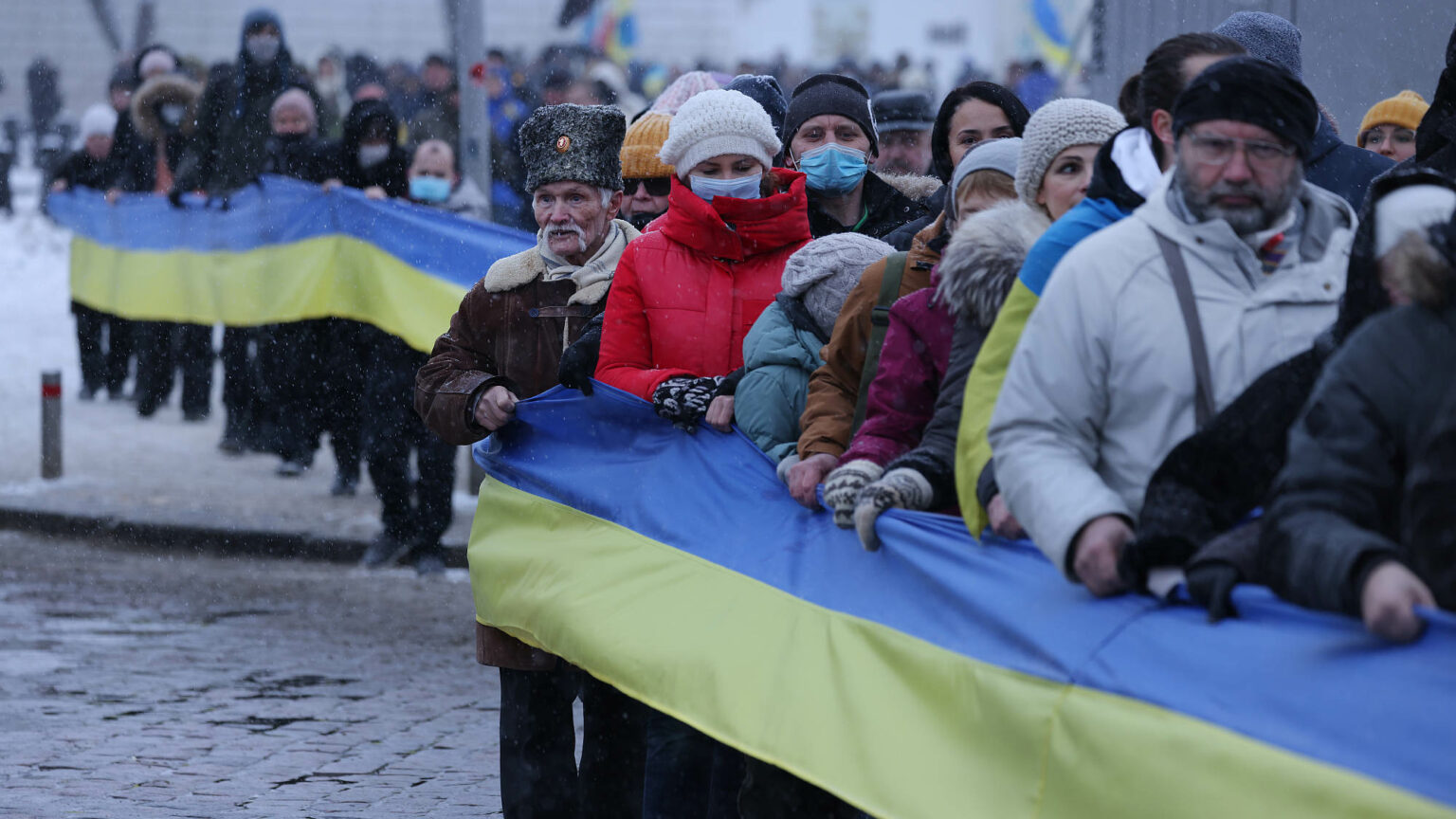 Ukraine must win this war. And all of us who believe in the right of nations to self-determination must do everything we can to ensure it does. The stakes could not be higher. A foreign power – two foreign powers, in fact, if today's reports about Belarusian troops entering Ukrainian territory are correct – has violated a sovereign state. In word and violent deed, Russia has treated Ukrainian sovereignty with naked contempt. It has made a bloody mockery of Ukraine's national independence and of all the rights and freedoms that are made possible by national independence. Citizenship, the right of a people to choose who governs them, the common cultural bonds that tie a nation and its inhabitants together – in Ukraine, all of this is now existentially threatened under the boot of Putin's marauding forces.
Russia's invasion of Ukraine is an intolerable assault on sovereignty, democracy and peace. The Ukrainian people who are fighting back, from the inspiring president Volodymyr Zelensky to the young men and women queuing up for arms so that they might defend their communities and neighbourhoods from foreign occupation, are a credit to their nation and to humanity itself. The sight of ordinary Ukrainians who just a week ago were builders or teachers or bus drivers now making Molotov cocktails to hurl at their invaders is a reminder of how swiftly bravery and heroism can emerge when one's very existence is threatened. (Though, rather brilliantly, these overnight warriors for national liberation do not use the phrase 'Molotov cocktail', because they don't want to sully their makeshift weaponry with the name of the Russian Soviet-era politician, Vyacheslav Molotov, that the petrol bombs are named for. Instead they call their Russia-busting bombs 'happiness cocktails'.)
Ukrainians are pulling together to defend the most important principle of international affairs – national sovereignty. Citizens' defence units are emerging in all the major cities. In Kyiv alone more than 25,000 guns have been handed over to citizens determined to play their part in repelling the Russian invasion. Prisoners with previous military experience are being released from jail to join the fight. 'Compensate for [your] guilt in the hottest spots of war', said Zelensky. More than 22,000 Ukrainians from across Europe have returned home to fight. More look set to follow: Ukrainians in the UK are packing vans with rations, flak jackets, helmets, medical packs and drones and they plan to drive the 1,200 miles to Ukraine to assist their fellow citizens. A Ukrainian cultural centre in London has been refashioned as a transportation hub for the resistance. Everything from old Met Police stab vests to cereal bars is being loaded into vans. A military-surplus supplier based in Essex reports that growing numbers of Ukrainians are contacting it for equipment. One Ukrainian in the UK, around 17 or 18 years of age, contacted the supplier because he wanted to buy equipment 'for his brother'. He is planning to join him on the frontline. This is extraordinary bravery in one so young.
And then there are the non-Ukrainians, the Brits and other Europeans who are keen to join the people's resistance against Russia. 'Britain's Lads Army', as the Daily Mail calls them. They include a former soldier with a Ukrainian wife, a 28-year-old ex-care worker who previously fought against ISIS, and a father-of-seven. These heroic individuals might not know Ukraine, but they know the importance of sovereignty and democracy. They stand in stark contrast to the upper-middle-class laptop bombardiers whose 'bravery' amounts to tweeting about why NATO must enforce a No Fly Zone or maybe even bomb Russian convoys. Where the media's moral preeners always want other people – NATO, the EU, working-class British soldiers – to give physical expression to their verbose and narcissistic fury with Russia, other British citizens are taking matters into their own hands and joining the Ukrainian people's fight for freedom. And Zelensky has made it easy for them to do so – he has lifted visa entry requirements for anyone who wants to assist the resistance, paving the way for an International Brigades of the 21st century.
Let us be very clear about what is happening here: we are witnessing the emergence of a new national liberation movement. We are watching the formation of a new army for independence and democracy. The depiction of Ukraine as a mere stooge for NATO or the EU, always doing the bidding of globalist institutions, is a vile calumny. It is patently not the prospect of a seat at the table in Brussels or of occasional phone calls between Ukrainian officials and Jens Stoltenberg that has moved ordinary Ukrainians to set up armed neighbourhood units and inspired teenage Ukrainians in London to trek a thousand miles into a war zone, ready to put their lives on the line. No, it is freedom. It is nationhood. It is the conviction that Ukraine should be an independent country deciding its future for itself. It is independence. If that isn't worth fighting for, what is?
This is something we have not seen for quite a long time. This is not like the 'resistance' in Iraq, which was shamefully cheered by sections of the Western left: that was a violent expression of nihilistic Islamist rage, and the target was more frequently 'wrong-thinking' Muslims rather than the occupying forces. Nor is this anything like the 'resistance' in Afghanistan – that is, the Taliban, that unforgiving repressor of women, killer of dissenters and enforcer of religious authoritarianism. No, this is a national liberation movement more in keeping with those of older history, where people come together to defend the greatest and most important of democratic values – the right to territorial integrity, the right of a people to shape their destiny, the right to live in an inviolable state impervious to external interference or threat. We should give our unconditional support to the Ukrainian people's heroic struggle for national liberty.
As we do this, of course, we must also be honest about the problematic infusion of this struggle with all kinds of external concerns and interests. There is a very real danger that the Ukrainian resistance comes to be so overloaded with the needs and agendas of outside actors that it will buckle under the pressure, and maybe even lose direction. Take the EU. Brussels is backing Ukraine, as confirmed by the effusive applause given to Zelensky today when he addressed the European Parliament. This should concern us, given that what the EU knows or cares about national sovereignty could be written on a sheet of Rizla. NATO wants Ukraine to win, too. But why? In order that the Ukrainian people might enjoy full, independent democratic rights, or in order that Russia might be further reprimanded and pushed back into its isolated corner? It's the latter. Of course it is. A brave struggle for national freedom cynically viewed by Western military powers as an opportunity to further their own global reach.
Then there are the Western observers adamant that the Ukrainian resistance is really an extension of their petty concerns. They're so vain they probably think this war is about them. The Ukrainian uprising against Russia is a struggle for 'liberal values', says a writer for the Guardian, as if this resistance were the armed wing of a Guardian editorial. This is the same Guardian – the same chattering class more broadly – that spent the past six years of the Brexit era raging against the plebs' alleged obsession with national identity and depicting demands for national sovereignty as a species of xenophobia. And now they think they can gush over Zelensky's articulate defences of Ukrainian national identity and cheer the Ukrainian people's struggle for national sovereignty, without anyone pointing out that they don't actually believe in these things? Take a seat, guys. This isn't your conflict.
This cuts to the heart of a very real problem with some of the official Western support for Ukraine – it is coming from people who don't care a damn for national sovereignty, and who in fact have agitated against national sovereignty for many years. 'Ireland's support of Ukrainian national sovereignty is "unwavering"', said a headline a few days ago. This is the same Ireland whose Taoiseach Micheál Martin said 'We want nothing to do with a backward-looking idea of sovereignty' just a few years ago. The EU says it supports Ukrainian national independence, and yet spends the rest of its time diluting and undermining national independence everywhere from Hungary to Poland to Italy. British officialdom says it stands with Ukraine – the same British officialdom whose outgoing Border Force chief said last year that borders are such a 'pain in the bloody arse'. Maybe that's how Putin felt, too – pesky bloody border between Russia and Ukraine, let's erase it.
The Ukrainian resistance risks being burdened with outside actors' concerns. We need to be vigilant against this. We need to insist that this is a struggle – and an inspiring one, at that – for sovereignty. That is all. And that is more than enough. And after that, it ought to be the Ukrainian people's right to do with their sovereignty as they wish: cosy up to the EU, make amends with Russia, look West, look East, whatever. That's not our business. But defending national independence from external assault – that is our business, all of us. Because without the protections of national sovereignty, every single one of our rights could potentially be undermined on the whim of those who have more power than we do. Ukraine must win. It is essential. Say it loud: Victory to the Ukrainian people!
Brendan O'Neill is spiked's chief political writer and host of the spiked podcast, The Brendan O'Neill Show. Subscribe to the podcast here. And find Brendan on Instagram: @burntoakboy
No paywall. No subscriptions.
spiked is free for all.
Donate today to keep us fighting.
Donate online
To enquire about republishing spiked's content, a right to reply or to request a correction, please contact the managing editor, Viv Regan.