Volodymyr Zelensky: what leadership looks like
The courage of this unlikely war leader and his people has been inspiring.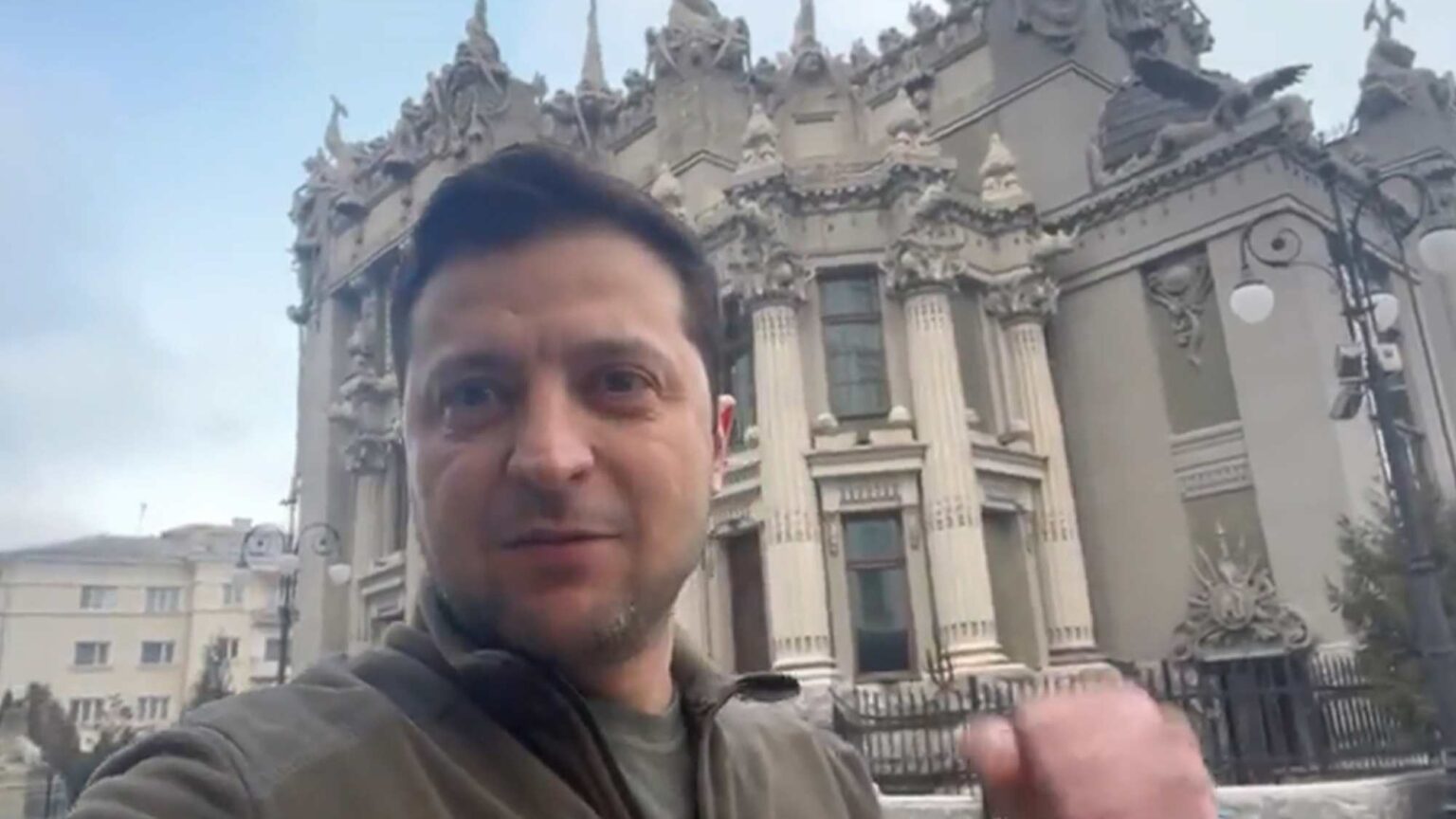 Russia's invasion of Ukraine has reminded Western elites of many things they had all but forgotten. That peace is not permanent. That war is not just something that happens Over There. And that the old values and principles our learned betters spend so much of their time deriding are actually essential, the difference between life and death even, especially in times like this. Courage, stoicism, national sovereignty were all supposedly anathema in our post-national, safe-spaced, emotionally correct era. Self-sacrifice was out, self-care was in. Until war broke out again in Europe, that is, and Volodymyr Zelensky showed us how important these terribly old-fashioned things are, even in the 21st century.
To call the Ukrainian president an unlikely war leader is a profound understatement. His last big job before entering politics was playing the Ukrainian president in a TV comedy, titled Servant of the People. He won the presidency in 2019, just after the third season aired, with 73 per cent of the vote. His political party is also called Servant of the People, founded by staff from his production company. He won Ukraine's version of Strictly Come Dancing in 2006. Just four years ago, he was promoting the Ukrainian dub of Paddington 2 – he voiced the titular bear for both movies' Ukrainian release. Now he's in combat colours, rallying his fellow citizens to fight for Ukraine's survival, refusing calls from allies for him to flee.
'We are all here defending our independence, our state. It will continue to be so. Glory to our defenders! Glory to Ukraine!' So said Zelensky in a video released on Friday, flanked by his aides and his PM on the streets of Ukraine, fending off rumours they had fled. The following morning Zelensky posted another video, after a tough night of fighting in the capital, showing that he and Kyiv were still standing. Meanwhile, he has reportedly rebuffed offers from allies to evacuate him and his family – as Russian mercenaries seek to liquidate him. 'I need ammunition, not a ride', he reportedly told the US. 'This might be the last time you see me alive', he told EU leaders on a video call last Thursday.
We shouldn't dismiss this as mere rhetoric or social-media propaganda. Rhetoric matters in times like this. Zelensky is trying to rally not just the Ukrainian military, but also everyday citizens to put their own lives on the line and take up arms. And the people of Ukraine have responded with incredible defiance and courage – in defence of their state, their freedom and their right to self-determination. The civilians queuing up to take their rifles. The women in Dnipro making Molotov cocktails. The border guards on Snake Island who told a Russian warship to 'go fuck yourself'. The immortal words of the Ukrainian woman filmed confronting Russian soldiers: 'You should put sunflower seeds in your pockets so that they will grow on Ukrainian land after you die.' All of this is so inspiring and yet so alien to us, as we scroll from a safe distance.
In all this, Zelensky has not only cut a stark contrast to his allies in the West, but also to the imperialist aggressor to the East. In response to Vladimir Putin's crazed, bigoted war speeches, denying Ukrainian statehood and absurdly presenting his invasion as an attempt to 'de-Nazify' Ukraine, Zelensky called for peace, addressing Russians not as president but as a citizen of Ukraine: 'They tell you that we hate Russian culture. How can one hate a culture? Any culture? Neighbours always enrich each other's cultures. However, we are not part of one whole. You cannot swallow us up. We are different. But this difference is not a reason for enmity. We want to determine our own course and build our own history: peacefully, calmly and honestly.'
As the fighting wears on for another day, as Western sanctions tighten, as Ukraine looks again to the European Union and NATO, and as an increasingly unhinged Putin brandishes his nuclear arsenal, things could easily spin out of control. In the fullness of time, historians will debate what Zelensky got right, and what he got tragically wrong – as they will for every other combatant and ally in this unspeakable conflict. But Zelensky's leadership and commitment to the self-determination of his people have already earned him his place in history – and the courageous, unflinching response of his citizens has already earned them theirs. Whatever happens in the days ahead, they have all reminded a comfortable, navel-gazing West that some things are worth fighting for.
Tom Slater is editor of spiked. Follow him on Twitter: @Tom_Slater_
To enquire about republishing spiked's content, a right to reply or to request a correction, please contact the managing editor, Viv Regan.